Danish drone company is developing drones to detect coastal mines
Danish company DTU SPACE and UAV manufacturer - SKY-WATCH have jointly developed a device for detecting unexploded landmines on the coast of Denmark, making it cheaper and safer to build offshore wind farms in the future. Research and development work on this technology is ongoing.
According to estimates by the Danish Navy, approximately 40,000 unexploded landmines from World War II are still buried deep in the silt of the ocean floor. Every time energy companies plan to build new offshore wind farms, they first need to remove these old ammunition, which is a very dangerous, expensive and time-consuming job. Last year alone, energy companies dealt with 40 massive minefields during the construction of the new RACE BANK wind farm off the coast of Norfolk, England.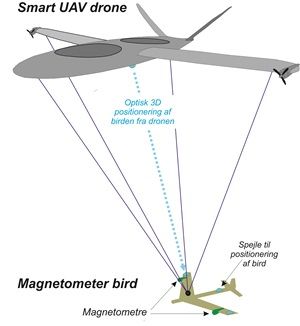 Finding mines or other military waste In the newly developed UAV solution, the UAV hangs a model aircraft carrying 1-2 ultra-sensitive magnetometers, which can detect old ammunition and other military waste by detecting magnetic field fluctuations. Using GPS navigation technology, drones can more easily spot the exact location of unexploded mines.
FD-1660 long endurance drone heavy life long endurance drone
FD1660 six axis carbon fiber long endurance drone
FlyDragon FD1660 is a long flight time six axis carbon fiber drone , FlyDragon FD1660 is made of carbon fiber material which features light weight and high strength, the canopy of FD1660 is made of glass fiber so that the GPS signal won't be blocked. The closed fuselage structure can protect FD1660 from the rain and dust, and also protect other load equipments like flight control and battery.
FD1660 can be applied in many fields like aerial photography, emergency rescue, reconnaissance mission, power line inspection, remote sensing survey and mapping etc.
We suuply drone frame, PNP or RTF
Specifications:
Aircraft Type: Hexacopter
Wheelbase: 1660mm
Airframe Material: Carbon Fiber And Composite Materials
Package Size: 400*730*930mm
Drone frame Weight : 2.7kg
Max. Take-Off Weight:26kg
Max. Payload: 12kg
Flight time: 120minutes(without payload)
80minutes(3KG payload)
40minutes(10KG payload)
Max. Climb Speed: 4m/s
Cruise Speed: 10m/s
Max. Flying Speed: 15m/s
Max. Altitude AMSL: 4000m
Hovering Accuracy:Vertical ±1m, Horizontal±1.5m
Max. Wind Resistance: Level 6
Operation Temperature: -20~60℃
IP Rating:IP56
drone Frame Features:
– TORAY 3K Carbon fiber material
– Light-weight, durable and stable
– Rainrproof
– Long flight time
– Detachable arm, easily portable