Flytrex delivery drone receives FAA two miles flight clearance
Flytrex delivery drone
Flytrex, an on-demand food delivery drone specialist, has been approved by the Federal Aviation Administration (FAA) for a delivery radius from 1 nautical mile to all of its operating stations in North Carolina and Texas Extend to 2 nautical miles.
The delivery will be carried out in partnership with long-term partner Causey Aviation Unmanned to provide food, beverages and other merchandise to approximately 100,000 eligible customers who can opt-in to the service - a significant increase from the 40,000 previously eligible customers . Flytrex and Causey will conduct all flights while maintaining the highest safety standards.
The approval is the latest of several accomplishments for Flytrex, including the recent expansion of its drone delivery service to Granbury, Texas, just outside Dallas-Fort Worth. Flytrex also has three operating stations in North Carolina: Fayetteville, Rayford and Holly Springs. With a rapidly growing list of partnerships with leading restaurant and retail chains, Flytrex completes thousands of deliveries each month.
This approval enables Flytrex to greatly expand its business and reach more customers through its fast, efficient and sustainable on-demand delivery service.
Yariv Bash, co-founder and CEO of Flytrex, said: "Mass delivery by drone has finally begun, and the FAA approval puts us completely at the forefront of this movement. This approval enables our ultra-fast delivery to reach About 100,000 customers.
The process of ordering deliveries by drone will remain the same everywhere. Eligible customers will be able to purchase a wide variety of food orders and merchandise from nearby stores and local restaurants and cafes.
Orders are placed through the Flytrex app, which updates customers on the status of their order along the way, until the package is safely lowered to their backyard by wire.
Flytrex successfully launched the world's first fully autonomous urban drone delivery system in Reykjavik, Iceland in 2017.
Flytrex has been working closely with regulators to help ensure the highest safety standards for drone deliveries. It participated in the FAA's Unmanned Aircraft Systems Integration Pilot Program (IPP), which ended in October 2020, and continues to participate in the FAA's follow-up initiative, BEYOND, working with the North Carolina Department of Transportation to help address the challenges of unmanned aerial systems integration. remaining challenges.
FDG815 small quadcopter drone for food delivery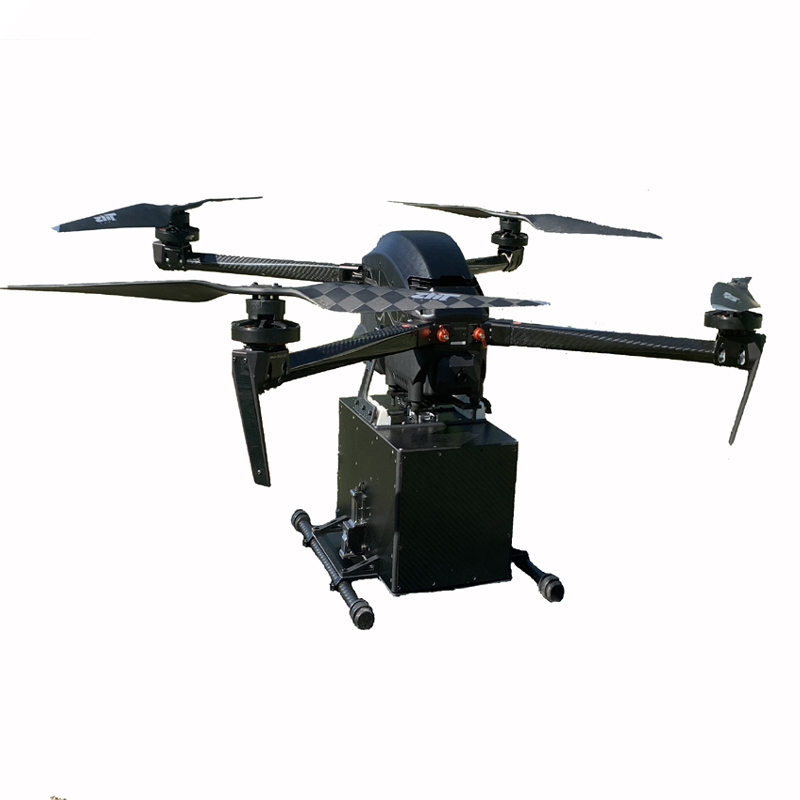 Quadcopter drone 90 minutes endurance
FlyDragon FDG815 small quadcopter drone is a small size aerial platform for mapping, surveillance, inspection and food delivery. Its compact folding airframe enables easy operation and flexible maneuvering. – Forged from a combination of carbon fiber, PCB and CNC, the flight time boosts up to 90 minutes with no payload, and it still reaches 45minutes with 2.5kg payload.

Specification Version: Quadcopter Battery-powered Version
Color: Black and White Material: Carbon Fiber, CNC, PCB
Control Range: 20km
Diagonal Wheelbase: 815mm
Unfolded Dimensions: 670mm*650mm*200mm (excluding propellers/landing gears)
Folded Dimensions: 440mm*210mm*200mm(excluding propellers/landing gears)
Empty Weight: 5.4kg (including battery)
Battery Weight: 2.8kg
Max Take-off Weight: 8kg
Flight Time: 90min (no payload) 68min (800g payload) 45min (2500g payload)
Max Speed: 30m/s Max Lifting Speed: 4m/s
Max Descent Speed: 3m/s
Max Angle of Pitch: 25°
Wind Resistance: 14m/s
Service Ceiling: 6000m
Propeller: 22*8 inch
Working Voltage: 50.4V
Working Temperature: -10℃-55℃
Carrying Case: 68cm*45cm*35cm
RTF version
Your Purchase Includes
RTF Package 1x ARF Combo
1x Pixhawk Cube Orange Standard Set with Here 3 GNSS
1x H16 remote controller with 10km drone link
1x 14S 14000mAh Li-ion Battery
2x (pair) 22 inch Carbon Fiber Propeller
1x Battery Charger
1x Carrying Case.