RigiTech Receives France's First BVLOS Medical Drone Flight Exemption
August 30 that according to "DroneDJ", the Swiss professional medical drone transportation company RigiTech has made a new breakthrough in France. It was approved for the first time in France and can be carried out between two French laboratories. Regular beyond-visual-line-of-sight (BVLOS) flights transport patient samples and other materials.
RigiTech received immunity from the French aviation regulator, the Direction Générale de l'Aviation Civile, which together with the company and some regional and local governments oversees proposed BVLOS drone flight trials for laboratory tests and other medical deliveries. The Swiss company will
The services are operated for French healthcare company Biogroup, providing air transport between facilities in Bourgoin-Jallieu and Tignieu-Jameyzieu in the east-central part of the country.
RigiTech's indefinite approval for scheduled medical drone flights is the first BVLOS waiver in France and one of only a few in the entire EU. The aerial rotation of drone deliveries is a two-way version of a similar scheme brewing in the UK at several hospitals around Morecambe Bay.
Transport laboratory samples between. Scotland is embarking on a wider project to create a nationwide network of drone deliveries to transport lab tests and medical supplies.
Working for Biogroup, the RigiTech medical drones will initially fly the 17.6 kilometers between the company's two main facilities in the Greater Lyon region, cutting the time required for road transport in half with a 15-minute flight. The time gained is designed to expedite sample analysis, allowing physicians to
Any necessary treatment can be prescribed to the patient more quickly.
RigiTech's Eiger drone is designed and equipped to ensure cold-chain transportation of blood and biological samples, as well as other medical products, including vaccines and pharmaceuticals. The vehicle's relatively large payload bay allows efficient, if necessary, long-distance flight. In fact, in taking advantage of France's unprecedented BVLOS exemption for medical drone deliveries, RigiTech plans to lay the groundwork for a future network connecting more than 900 Biogroup clinics and laboratories in the country, as well as in Spain and across Europe.
Alejandro Del Estal, director of operations at RigiTech, said after receiving the BVLOS exemption: "UAV regulations in Europe are constantly evolving to increase the flexibility of drone operations. But because of their novelty and differences from traditional aviation, the industry as a whole There is still much to learn. I am very proud to be part of this process. These mandates are helping the industry as a whole push the limits of what can be done without compromising safety."
FDD50 fixed-wing VTOL 4hours endurance with 15KG delivery drone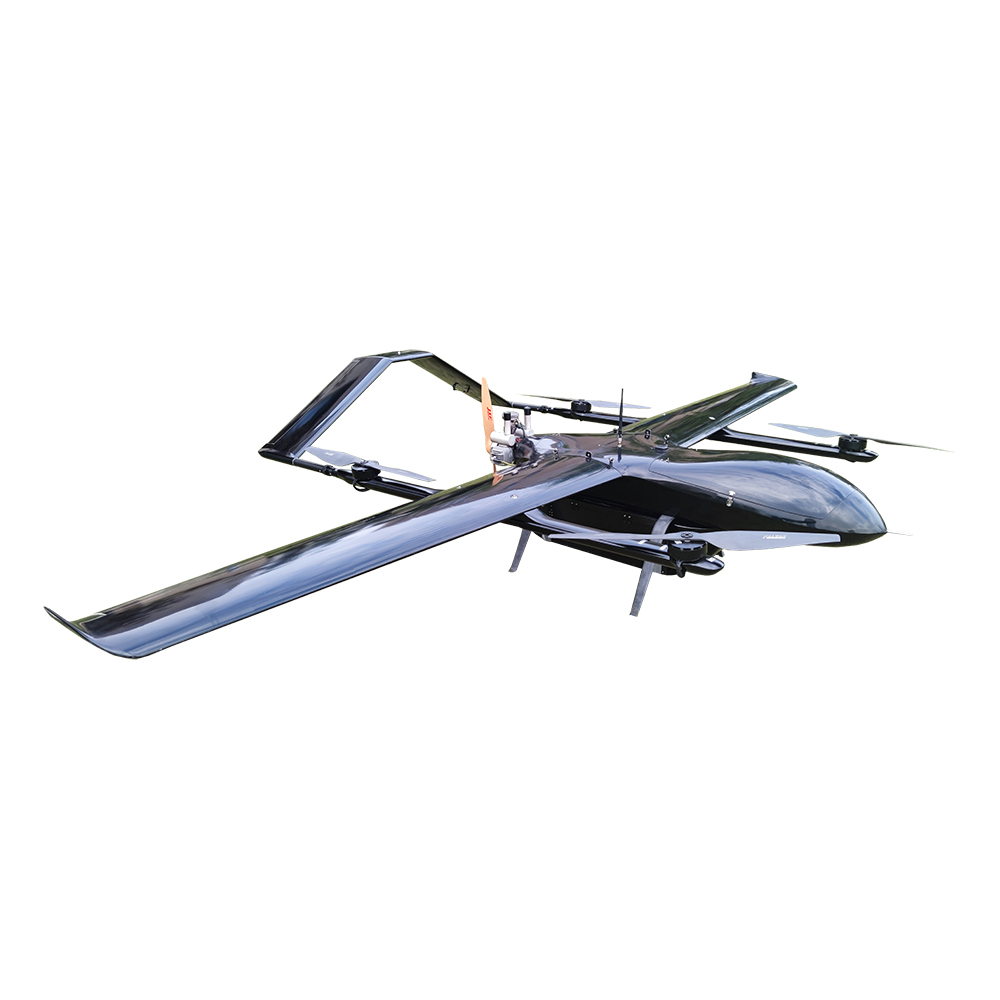 Delivery VTOL UAV, Remote airdrop system for emergency supplies(replenishment of medicines, food, water, plasma, etc.)
FlyDragon FDD50P UAV cargo delivery drone is equipped with industrial-grade vertical take-off and landing fixed-wing flight control. Maximum payload 15kg, life time is 2h@15kg payload, 4h@10kg payload, it's have a dropping box for delivery, drop box size: Length 462MM, width 296MM, height 169MM. it's used to delivery medicines, food, water, plasma, etc
The drone platform has the following features and advantages:
a) Practical and efficient: it has the characteristics of fixed-wing UAV's long flight time, fast speed, long distance and large load;
b) Vertical take-off and landing: with the take-off and landing mode of the rotorless drone, greatly reducing the requirements for landing and landing and airspace;
c) low cost of use: no complicated and bulky launching and recycling equipment, no additional recycling sensors required;
d) Simple operation: integrated special flight control and navigation system, full autonomous flight, operators only need to send flight plans, no professional training and operational experience;
e) Compact system: no complicated auxiliary equipment, simple transportation, deployment, maintenance and withdrawal.
Specification
Body length: 2.5m
Wingspan: 3.8m
Maximum takeoff weight: 50kg
Maximum payload: 15kg
Life time: 2h@15kg payload, 4h@10kg payload
Flying radius: 200-400km (depending on the amount of oil)
Maximum control distance: Remote control (manual control): 1km
Ground station control (depending on the distance of the digital transmission): 30km standard
Maximum speed: 130km/h
Cruising speed: 100-120km/h
Maximum oil load: 12L
Lift limit: 4000m
Maximum wind resistance: 12m/s (6 wind)
Use environment: -10 °C +45 °C; anti-light rain
Climb/lower power battery: 4*14000mAh-6S lithium battery
Take-off and landing mode: vertical takeoff and landing
Shipping size: 1.6*0.7*0.6m (length * width * height)
Drop box size: Length 462MM, width 296MM, height 169MM
Delivery method: parachute