If you want to buy a agriculture drone online or offline, first thing you must to know which types AG drone you want to have, fix-wing or multi- rotor
If you plan to hire a third party to survey crops for you, then this guide will make you a smarter buyer.
Now that the Internet is very developed, buying a drone online is a good choice. If you want to see the real thing and buy it, you can type"farming drones for sale near me "online., then you will find more
This guide will give you some advise
There are two types of professionals who might want to own an agriculture drone:
1.farmers who want to fly their own imaging missions.
2.agriculture service providers and others who fly drones for farmers.
If you fit into either of these categories, then please note:
The drone operator must have a Remote Pilot Certificate to fly. This is true, even if no money changes hands.
So, if you get pitched by a drone outfit claiming they don't need a remote pilot certificate to survey your field, then run – far, far away.
The Best Agriculture Drones 2019
Listed below are the most popular ready-to-fly agriculture drone/UAV/UAS systems in the world, both fixed-wing and multi-rotor.
Some of the early entrants are gone now, and most suppliers update their prices, features, rigs and software packages on what seems like a monthly basis. Make sure you check the manufacturer's website for the latest details.
The Best Fixed Wing Ag Drones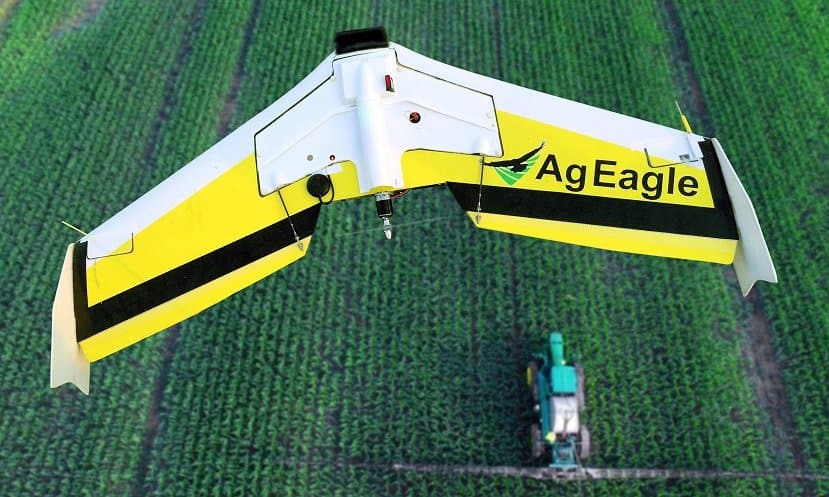 Fixed-wing UAVs are the best choice when you have to cover a lot of ground, fast. Fixed-wing ag drones can cover up to 10 times the acreage that a typical quadcopter can cover in a single flight. but image quality can suffer due to the speed.
This drone is easy to fly and comes with senseFLY's Sequoia 5-spectrum sensor (4 spectral bands + visible/RGB) and advanced, flight planning, flight management and image processing software designed specifically to work within a complete drone-to-tractor workflow.
PrecisionHawk Lancaster 5 ($25,000+)
Lancaster carries on-board sensors that measure humidity, temperature, air pressure along with incident light, all in real time. It then uses artificial intelligence to react to changing weather conditions, payload, changing wind loads, visibility, etc.
PrecisionHawk Lancaster 5 Specifications
5.3 lbs dry weight
2.2 lb payload
45 minute flight time
2km / 1.2 mile range
300 acres per flight (300 ft altitude)
Plug-and-Play sensor bay
5-channel multispectral camera available
One-button press to launch (cool feature)
Data resolution down to 1 cm/pixel
Other Fixed Wing Ag Drones
AgDrone by HoneyComb ($10,000+): a complete hardware/software/data storage package with a variety of sensors available including NDVI, visual stereoscopic and NIR (thermal imaging). Flight times up to 55 minutes. Comes with flight planning/control software and all the hardware you need.
Sentera Phoenix 2 ($18,000): a complete hardware, software and data storage solution designed for crop surveying. Captures RGB visual, NIR, NDVI and Live NDVI (streaming) during same flight. Covers 100 acres per flight.
AgEagle RX60: a super-rugged 'flying wing' made of fiberglass and carbon fiber, this UAV can fly for up to 60 minutes on a charge. Captures NDVI, NIR and visual images using GoPro and other sensors. Package includes aircraft, launcher, camera, software and training.
Trimble UX5 ($25,000+): the French aerospace company, Trimble, sells its highly advanced UX5 drone in the US through local resellers. Hardware, software and processing are included. Using an optional MicaSense RedEdge or 24MP visual camera, the UX5 can capture data down to a 2cm/pixel resolution and operates in the harshest of environments.
The Best Multi Rotor Ag Drones
A multi rotor drone is a better choice for close-in scouting, spotting and detailed surveying tasks than a fixed wing drone.
Flying a multi rotor drone, low and slow, gives you far more control over every image you shoot. As a result, accuracy and resolution are often better than fixed wing UAVs can deliver.
The tradeoff, of course, is you have far less range and coverage per flight. Most multi rotor ag drones can't cover more than 50 acres between charges / battery swaps.
PrecisionHawk Crop Scouting Package ($1,989)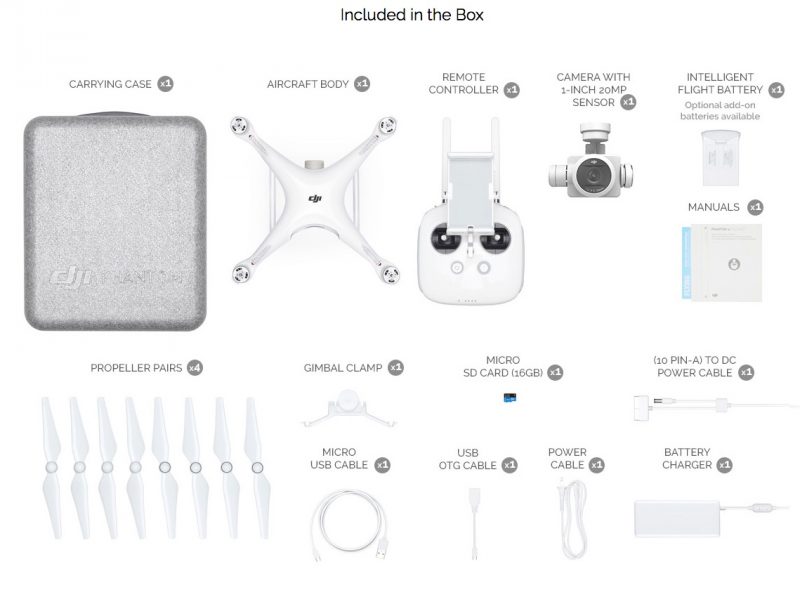 PrecisionHawk sells a starter-level quadcopter package that includes a Phantom 4 PRO with included visual sensor, DataMapper Lite image processing software (1 year subscription including a few VIS-data algorithms), InField flight monitoring software, and InFlight flight control and monitoring mobile app that allows you to control the aircraft using your smartphone.
The Phantom 4 PRO is an excellent camera drone that is more than capable of most visual surveying tasks; but, there are additional costs to turn this package a complete crop surveying solution. And, it has its limitations.
For example, it has no multispectral sensor to capture NDVI data, and you'll probably need to purchase additional Datamapper algorithms to extract value out of the images you shoot.
Sentera NDVI Upgrade for DJI Phantom 4 PRO (about $2,000)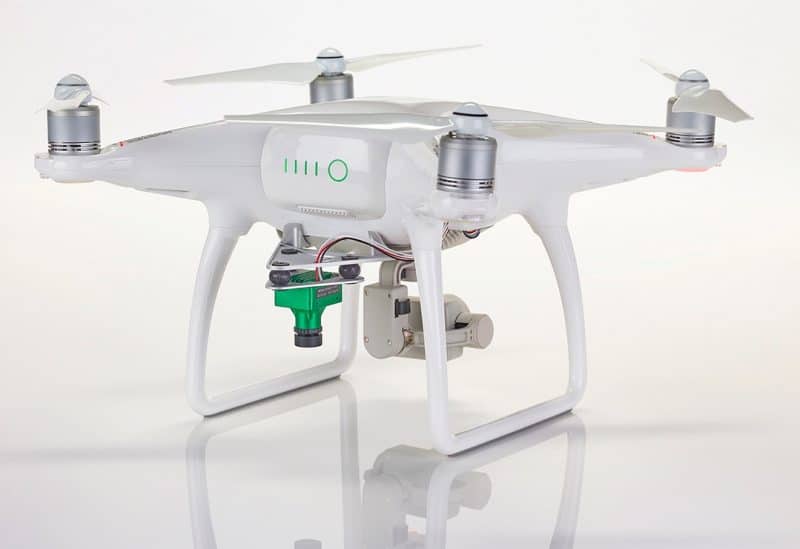 This is a great starter ag drone, especially for scouting.
Sentera sells a TrueNDVI camera upgrade for DJI's wildly popular and easy to use Phantom 3 and Phantom 4 quad copters.  They'll also sell you a new Phantom 4 PRO, fully equipped.
The kit integrates a 1.2MP NIR global shutter camera alongside your existing Phantom camera, so you get the best of both worlds — a fully-gimbaled color camera for scouting, plus NIR photos for NDVI indexing.
Photos are geo-tagged and timestamped to enable quick, streamlined field scouting and identification of problem areas.
The package includes a free version of Sentera's AgVault image processing software.
Two downsides, though: you'll have to ship your Phantom quad to Sentera to perform the upgrade; and, attaching a second camera voids DJI's warranty.
AGCO Solo ($7,850)
Based on the 3DR Solo quadcopter, the AGCO SOLO add-on kit includes a GoPro Hero 4 camera for color imaging and a GoPro near-infrared camera for monitoring plant health.
This UAV also includes one year of Agribotix imaging software. The package produces high-resolution orthomosaics, NDVI maps, and Field Health and Management Zone maps. Useful flight time is about 20 minutes.
Sentera Omni Ag ($16,995)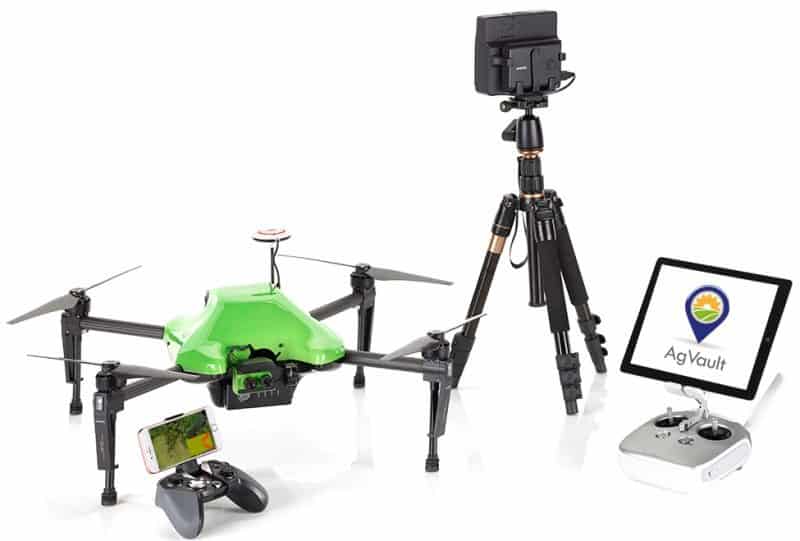 Using Sentera's Double 4K multispectral sensor, the Omni Ag is a completely integrated hardware + software package that captures high resolution RGB visual, NIR, NDVI and Live (streaming) NDVI data– all at the same time.
Uniquely, the Omni Ag drone can stream live NDVI crop data as it flies, which means you get instant feedback on crop health and can take action before it lands.  I don't know of any other quads that can do this, right now.
The Omni Ag drone can be controlled by your smartphone or the dedicated flight controller.
Image processing is handled using Sentera's AgVault 2.0 software.
Other Multi Rotor Ag Drones
senseFly eXom:  the eXom is a quadcopter developed by French drone manufacturer, Parrot, specifically for agriculture applications. This package includes an image processing pipeline based on Pix4D's popular cloud-based solution.
AgBot by Aerial Technology International ($8,000+): ATI's package offers IR, Multispectral and HD video modules (quick release/swappable); 26-minute flight time; 16 mile range; rugged carbon fiber chassis; 1 fps data capture @ 38mph
InDago AG ($30,000+): built by Lockheed Martin, the InDago can stay aloft for 45 minutes and cover 75 acres per flight, about double that of any other quadcopter.
If you want to DIY drone yourself, you can buy drone psrts online, hope this guide will help you