Spain TARSIS 75 tactical UAV with a laser designator was successfully tested
The TARSIS 75 tactical UAV developed by Spain's Aertec Solutions Company has completed a test flight with a laser designator at the El Arenosillo Experimental Center (CEDEA) affiliated to the Spanish Ministry of Defense.
The laser designator uses gyroscopes to stabilize and balance, and its performance parameters comply with NATO STANAG 3733 standards. It not only has photoelectric and infrared mid-band intelligence, surveillance and reconnaissance (ISR) capabilities, but also has the ability to use laser pulses to indicate targets. Distance recognition and target locking. Spain's Aertec stated that the TARSIS 75 tactical UAV has excellent ISR capabilities and can provide protection for barracks and fleets.
FD10 30X drone camera with 10km laser designator
FlyDragon FD10 30X drone camera use Laser photometry drone camera with target GPS positioning and guidance functions. lacer range is 10km, Laser indication 6km, It adopts a two-axis gyro stabilization platform, installs conductive slip rings to achieve 360° continuous rotation, built-in 30X high-definition visible light camera, it can recognition of vehicles 3 m*6 m away from 15KM and people 0.5m*1.8 meters away from 6KM, FD10 laser measuring camera meets military standards, meets the requirements of inspection and shooting, and can provide instructions for the laser terminal guidance system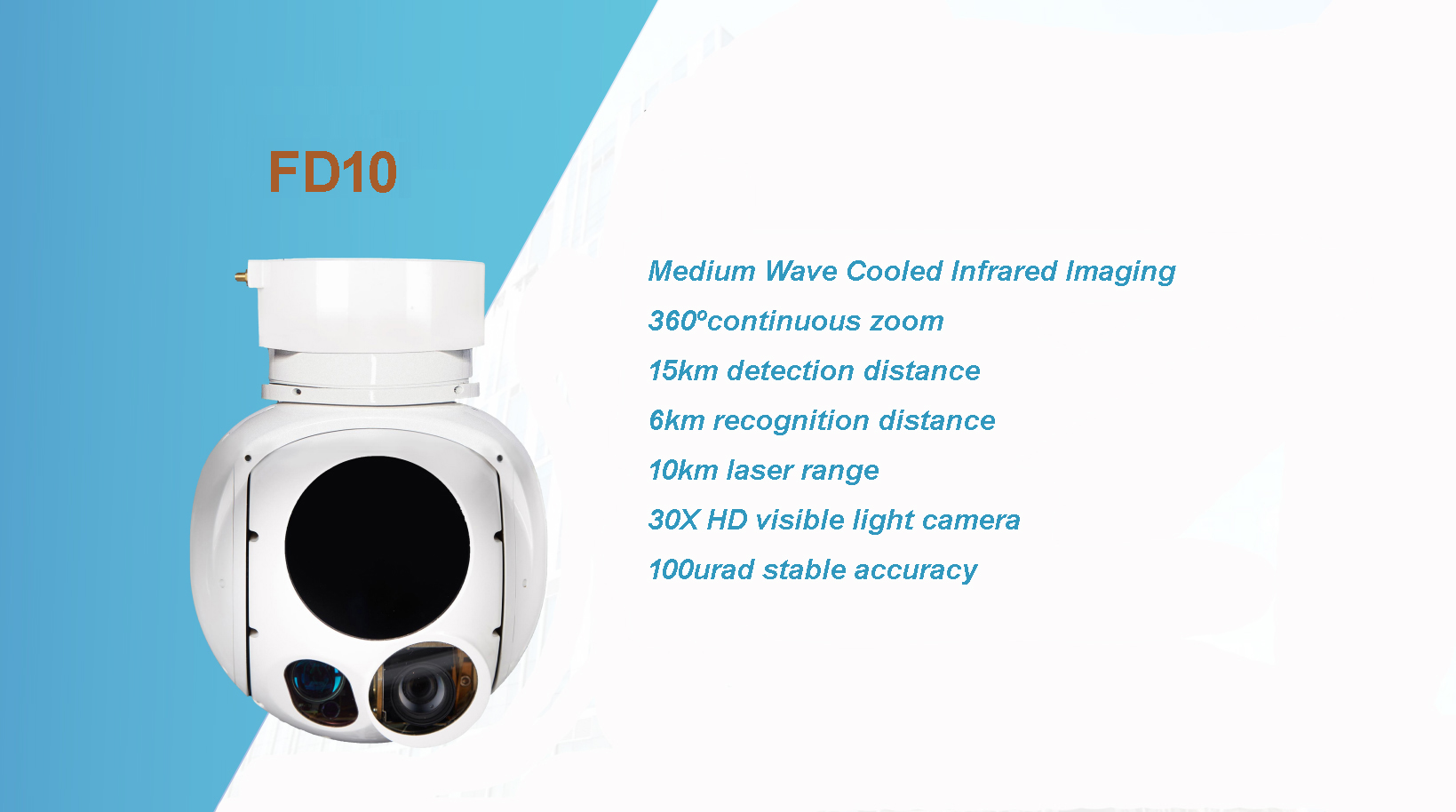 Specifications
Visible light imaging
Working wavelength: 0.4um~0.9um
Optical zoom: 30 times continuous zoom
Resolution: 1920(H)×1080(V)
Horizontal field of view: 63.7°~2.3°

Medium Wave Cooled Infrared Imaging
Working wavelength: 3~5um
Focal length: 19-275mm/F5.5
Detector: 15um
Resolution: 640(H)×512(V)
Horizontal field of view: 28°~2.05°

Laser Illuminator
Working wavelength: 1064nm
Laser energy: 60mJ
Ranging range: 180m~10km
Ranging accuracy: 2m
Irradiation distance: ≥5km
Irradiation frequency: 20Hz (adjustable)

Servo performance
Rotation range: Azimuth: 360° continuous; Tilt: +90°~-120°
Angle measurement accuracy (1o): ≤2mrad
Line of sight stabilization accuracy (1o): ≤100urad
Optical axis consistency: ≤0.2mrad

System parameters
Size: ≤p278mmx322mm;
Weight≤10Kg
Power supply: DC24V, the voltage range is 18V~32V
Power consumption: average power consumption≤80W, peak power consumption≤200W
Working temperature: -40℃~60℃

Interface
Communication interface: 2*RS422 (TTL optional)
Video interface: 1*HD-SDI (optional network port, HDMI)