The French Army has begun fielding the Spy'Ranger 330 small intelligence surveillance drone.
The Spy'Ranger 330 UAV has received its first type certification from the airworthiness department of the French Directorate-General Armaments (DGA). The certification shows that the aircraft meets the airworthiness requirements of the Small Unmanned Aircraft Reconnaissance System (SMDR) and has reliable combat performance. The French Army can use this drone for teaching, training and combat use without special approval.
Thales Group stated that compared with its previous "Tracker" DRAC intelligent intelligence, surveillance and reconnaissance drone, the range of the "Scout 330" has been increased by three times. The "Scout 330" and the "Scout 550" (Spy'Ranger 550) miniature intelligence, surveillance and reconnaissance UAV use many of the same structural modules, and both belong to the "Scout" series. The "Scout" series of UAVs have strong durability, long battery life, secure data links, easy operation of the command and control (C2) system, and can perform tasks in extremely difficult environments. The airborne image intelligence collection equipment can meet overseas requirements. The needs of forward reconnaissance units in theater.
Thales Group revealed that the "Scout 330" is powered by electricity and can fly within a range of 30 kilometers for nearly 3 hours. The body is made of carbon fiber, with novel structure, light weight and strong durability. The spherical gyro-stabilized gimbal under the aircraft's nose is equipped with an infrared (IR) electro-optical (EO) high-resolution sensor that uses a laser designating pod (TALIOS) system developed for the Rafale fighter. High-performance image processing technology.
At the same time, the "Scout 330" is equipped with a reliable Micro-TMA high-speed data link and a C-type command and control system that has been tested in actual combat, which is conducive to the frontier troops gaining tactical advantages. In addition, the complex system structure of "Scout 330" can meet a variety of military requirements. The aircraft has survivability, network defense capabilities, can resist electromagnetic threats, and can perform combat tasks in harsh environments such as rain, wind, sand, and dust. "Scout 330" has a high degree of safety and strong airworthiness, and can be used in all time zones day and night.
FD10 30X drone camera with 10km Laser photometry, 6KM laser terminal guidance system
FlyDragon FD10 30X drone camera use Laser photometry drone camera with target GPS positioning and guidance functions. lacer range is 10km, Laser indication 6km, It adopts a two-axis gyro stabilization platform, installs conductive slip rings to achieve 360° continuous rotation, built-in 30X high-definition visible light camera, it can recognition of vehicles 3 m*6 m away from 15KM and people 0.5m*1.8 meters away from 6KM, FD10 laser measuring camera meets military standards, meets the requirements of inspection and shooting, and can provide instructions for the laser terminal guidance system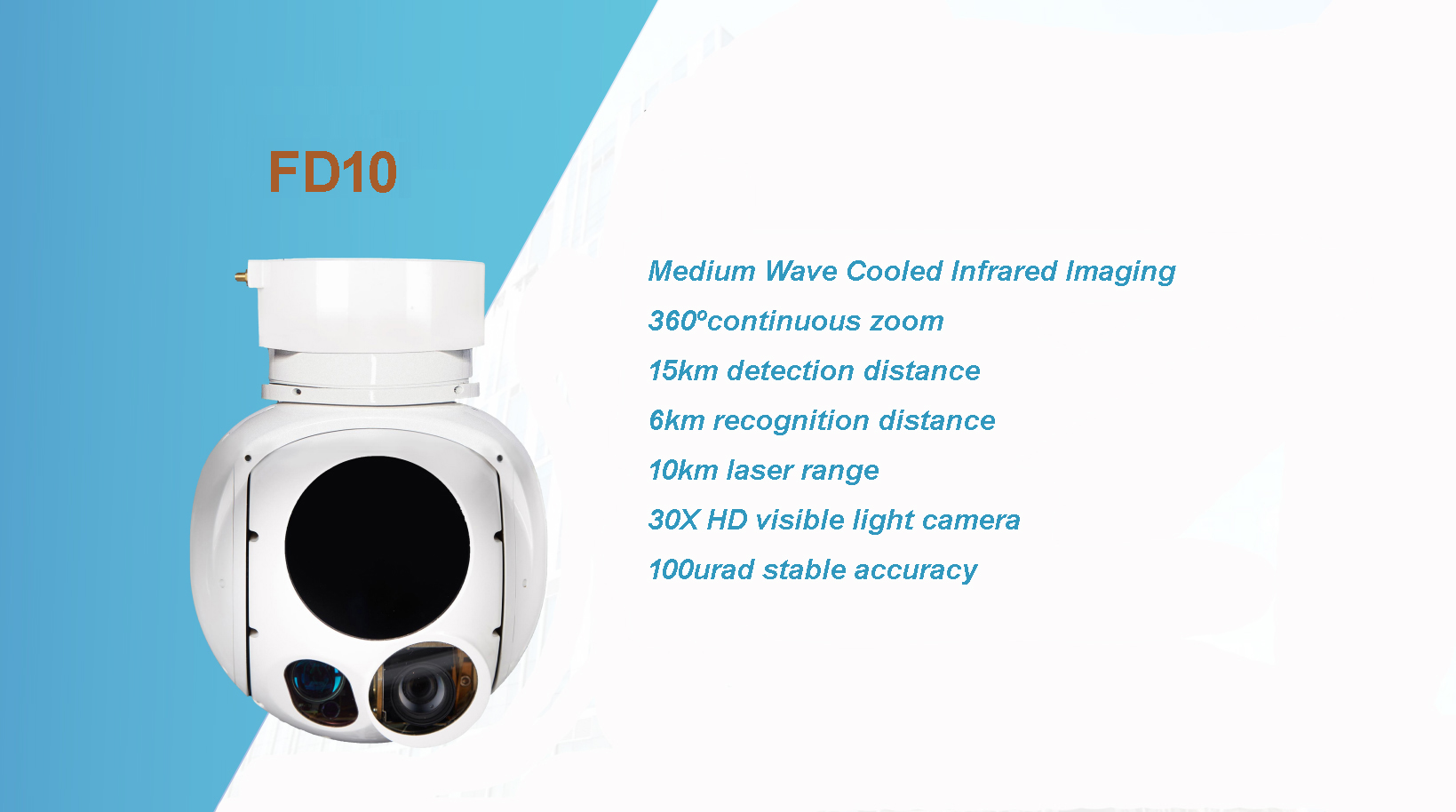 Specifications
Visible light imaging
Working wavelength: 0.4um~0.9um
Optical zoom: 30 times continuous zoom
Resolution: 1920(H)×1080(V)
Horizontal field of view: 63.7°~2.3°

Medium Wave Cooled Infrared Imaging
Working wavelength: 3~5um
Focal length: 19-275mm/F5.5
Detector: 15um
Resolution: 640(H)×512(V)
Horizontal field of view: 28°~2.05°

Laser photometry
Working wavelength: 1064nm
Laser energy: 60mJ
Ranging range: 180m~10km
Ranging accuracy: 2m
Irradiation distance: ≥5km
Irradiation frequency: 20Hz (adjustable)

Servo performance
Rotation range: Azimuth: 360° continuous; Tilt: +90°~-120°
Angle measurement accuracy (1o): ≤2mrad
Line of sight stabilization accuracy (1o): ≤100urad
Optical axis consistency: ≤0.2mrad

System parameters
Size: ≤p278mmx322mm;
Weight≤10Kg
Power supply: DC24V, the voltage range is 18V~32V
Power consumption: average power consumption≤80W, peak power consumption≤200W
Working temperature: -40℃~60℃

Interface
Communication interface: 2*RS422 (TTL optional)
Video interface: 1*HD-SDI (optional network port, HDMI)