Pakistan-made hexacopter agriculture drone to join fight against locusts
Pakistan's Ministry of Science and Technology signed an agreement with a private company, ABM-SATUMA, for the production and agriculture application of the hexacopter agriculture drone to deal with locust crisis. The drones would be handed over to National Disaster Management Authority (NDMA).
Drones to help Pakistan save crops, achieve better productivity
"The ministry is now focusing on precision farming with the introduction of drone technology to enhance agricultural productivity," Minister Fawad said, encouraging youngsters to work on agritech startups.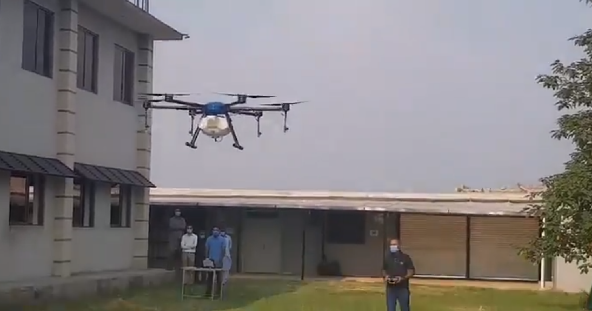 Don't buy, just rent a drone
Pakistani farmers can now take full advantage of drone technology to save crops. The drones are simple, fast, affordable and easy to use, according to the experts. The local production has reduced the cost of agricultural drones by one-third. But can the farmers afford the drone? "Farmers don't have to buy or own this
hexacopter agriculture drone
. We would introduce a rent-a-drone service similar to Uber, that would connect farmers with the drone as per their requirement," Minister Fawad explained.
How can drones help farmers?
The drones, equipped with mapping sensors, will be used to spray pesticides as nearly 60 districts in all provinces of Pakistan are battling an invasion of desert locusts devouring crops. Spraying of pesticides using drones is highly effective over traditional methods such as vehicle-mounted sprayers, experts say.
"Pakistan's drone technology is among the world's most advanced," Federal Minister Fawad said in an earlier post retweeting a drone demonstration video.
E616S 16L hexacopter agriculture drone
The combination of speed and power means that an area of 4,000-6,000 m² can be covered in just 10 minutes, or 40 to 60 times faster than manual
s
praying. Although we have seen before, the electric Drone is reportedly able to cover much more ground per charge. The interest in drones for agricultural
crop sprayer
continues to grow as does the corresponding options for UAV platforms increases.
E616S is the upgrade version of the popular E616 6 axis 16L uav agriculture drone. The main difference between the two is the folding parts. As all we know, the folding parts on those agriculture drones are really important. The new folding parts are injection-molded and the structure is more stable and durable.
The unique C-type arm fixing clip design can fix the arm with the fixing clip after the arm is folded, which avoids the problems of swinging and sagging of the arm during handling. The arm of the drone is 35mm in outer diameter, it did not come with motor mount, you can use the power combo suitable for 35mm arms for it.
Specifications:
Dignotal Wheelbase: 1630mm
Folding Size: 1000 x 950 x 600mm
Tank Capacity: 16L
Spray Width: 3-5m
Weight: 7.5kg (Spraying system included)
Max Takeoff Weight: 36kg
Power combo specifications:
Motor: 8318 100kv
Propeller: 30×8.0 inch
ESC: 80A FOC
Voltage Input: 12S
Working pulse width:1120-1920us
Max Thrust: 15kg
Suggest thrust: 5-7kg
Note:
1. Frame: Frame, arm, Landing gear, water tank, built-in distribution board, canopy
2.Spray system: pressure nozzle x 4, Pump x 1, 18mm water pipe 1 meter, 6mm water pipe 4 meters, buck type governor, pneumatic connector
3. All the above parts need to be self-assembled, and the assembler needs some experience of model airplane.
1. Frame KIT Package Included:
E616S 6 Axis 16L UAV Drone Frame x 1
Spraying system x 1
2.KIT + 8318 motor Included:
E616S Frame x 1
Spaying system x 1
8318 100KV motor x 6
80A FOC ESC x 6
30×8.0 inches folding propeller x 6
Reserved equipment expansion port
There are several equipement expansion ports reserved at the side and botton of the frame. It is convenient to install RTK, water pump, radar and other extended equipment under the premise of waterproof protection.
Reinforced Power Plug
The main power cable exits from the side,and the battery interface is fixed on the side of the landing skid to avoid obstruction of the plug when replacing the battery. The plug connector is more secure and stronger.
Cool taillights, Quick Tuning
Unique hexagon tail light design, with the flight controlller indicator built-in installation, waterproor and concise. There is USB data dable interface in the button,Settings can be adjusted without removing the canopy, more convenient.
Anti-collision Extension Nozzle
Lengthen the nozzle, and connect it with soft silicone, which can effectively prevent the nozzel from breaking when subjected to external force.
The new distribution board adopts a separate and hidden design to isolate the power supply and signals, optimize the internal electromagnetic environment of the aircraft, and provide a larger space for flight control installation, which makes the wiring more concise.
16L High Capacity Water Tank
Specially designed for bigger spaying aera. For the 16L water tank, it has big size liquid inlet, increase the efficiency.
Waterproof Body
The body is streamlined and full of science and technology.It is overall waterproof, can be washed directly with water.