Best Infrared Drones Buying Guide
Thermal imagery allows us to see the world in a whole new way. Heat signatures that are emitted by human bodies, fires, and other sources of warmth stand out from cooler backgrounds, which allow us to identify subjects we would not otherwise be able to see.
Search and Rescue drones equipped with thermal imaging help first responders identify the location of people lost in chaotic scenes, and police departments have started using drones with thermal capabilities to identify the location of suspects while keeping an infrared eye on their officers.
Fire departments have started to use thermal drones to identify patches of fire that are obscured behind clouds of dark smoke, and the use of infrared has increased hose efficiency while lowering the chances that people are left behind in fire zones.
There are also numerous commercial uses, like checking homes or buildings for sources of excess heat, or scanning solar panels for malfunctioning units. In these cases, thermography has helped save businesses and individuals thousands upon thousands of dollars.
DJI Inspire 1 V2.0 with Zenmuse XT
DJI consistently manufactures the most popular drones on the market, and models like the Inspire 1 V2.0 explain why. Re-engineered with a powerful new propulsion system, the Inspire 1 V2.0 is a highly intelligent, dual-operator equipped quadcopter, integrated with smart flight modes and a 3-axis stabilizing gimbal.
Features and Specs:
18 Minute Flight Time
49mph (79kph) max speed (!)
3-axis stabilizing gimbal
360-degree camera rotation
Ready-to-fly aerial system
Dual-operator mode
Zenmuse XT Thermal Performance Model estimates temperature surrounding the camera focus point, allowing users to spot salient differences
Zenmuse XT Thermal Radiometric Model allows users to isolate pixels and sections of the display while giving average, highest, and lowest temperatures for that area
Ideal for analytics and telemetry
Yuneec Typhoon H with CGOET Thermal Imaging and Low-Ligh Camera
The Typhoon H is a beautifully crafted UAV.Equipped with the CGOET Thermal Imaging and Low-Light Camera, has become one of the most sought after camera drones for sale. It offers a generous 25-minute max flight time.
Features and Specs:
25 Minute Flight Time
Point of Interest mode instructs drone to circle objects of interest
Curve Cable Cam instructs drone to follow preset coordinates
Follow Me/Watch Me mode instructs drone to keep camera focused on user
Foldable arms make travel easy
1080p Thermal Imaging and Low-Light Camera
3-axis gimbal
360-degree gimbal rotation
Dual lens
OnyxStar Xena with Optris PI 640
The OnyxStar Xena is a foldable, weather resistant octocopter, designed for professional grade performance and loaded with a variety of advanced features. It's versatility and smart flight modes have made it one of the most talked about RC copters on the market, especially when loaded with a drone infrared camera.
Features and Specs:
37 Minute Flight Time
2kg (4.4lb) payload
16,400ft Altitude Range
Octocopter foldable frame, made with high quality, lightweight carbon
Drone operates from -5 °F to 104 °F
Infrared Camera Weighs mere 320g
125Hz frame rate
Pin-sharp radiometric features
Flyability Elios Drone
Wrapped in a spherical, collision-tolerant frame, the Elios Drone was designed to operate in confined spaces where other drones wouldn't dare fly. Equipped with full HD and thermal imagery recording, the Elios Drone can be piloted from a distance using the Elios Ground Station, while its state-of-the-art wireless communication system provides live feedback from the onboard camera.


Features and Specs
10 Minute Flight Time
Batteries charge in seconds
Carbon fiber protective frame
Powerful LED lighting for navigating in the dark
Full HD and thermal imagery
Live video feedback and wireless communication
Operates from 32 °F – 122 °F (0 °C – 50 °C)
Elios Ground Station reports live telemetry data, and comes with a remote controller and a tablet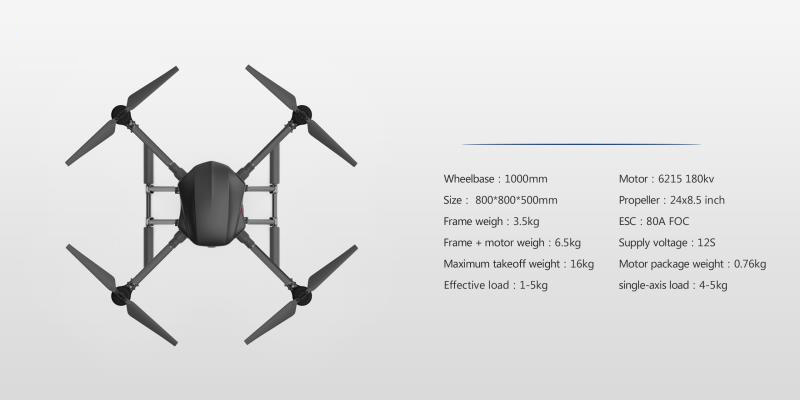 Customize Industrial Drone frame with rotor, 1-5KGS payload for camera and other equipment.
Flight platform for customize industrial Specially designed for industry applications. with modular design concept, the main components can be quickly disassembled and assembled, flexible and multi-purpose, convenient for customized demand expansion, and the whole frame adopts dumb black coating, which shows processional stability.