Drone used to monitor people's body temperature in Saudi Arabia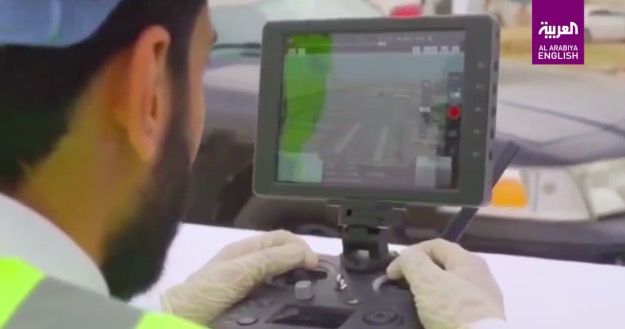 In the Kasim region of Saudi Arabia, in order to curb the spread of the new coronavirus, public places such as the Buraidah market use high-tech thermal drones to monitor people's body temperature.
According to a report by the Saudi Press Agency (Saudi Press Agency) on the 29th, these thermal drones are equipped with artificial intelligence thermal imaging cameras. In addition, according to SPA news, the thermal drone temperature measurement is only part of the anti-epidemic measures in Qasim City. In addition, it also includes other preventive measures such as providing disinfection products to shoppers. The purpose is to reduce the probability of the spread of the new coronavirus.
According to local media reports, the Medina government has adopted similar technology.
It is reported that thermal imaging cameras can monitor up to 24 people per second. If a person's body temperature is higher than normal, they will not be allowed to enter the public market and will be required to immediately contact a medical staff for a physical examination.
On March 29th, local time, the Saudi Ministry of the Interior stated that all domestic and international flights will be suspended. The "home office" policy of private and public enterprises will continue to be extended, and the extension time will be notified separately. At the same time, in order to curb the spread of the new crown virus, Saudi residents were banned from entering and leaving Jeddah.
QR210R 10x zoom Infrared & RGB camera
Specifications:
Size: 108mm * 150mm * 180mm
Working environment: -10 ℃ to + 45 ℃
Voltage: 3S or 6S (DC12V-26V)
Power: 12W Video transmission distance: 4G single
Rolling angle action range: -45 ° ~ + 135 °
Tilt and roll angle jitter: ± 0.02 °
Angle jitter in horizontal direction: ± 0.03 °
Memory card: Support 16G to 128G class10 TF card
RGB Camera
CMOS: 1/3 inch 4 million pixel CMOS SENSOR
Optical zoom: 10x HD optical zoom lens, f = 4.9 to 49mm
Focus time: real-time fast focus function, focus time <1S
Video output: HDMI 1080P 60FPS
Field of View (FOV): D: WIDE 66.6º ± 5% TELE 7.2º ± 5%
H: WIDE 53.2º ± 5% TELE 5.3º ± 5%
V: WIDE 39.8º ± 5% TELE 4.2º ± 5%
Support mode: 1080P 60fps
Infrared Camera
Resolution: 320 * 240 pixel
Type: Uncooled Focal Plane Microbolometer
Wavelength range: 8 ~ 14μm
Thermal sensitivity (NETD): ≤65mk @ 30 ℃
Contrast and brightness adjustable
Field of view: 6.5mm lens, angle: 34.4 x 25.8
Measurement function: center point, highest temperature and lowest temperature display temperature function;