Drone4agro 50L hybrid power spraying drone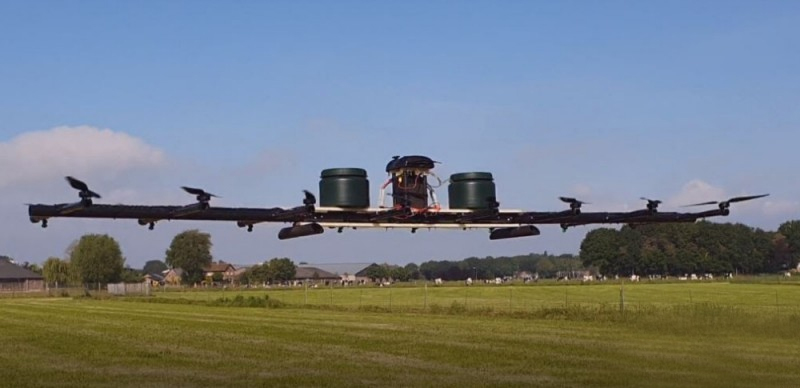 The application scale and momentum of drones in the agricultural field are increasing because they can save time and cost while increasing crop profits. However, most multi-purpose helicopters are not enough to cover large areas of crops or plantations. In the best case, the electric multi-rotor aircraft has a load capacity of 20 liters, and the flight time is between 10 and 25 minutes. This forces the pilot to bring multiple batteries to the scene, wasting most of the charging time.
The Drone4agro team announced that they will work with engine company Loweheiser to develop a range extender for their 6-meter jet drone. The two companies are working together on effective solutions to the weight problem. By building a 6-meter-wide UAV, its carrying capacity will be improved. With this epoch-making innovation, farmers will be able to carry 50-liter spray tools with drones.
The solution involves installing a range extender on the drone, using fuel instead of batteries. This greatly simplifies operation and eliminates the need for multiple battery chargers. It is coupled to a generator by a two-stroke engine. Replace the battery by refueling, saving the time of frequent battery replacement.
FD-416 16L hybrid power drone sprayer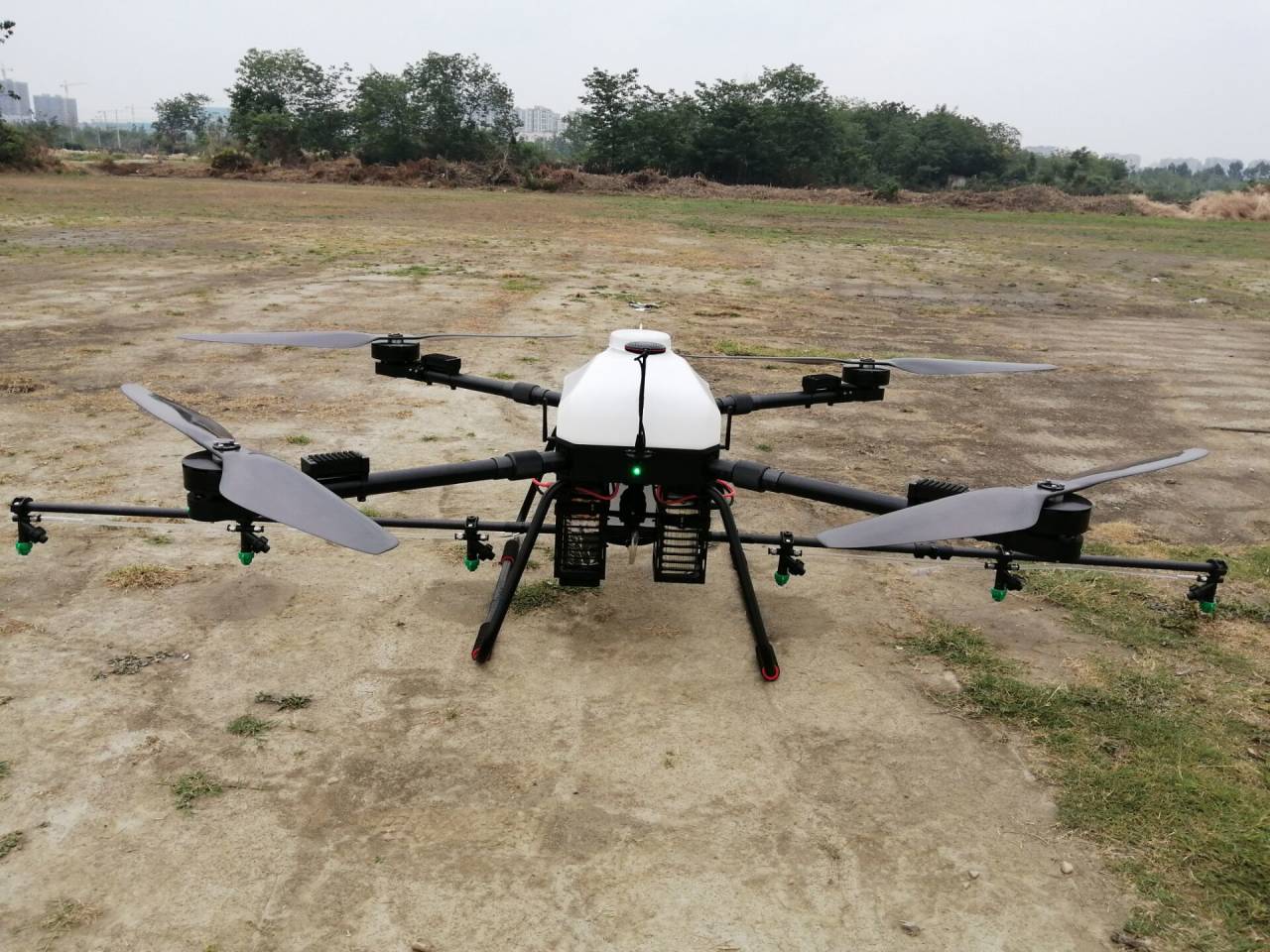 Specification:
Model:FD-416
Number of axes:4 axis
Wheelbase: 1500mm
Power : 6000w Hybrid power
Medicine box vol1ume:max 16L
Max takeoff weight: 40kg
Fuel tank capacity : max 3.5L
Hybrid model: FL6000W
Full load flight time: 35 minutes
Work efficiency: 6 acres/flight
Function:
1. Foldable frame, easy to transport
2. Intelligent flight with autopilot
3. Intelligent flight memory, record break-point
4. Adjustable spray flow rate
5. Adjustable altitude and fly speed
6. Fail-safe, auto fly when out of control
7. Low voltage warning and auto return to base
8. Empty tank warning and auto return to base
9. Terrain following with MMW radar
10. Software(ground station and manage platform)
6000W generator for FD-416 hybrid power drone sprayer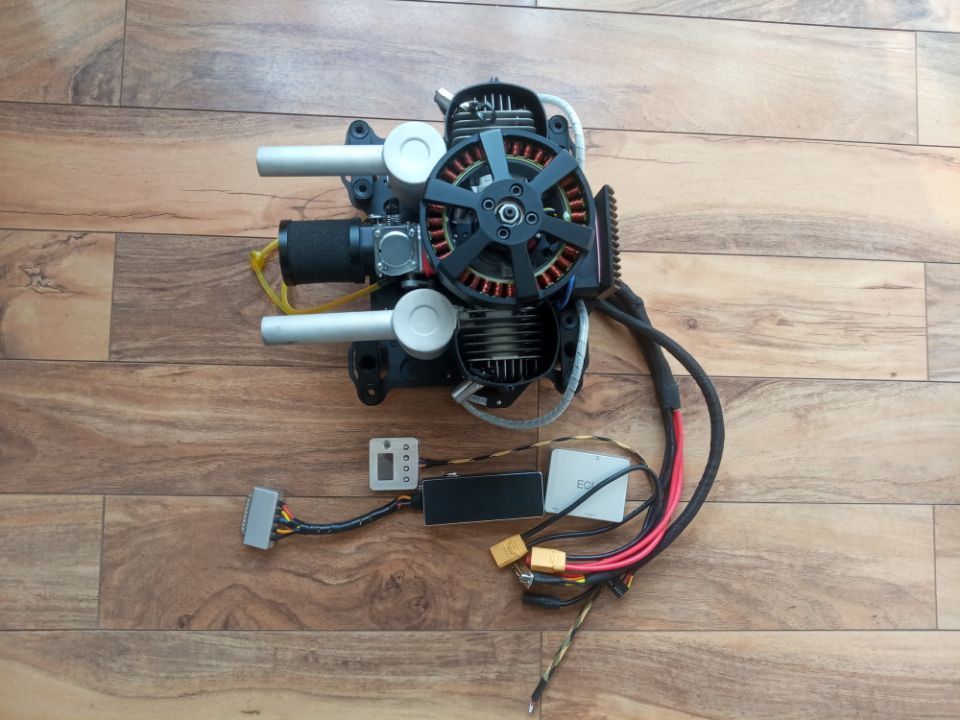 specification
Size: 270*310*252mm (LxWxH)
Rated voltage :MIX 44.4V MAX 50V 12S
Continues power: 4500W
Weight: 7.2 kg
Fuel tank capacity: 3.5L / 2L
Fuel consumption : 6L/H
Suggest rotor: EA118 KV95 & 38 inch propeller for Quadrotor
Max takeoff weight: 39KGS for industrial drone.
Fuel ratio: 25:1 (95# gasoline, FD grade 2T oil)
Working temperature: -20~45 degrees Celsius
Startup mode: one-button self-starting
Cooling method: forced air cooling
FL6000 advantages:
1: Intelligent cooling system: It can reduce heat consumption according to the high and low temperature of the engine cylinder.
2: LED intelligent display, real-time accurate display of speed, voltage, cylinder temperature and system status.
3: One-piece patented industrial design, dustproof and waterproof, easy to maintain.
Features
1.The integrated power generation design is started, and the air start function can be realized without relying on external starting equipment.
2.The one-piece design makes it easy to hang in all types of racks.
3.No need to charge preparation time, no complicated ignition action, can quickly perform tasks.
4.In a cold environment of -20 degrees Celsius, it can work stably.
5.The backup battery can provide power for emergency short-range return or forced landing in an emergency.
6.For light-load business, additional fuel tanks can be added and the range can be increased to 1.5-3 hours.
Quick and easy engine installation for quick and easy engine replacement and maintenance.