EHang's Heavy Lift Drone for Haul Deliveries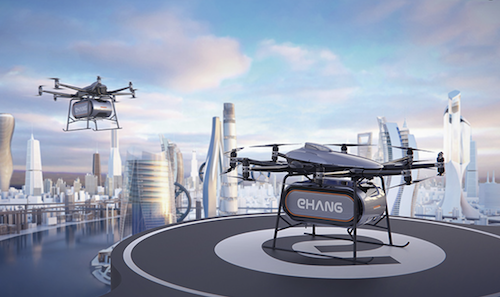 EHang Holdings Limited (Nasdaq: EH), the world's leading autonomous aerial vehicle ("AAV") technology platform company, has unveiled the EHang 216L. EHang's heavy lift drone is ideal for short-to-medium-haul air logistics – both in cities and rural areas.
The EHang 216L can carry a payload of 200kg – about 440 pounds – which EHang says is, as far as they know, the largest payload for multi-rotor AAVs.
"The EHang 216L is another good application of its world-leading AAV technology platform in addressing real market needs such as logistics," says an EHang press release. EHang has been agile in finding applications for their signature passenger drones that can be implemented today, before infrastructure and regulation to support urban air mobility (UAM) is widely available. In parallel with developing ground-breaking passenger drone applications in China, such as aerial sightseeing tours, they're developing applications including firefighting, ambulance drones, search and rescue and cargo delivery.
"…the EHang 216L opens up more commercial opportunities for the company in various urban and rural short-to-medium-haul aerial logistics use cases that require frequent and point-to-point flight tasks," says the press release. The EHang 216L could be used by the energy industry to resupply offshore oil rigs autonomously, for logistics in international ports, or for a wide variety of other applications.
"According to Frost & Sullivan, the urban air mobility ("UAM") global logistics market could reach US$46 billion by 2023 (an estimated CAGR of 740%)," says the EHang press release. "China is projected to be the largest regional market in the world in 2023, accounting for 45% of the global logistics UAM market."
We're thrilled to unveil another new version of AAV following the EHang 216F," says EHang's Founder, Chairman and CEO Hu Huazhi. "The EHang 216L will meet the demand for heavy-lift AAVs for short-to-medium-haul aerial logistics. With increasing payloads and flight ranges, aerial logistics is expected to be one of the initial commercial applications of AAVs as it has higher efficiencies but lower emissions than the conventional ground transportation. The launch of the EHang 216L also complements our existing aerial logistics AAV portfolio, which consists of the medium-sized Falcon B and the small-sized GD 2.0X. It also enables us to meet customer needs in various aerial logistics use cases."
FlyDragon FD-1660 heavy life drone
700
FD1660 six axis carbon fiber long endurance drone
FlyDragon FD1660 is a long flight time six axis carbon fiber drone , FlyDragon FD1660 is made of carbon fiber material which features light weight and high strength, the canopy of FD1660 is made of glass fiber so that the GPS signal won't be blocked. The closed fuselage structure can protect FD1660 from the rain and dust, and also protect other load equipments like flight control and battery.
FD1660 can be applied in many fields like aerial photography, emergency rescue, reconnaissance mission, power line inspection, remote sensing survey and mapping etc.
We suuply drone frame, PNP or RTF
Specifications:
Aircraft Type: Hexacopter
Wheelbase: 1660mm
Airframe Material: Carbon Fiber And Composite Materials
Package Size: 400*730*930mm
Drone frame Weight : 2.7kg
Max. Take-Off Weight:26kg
Max. Payload: 12kg
Flight time: 120minutes(without payload)
80minutes(3KG payload)
40minutes(10KG payload)
Max. Climb Speed: 4m/s
Cruise Speed: 10m/s
Max. Flying Speed: 15m/s
Max. Altitude AMSL: 4000m
Hovering Accuracy:Vertical ±1m, Horizontal±1.5m
Max. Wind Resistance: Level 6
Operation Temperature: -20~60℃
IP Rating:IP56
drone Frame Features:
– TORAY 3K Carbon fiber material
– Light-weight, durable and stable
– Rainrproof
– Long flight time
– Detachable arm, easily portable