India BVLOS delivers drones
Indian business online website hindubusinessline reported that on January 26th, Indian Republic Day, after the approval of the Indian Ministry of the Interior, the long-awaited delivery test of BVLOS began. This operation allows drones to fly longer distances.
The initial trials started in Canalayapatna, Hassan District, Karnataka, a two-hour drive from Bangalore. The test lasted 60 days and lasted 100 hours, using drones to transport medicines, food and other items. Twenty consortia have been selected to conduct these experiments in different regions.
Ankit Kumar, general manager of the consulting firm Alternative Global India (AGI), explained, "Although these trials were conducted in April last year after the Ministry of Civil Aviation and the Directorate General of Civil Aviation (DGCA) approved a small number of operators, We must obtain approval from the Ministry of the Interior."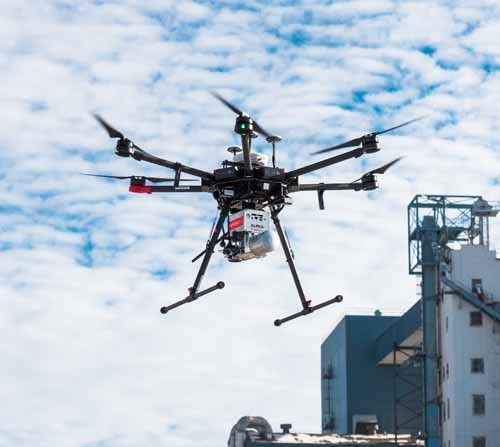 After the test is completed, the research results and proof of concept will be submitted to the General Administration of Civil Aviation of India, where a policy framework will be formulated. Companies can deploy drones to commercial applications of BVLOS.
AGI is part of the Dunzo Air and Clear Sky alliances. They are experimenting with package delivery. At the same time, the company is helping about 25 different companies to create a delivery drone including a route map and an unmanned air traffic management. (UAM) system. These areas include drone manufacturers, operators, services, 3D map and data analysis providers, and mobile network operators.
AGI also spearheaded several operations to enable drones to deliver emergency supplies such as the Covid-19 vaccine, especially in difficult and more remote areas.
Kumar continued: "As an industry organization, we hope that the Indian Civil Aviation Administration's policy 2.0 draft will be in place by December 2021, and large-scale BVLOS commercial flights will start in 2022."
Flydragon FD-50P BVLOS delivery drone
FD-56P VTOL Fixed-wing Specification
Body length: 2.5m
Wingspan: 3.8m
Maximum takeoff weight: 50kg
Maximum payload: 15kg
Life time: 2h@15kg payload, 4h@10kg payload
Flying radius: 200-400km (depending on the amount of oil)
Maximum control distance: Remote control (manual control): 1km
Ground station control (depending on the distance of the digital transmission): 30km standard
Maximum speed: 130km/h
Cruising speed: 100-120km/h
Maximum oil load: 12L
Lift limit: 4000m
Maximum wind resistance: 12m/s (6 wind)
Use environment: -10 °C +45 °C; anti-light rain
Climb/lower power battery: 4*14000mAh-6S lithium battery
Take-off and landing mode: vertical takeoff and landing
Shipping size: 1.6*0.7*0.6m (length * width * height)