India showcases Rustom II long-endurance drone
The Defense Research and Development Organization (DRDO) of India demonstrated the autonomous take-off and landing capabilities of the Rustom II medium-altitude long endurance (MALE) drone. DRDO announced this milestone on November 13. The agency added that during the trial, Rustom II also demonstrated its ability to utilize India's GAGAN satellite navigation system.
Rustom II is a twin-turboprop UAV designed for intelligence, surveillance, and reconnaissance (ISR) missions. It has a total length of 9.5 m and a wingspan of 20.6 m. It can carry payloads, such as gimbal photoelectric sensors weighing 350 kg.
The aircraft was jointly developed by the Bangalore-based Aviation Development Agency and the state-owned Hindustan Aviation Co., Ltd. and Bharat Electronics Co., Ltd. It comes from the Rustom drone family, the first of which was unveiled in 2009.
Rustom II is driven by two three-blade propellers and two Saturn 36T turboprop engines, each with a rated power of 74.57 kilowatts (100 horsepower). It has a tricycle landing gear with a T-shaped tail assembly and shoulder-mounted wings to improve the perceptibility of its payload system.
The UAV has a service ceiling of approximately 35,000 feet, a hovering speed of approximately 67 knots, and a maximum speed of 121 knots. For surveillance tasks, the drone can wander around the station for about 24 hours.
FlyDragon FD180P long endurance heavy VTOL fixed-wing UAV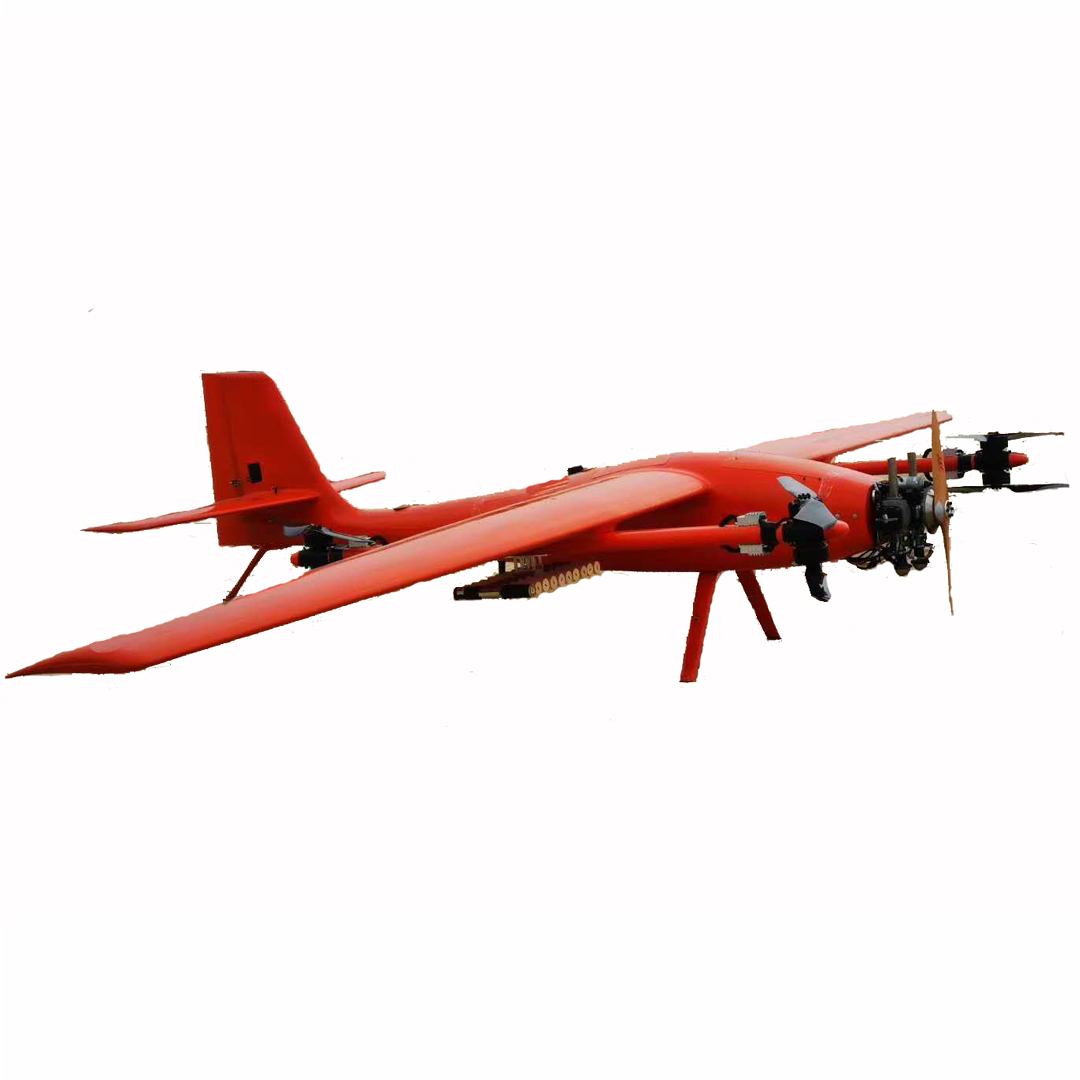 FlyDragon FD180P long endurance heavy VTOL fixed-wing UAV is a large-scale oil-powered long-haul composite wing vertical take-off and landing drone independently developed by our company. The overall layout of the composite wing with fixed wing and four-rotor is used to solve the fixed-wing UAV vertical in a simple and reliable way.

The FD180P long endurance heavy VTOL fixed-wing UAV platform is equipped with industrial-grade vertical take-off and landing fixed-wing flight control and strapdown inertial navigation system, as well as professional aerial aerial survey and inspection ground station software. It can ensure that the drone can fly autonomously and complete the autonomous takeoff without operator intervention. In the flight phase of flight state transition, autonomous cruise, and autonomous landing, it also supports automatic route planning for more than 1000 waypoints and emergency standby plan for 100 waypoints.
The drone platform has the following features and advantages:
a) Practical and efficient: it has the characteristics of fixed-wing UAV's long flight time, fast speed, long distance and large load;
b) Vertical take-off and landing: with the take-off and landing mode of the rotorless drone, greatly reducing the requirements for landing and landing and airspace;
c) low cost of use: no complicated and bulky launching and recycling equipment, no additional recycling sensors required;
d) Simple operation: integrated special flight control and navigation system, full autonomous flight, operators only need to send flight plans, no professional training and operational experience;
Performance

parameter

Body length

3.35m

Wingspan

6.5m

Maximum takeoff weight

180kg

Maximum payload

40kg

Endurance

8h~10h

Flight radius

300-500km

(depending on the amount of oil loaded)

Maximum control distance

Remote control (manual control): 1km

Ground station control (depending on the distance of the digital transmission): 30km standard

Maximum speed

130km/h

Cruising speed

100-120km/h

Maximum oil load

40L

Lift limit

5000m

Maximum wind resistance

12m/s(6 level winds)

Use environment

-10℃+45℃; anti-light rain

Vertical takeoff and landing

32*8000mAh-6S Li battery

Takeoff and landing mode

Vertical takeoff and landing