Leonardo and Poste Italiane collaborate to develop heavy life drone
FlyingBasket's trials were carried out in Turin this week in partnership with aerospace, defence and security company Leonardo and national postal service Poste Italiane. The trial run consisted of two different FlyingBasket FB3 electric take-off and landing heavy life drone
The missions marked another milestone in FlyingBasket's work to design, produce and operate its industrial heavy-duty cargo drone, which operates on eight rotors and can carry payloads of up to 100kg.
Founded in 2015, the company has been using the FB3 to provide regular commercial drone cargo services since it was certified by Italian authorities in 2020 — albeit limited to sparsely populated areas. The company later received its first authorization from the Italian aviation authority ENAC to operate cross-border cargo drone flights. It chose to oversee the Turin test flight, which was released mainly from there.
The company also specializes in heavy-duty cargo drone services for destinations that are difficult to reach using traditional motor vehicles, such as mountains, islands and remote areas. In addition to transportation, FlyingBasket also provides civil defense services, cable stretching, surveillance, multi-sensor analysis and other custom businesses.
The Turin flight involved two FlyingBasket heavy-duty cargo drones with a payload of 26kg. Post payloads in different ways. One of the craft uses a sling and hitch system for delivery at destination without landing - the other relies on an internal cargo compartment to facilitate unloading and unloading of more fragile payloads after landing and to protect them from the elements during flight .
In addition to demonstrating the efficiency and safety of cargo drone deliveries over large cities, the test flight also successfully tested the performance of over-the-horizon operations in major urban environments.
"The future of logistics lies in automated freight transport," said FlyingBasket CEO Moritz Morode. "This mission demonstrates the huge potential of cargo drones in metropolitan areas. Today we deliver 100kg with one drone, and in the future a fleet of unmanned drones will not only be able to keep up with growing logistics demand, while also increasing flexibility and reducing lead times.
FDD50 fixed-wing VTOL heavy life drone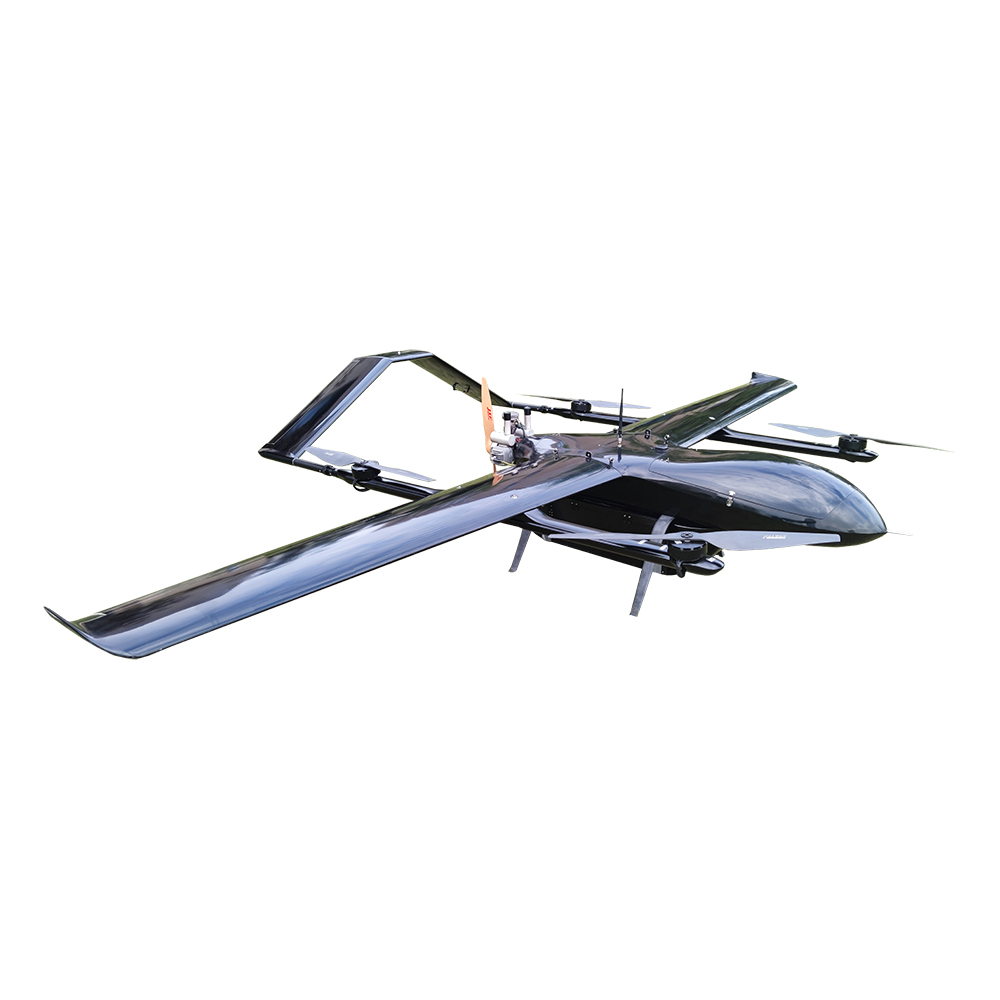 Delivery VTOL UAV, Remote airdrop system for emergency supplies(replenishment of medicines, food, water, plasma, etc.)
FlyDragon FDD50P UAV cargo heavy life drone is equipped with industrial-grade vertical take-off and landing fixed-wing flight control. Maximum payload 15kg, life time is 2h@15kg payload, 4h@10kg payload, it's have a dropping box for delivery, drop box size: Length 462MM, width 296MM, height 169MM. it's used to delivery medicines, food, water, plasma, etc
The drone platform has the following features and advantages:
a) Practical and efficient: it has the characteristics of fixed-wing UAV's long flight time, fast speed, long distance and large load;
b) Vertical take-off and landing: with the take-off and landing mode of the rotorless drone, greatly reducing the requirements for landing and landing and airspace;
c) low cost of use: no complicated and bulky launching and recycling equipment, no additional recycling sensors required;
d) Simple operation: integrated special flight control and navigation system, full autonomous flight, operators only need to send flight plans, no professional training and operational experience;
e) Compact system: no complicated auxiliary equipment, simple transportation, deployment, maintenance and withdrawal.
Specification
Body length: 2.5m
Wingspan: 3.8m
Maximum takeoff weight: 50kg
Maximum payload: 15kg
Life time: 2h@15kg payload, 4h@10kg payload
Flying radius: 200-400km (depending on the amount of oil)
Maximum control distance: Remote control (manual control): 1km
Ground station control (depending on the distance of the digital transmission): 30km standard
Maximum speed: 130km/h
Cruising speed: 100-120km/h
Maximum oil load: 12L
Lift limit: 4000m
Maximum wind resistance: 12m/s (6 wind)
Use environment: -10 °C +45 °C; anti-light rain
Climb/lower power battery: 4*14000mAh-6S lithium battery
Take-off and landing mode: vertical takeoff and landing
Shipping size: 1.6*0.7*0.6m (length * width * height)
Drop box size: Length 462MM, width 296MM, height 169MM
Delivery method: parachute