NJ Police Department Procures Drone USA Thermal Drone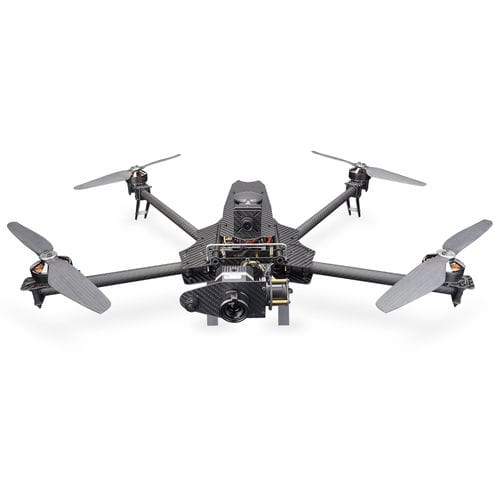 Drone USA, a drone company, has received a purchase order for a thermal imaging drone from the New Jersey State Police. The drone, tailored for police departments, is equipped with speakers, cameras and searchlights. The searchlight has a range of 5 miles, and the camera has an 8x zoom.
Introduction to U.S. Drones
Drone USA provides full-service drone consulting, from helping you purchase the right drone and accessories, to providing you with training, practice, and licensing. Whether you're a private security team, police force or government, our extensive drone technology and training programs will ensure your teams fly smarter, safer, and with the precision of an experienced drone pilot.
Coaxial Octocopter drone 60 minutes endurance with 2.5KGS payload for policement
FlyDragon FDC-8R Coaxial Octocopter Pro is a small size drone combines a rugged folding design and multiple configurability to work as a solution for a variety of industrial applications, such as mapping, inspection and delivery. The highlight of the co-axial design is to effectively increase the load capacity . The design of whole octocopter system will not be affected if one motor or propeller stops running, which is still able to land safely. Electrically powered unmanned octocopter system Autonomous operation – waypoint navigation Designed for various applications requiring the automatic operation with electro-optical payloads.
8 rotors configured coaxially for redundancy
Foldable for easy transportation
Resistant to rain and bad weather conditions
Fully enclosed modular payload bay
For sensor modules weighing up to 5 kgs
Made from lightweight carbon fiber materials
Digital live video and telemetry data transmission
Navigation light system is helpful in various situations
High-efficiency cooling system
Landing gear is adjustable so that different types of equipment can be mounted
Dual-battery system ensures longer flight time, which boosts up to 80 minutes without payload and 40 minutes with 5kg payload
Specification:
Diagonal wheelbase: 815MM
Unfolded Dimensions: 960*960*450MM
Folded Dimensions: 400*200*900MM
Suggested Max payload: 5KGS
Max take-off weight:15KGS
Without battery: 4KGS
With battery: 10KGS
Endurance: 80 minutes without payload, 40 minutes with 5KGS payload
Max wind resistance: 16m/s
Ingress protection rating: IP65
Battery: 2 unts of 7S 28000mAh Li-ion
Operating temperature: -25℃ to 60℃
Max flight Ceiling: 5000m
Max speed: 18m/s with GPS mode
Your Purchase Includes:
RTF version
1x Pro Frame
8x Motor and ESC
4x (pair) 22 inch Carbon Fiber Propeller
1x Pixhawk Cube Orange Standard Set with Here 3 GNSS
1x FD16 All-in-one Portable Ground Control Station
2x 7S 28000mAh Li-ion Battery
1x K4 Battery Charger
1x Carrying Case