Sentera Introduces Revolutionary Multispectral Double 4K Sensor
Today, Sentera announced the release of its Multispectral Double 4K Sensor, offering five precise spectral bands: blue, green, red, red edge, and near-infrared (NIR). This sensor enables users to collect visual band imagery as well as vegetation indices based on the addition of NIR or Red Edge, including normalized difference vegetation index (NDVI) and normalized difference vegetation red edge (NDRE). The Multispectral Double 4K is physically smaller but offers more than double the spatial resolution of its primary competitors.
Using patent-pending technology, Sentera's Multispectral Double 4K Sensor helps agronomists, crop consultants and growers identify issues with their crops earlier and with greater precision.
BETTER DATA, BETTER DECISIONS
Better in-field data leads to better decisions, which translate into improved crop health actions. The Multispectral Double 4K sensor delivers unparalleled high-megapixel crop health imagery and data.
Utilizing five spectral bands, agriculture experts have robust yet highly intuitive data sets from which to draw. All data is seamlessly compatible with Sentera's AgVault™ web, mobile, and desktop software, integrating the Multispectral Double 4K data with all major digital agriculture platforms.

EASY INSTALLATION
Sentera paired the Multispectral Double 4K sensor with a plug-and-play gimbal for the DJI Inspire 1 platform that actively stabilizes the sensor during flight – regardless of drone speed, pitch, or yaw – producing distortion-free crop health data.
"Within seconds users can attach our Multispectral Double 4K to a DJI Inspire 1, and other select DJI drones, and be scouting fields immediately, capturing high-value NDVI and NDRE crop health data. No additional tools or cables are required," explains Kris Poulson, vice president of agriculture for Sentera.
OUTSTANDING DATA
"The Multispectral Double 4K is an extremely capable sensor. Our intent was to create a solution for the agriculture industry that was both simple to use and radiometrically accurate," remarked Ryan Nelson, chief mechanical engineer for Sentera. "Designing this product offering was a natural progression for Sentera. We believe it is the best, most effective, easiest to use agriculture sensor for small drones."
According to President of AMI 3D Services, Derek Billiot, "Sentera's Double 4K sensor has become a staple for our drone services operation, reliably producing accurate and visually-correct data every time we fly. Our industry demands accurate data and Sentera's solution has proven to be the best fit for our business."
EASY CONNECTION, SINGLE FLIGHT CAPTURE
The gimbaled Multispectral Double 4K sensor quickly clicks into the drone's camera socket without adjustments. While in flight, the sensor automatically captures crop health data in a single pass and according to the user's desired flight parameters.
Whenever desired, a user may swap out the gimbaled Multispectral Double 4K sensor to another DJI gimbal.
COMPATIBLE PLATFORMS
The Multispectral Double 4K sensor easily integrates onto thedrone drone platforms.
More details please Click here to learn more, or visit Sentera's website to pre-order.
Customize Industrial Drone frame with rotor, 1-5KGS payload for camera and other equipment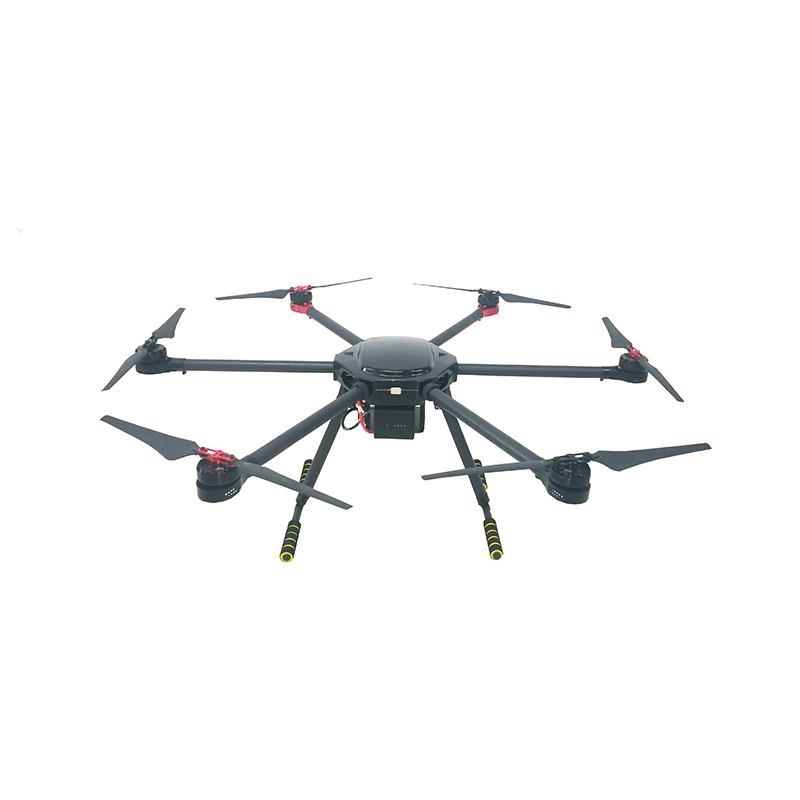 Flight platform for customize industrial Specially designed for industry applications. with modular design concept, the main components can be quickly disassembled and assembled, flexible and multi-purpose, convenient for customized demand expansion, and the whole frame adopts dumb black coating, which shows processional stability.
Specification:

Wheelbase: 960MM Height: 400MM

Unfold size: 960*960*400MM fold size: 960*260*400MM

Frame + motor Weight: 3.42KG

Supply voltage: 6S

Maximum takeoff weight: 5.44KG

Effective load: 1-2.5KGS

Motor: 5008 335KV

Propeller: 1760(17 inch) foldable nylon propeller

Battery: 16000 mAh 22.2V weight: 2020g

Payload: 1KGS

Endurance: 30 minutes(without payload), 22 minuts (with payload)