Status and Trend of drone mapping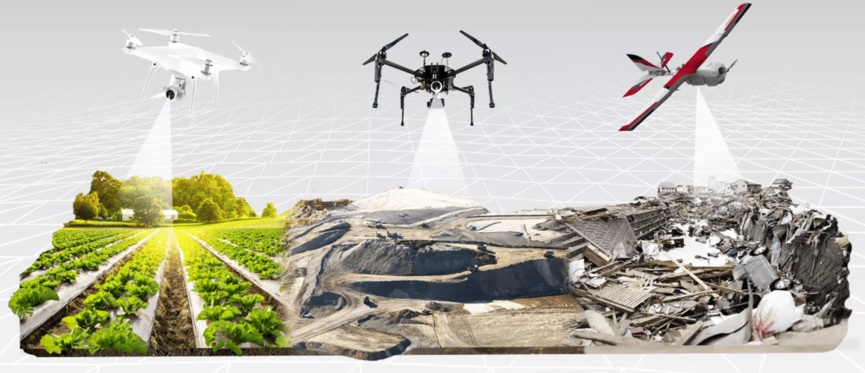 一
. Overview of drone mapping
Many companies around the world integrate drones into their daily workflows. Drones can easily capture data. Data modeling, management, and sharing are easily achieved through various software platforms. Drone mapping provides users with fast aerial data Provide faster and more accurate decisions.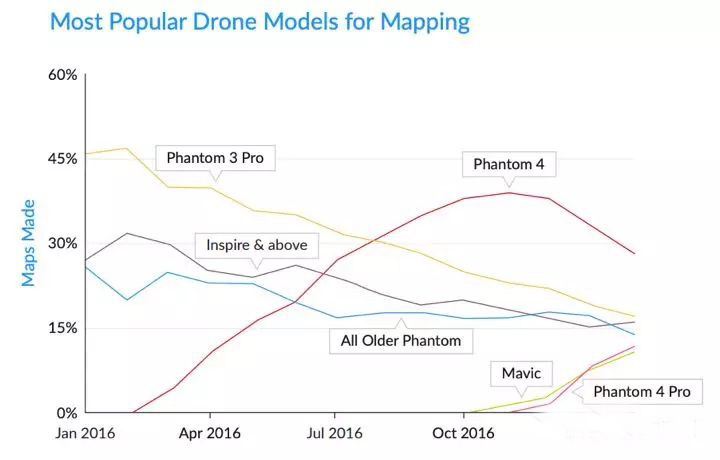 二.
Status of drone mapping
Compared with traditional topographic mapping and image aerial photography methods, drone mapping can save more than 3 times cost. Although regulatory compliance, safety and training of drones are still obstacles to development, the commercial drone industry has reached a tipping point, and the impact of drones cannot be ignored. They can change the way many companies operate,

Pricing studies conducted by DroneDeploy and Airstoc data show that service providers that specialize in mapping produce an average revenue 16% higher than service providers that only provide ordinary photos / videos.
The specialization of drone mapping brings great value to companies from all walks of life. In the coming year, large companies in the construction, agriculture, mining and surveying sectors are expected to invest heavily in these services. From now to 2020, Goldman Sach predicts that companies and civil governments will spend $ 13 billion on drones, and the market opportunity for drones will reach $ 100 billion, thanks to the growing number of commercial and civil government demand.
三
the trend of drone mapping technology
New drone mapping applications are booming in different industries. The application of new technologies makes our mapping and mapping work easier and more fun.
1.Sensor technology

As the price of advanced sensor technology has fallen, some companies have provided a range of mapping sensors, including multispectral, hyperspectral and thermal imaging cameras, and lidar. UAVs with thermal imaging technology can be used for rescue operations. (In firefighting missions, you can save human lives by spotting fires through thick smoke!) Most drone mapping today uses RGB vision sensors.
2.Artificial intelligence technology
With the rise of artificial intelligence drone mapping, AI can be used to plan flight routes. Intelligent data processing and analysis capabilities will be greatly improved. AI will simplify drone mapping and mapping, making drone mapping easier.
3. Automatic Control Technology
At present, drones are usually controlled manually by the operator or use software to complete single or multiple flight surveys. However, this kind of operation has a large workload and is difficult to operate during large-scale mapping. With the help of RTK centimeter-level precision positioning technology. The control system divides the mapping range for the drone and tracks the flight path in real time. The drone device can automatically correct the flight path dynamically based on the position of other devices.
4. Volume and battery life
The launch of portable drones such as the DJI Mavic Pro demonstrates that drone hardware vendors are working to make smaller, lighter devices. In addition to portability, another important factor is battery life.
Normally, fixed-wing UAVs can measure a range of up to several square kilometers in one flight, while rotary-wing UAVs are used for larger area mapping services by extending battery life.
四. Opportunities and challenges of drone mapping
UAV mapping has many advantages such as high accuracy, fast speed, and low cost. UAV surveying and mapping data products have a short production time, have strong timeliness and high resolution, and have been widely used in land surveying, planning and design, and disaster relief.
The current drone aerial photography technology also has obvious shortcomings:
The first is poor flight stability. Second, sensor technology should be improved. Due to technical limitations and requirements, ordinary UAVs cannot currently be equipped with high-precision sensors, so the high-precision information and images required for large-scale mapping cannot be met. Finally, it is too dependent on communication systems. During the execution of aerial survey missions, it is greatly affected by terrain factors, and hackers can interfere with the normal flight of drones through coding programs.
Hybrid Power System for drone mapping
Hybrid Power System for drone Generator for Hybrid Drone
Hybrid Power System for drone FLY2400 generator is a high efficiency generator designed for multicopters. FLY2400 generator is only 4.2kg which is much lighter than any other generators that produce 2400w output power, so FLY2400 generator is five times the efficiency of other generators. The continuous power output of generator is 2000w. An internal combustion engine consumes gasoline and spins a generator to ensure a 48V output. Besides this, a 12S lipo battery package is also needed to be installed onboard to offer emergency back-up power for quick climbing and quick maneuvering. With this generator, the max take-off weight can reach 19kg(according to your power system), and the max flight time is about 5 hours. FLY2400 generator is suitable for those multicopters whose power is still lower than 2000w even with 6kg generator system(including generator, fuel tank and 1L gasoline). As for the fuel, the auto gasoline is available. When the generator running, its noise level is about 80 dBA. But the noise has no effect if you talk 10 meters away from the drone. We also provide the silencer if you need which could reduce the noise to 60 dBA.
Also maintenance is necessary for FLY2400 to keep its high performance. The maintenance cycle is 50 hours. And we will also provide the accessories for generator maintenance.
Specifications:
Weight: 4.5kg
Size: 430x284x181mm (LxWxH)
Applicable models: Multirotors/VTOL Fixed Wing
Max take-off weight: 18kg
Power voltage: 12S
Fuel consumption: 600g/kW*h (Hovering 1.5L/h)
Working Temperature: -20℃-40℃
Theoretical ceiling (Altitude): 1000m
Petrol: 95# or above (petrol+2T lubricant two-stroke lubricants that meet JASO FC/FDIOS-L-EGD standards)
Main Features:
1. Integrated design of Start up and power generation,and the air start function can be realized without relying on external starting equipment.
2. The one-piece design allows for easy suspension in all types of Frame kit and a variety of mission load suspensions on the bottom.
3. No need charge preparation time, no complicated ignition action, it can quickly perform tasks.
4. The backup battery can provide power for emergency short-range return or forced landing in an emergency.
5. For light load service, additional fuel tanks can be added to expanded to flight time to 4-6 hours.
6. Quick and easy engine installation method, conveneient to replace and maintain.
Package Included:
Hybrid powertrain x 1
6s 4000mah battery x 2
Starter x 1
Controller x 1
Spark plug wrech x 1 (Gift)
Petrol Proportional bucket x 1 (Gift)