The 5 cost-effective drone frames for drone service companies
According to incomplete statistics, the global drone services market is projected to grow from $9.56 billion in 2021 to $134.89 billion by 2028 and there are more than 500,000 drone service companies in the world. In order to provide customers with high-quality services, a cost-effective drone is very important. Today I will recommend 5 drone frames for everyone's reference
1.
Baby shark VTOL 250 Fixed wing KIT air frame-USD$3,260.00
Baby shark evtol drone frame is developed by drone manufature FlyDragon UAV company, it's a small vertical take-off and landing (VTOL) drone, Small shark is made of composite materials, which features high strength and light weight. The space is big enough to hold a flight controller, batteries or other devices.
Specifications:
Wingspan: 2.5m
Frame Weight: 2.68kg
Fuselage:Composites
Total Weight: 5.5kg(without battery)
Max Take-off Weight: 12kg
Max Payload: 6.5kg(including battery)
Max Flight Time: 2.5 hours
Max Speed: 100km/h
2.
FDG25 long endurance fixed -wing evtol drone frame-USD$4,380.00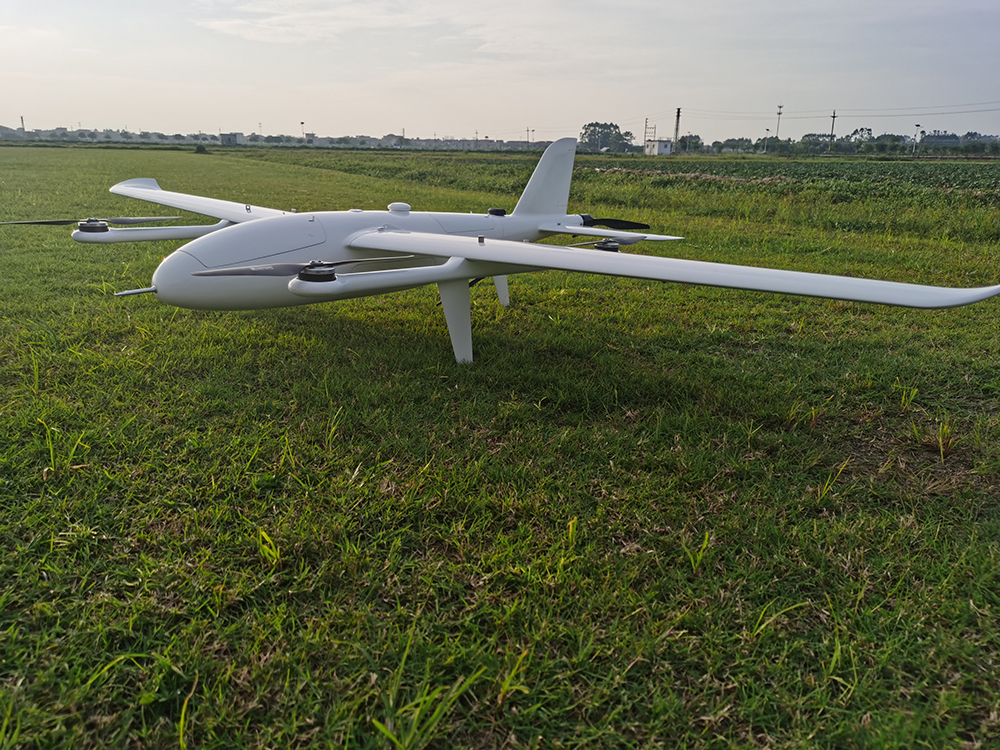 FlyDragon FDG25 long endurance VTOL fixed-wing drone frame with vertical take-off and landing fixed wing drone, wingspan is 2.5 meters,it iss electric version . This model combines the characteristics of long-endurance, endurance time: 170min/1.5kg, 210mim/1.2kg, it's good for drone mapping&surveying, drone surveillance and drone monitor etc. payload location has been reserved for you.
Body material: composite material
Body length: 1.26m
Wingspan: 2.5m
Endurance: 3 hours(1.5kg payload)
Max Fly speed 108km/h
Flight altitude Maximum 4000m
Payload Maximum 2kg
Wind resistance Grade 7(17.1m/s)
Maximum level flight limit: 4000m above sea level
Operating environment: -20℃~45℃; can fly in light rain


3.

FD1200 hexacopter drone hexacopter drone frame-USD$860.00
FD1200 hexacopter drone frame was developed by FlyDragon drone manufacture company, it's a performance hexacopter drone,Hovering titime is 60mins, endurance 43min/3KG, made by carbon fiber material, arm fold down design for easy carry and save much cost on shipping, it's a multi-function drone can mount many payload equipment for mapping&surveying, drone inspection, drone training, drone photograophy, police drone etc.

wheelbase 1240MM
Unfolded size 1260*1100*600mm
Folded size 700*500*600MM
Frame weight 6.9KGS
No-load takeoff weight 12.9KGS(including 1*12S 30000mAh battery 6KGS)
Full load Take-off weight 19KGS
Flight Speed 3-12 M/S
Delivery package size Aluminum Box 600*600*680mm 25kg
Transport volume weight 49kg
The fuselage material Carbon fiber composite
Max flight time (no load) 60 minutes (1*12S 30000mAh battery 6KGS )
Max flight time (full load) 32minutes (3KGS payload with 1*12S 30000mAh battery 6KGS); 21 minutes(8KGS payload with 1*12S 22000mAH battery 4.1KGS)
Remote controller Signal effective range 15KM
Working temperature work -15°C~45°C
Flight Control systems Pixhawk
Dynamic System Hobbywing X6, tube: 35mm
The battery specification 12S 30000 mAh battery or 22000mah*1PCS
work power 44.4V(12S)
Charging Time 0.5-1hour
Recharge Cycles 300-500 times
Storage ambient temperature "For less than 3 months: - 20 ° C ~ 45 ° C
For more than 3 months: - 22 ° C ~ 28 ° C"
Standby time of remote control 8hrs
4. FLYD-100
Training drone frame for AOPA and FAA certification-USD$860
Training drone frame FLYD-100 V2 is special design for education training program and get drone certification. The main body of the fuselage adopts a modular design, and the fuselage frame is integrally formed, with a simplified structure and convenient assembly. the arm adopts a separate disassembly design and ingeniously designed breakpoints to produce damage to the parts of the bomber and reduce maintenance costs. the whole machine adopts the classic umbrella-sharped folding method, which minimizes the size after folding, and is convenient for storage. The design of the whole machine is dustproof and waterproof, and the protection grade is IP65, which can fly normally in the rain. the battery guide rail cooperates with the spring positioning knob to realize the tool-free replacement of the battery compartment, making the battery installation and replacement more convenient and quick. the expandable mounting platform can be adapted to equipment for different industry uses, for example equipped with gimbal, POD, megaphone, throwing device ETC.
Wheelbase: 1000MM Height: 500MM
Frame Weight: 2.75KGS
Supply voltage: 6S
Motor: 5008 KV300
Propeller: 18 inch propeller
Battery: 1 units 16000 mAh 22.2V?
Payload: 3-5KGS
Endurance: 40 minutes(without payload)
5.
FDAD-Q620L precision crop spraying drone frame KIT-USD$1,680.00
precision crop spraying drone FDAD-Q620L precision crop spraying drone 20L large capacity frame KIT
precision crop spraying drone FDAD-Q620L agriculture crop spraying drones. 10L agriculture crop spraying drone is always the most popular. Q620L agriculture drone is specially designed for the most popular 20L capacity. The effective capacity of the drone is 20L. It adopts a quick-release water tank and battery, compact body, light in weight and convenient to fold. Radar and FPV cameras are the first choice for entry-level plant protection drones, there reserved installation space for them on the Q620L series drones.
Description
wheelbase
2028MM
Unfolded size
2642*2569*885MM
Folded size
1192*623*885MM
Tank capacity
20L
Frame weight
10.85KGS
Frame and spraying weight
22.45KGS
Frame and motor sets weight
20.45KGS
No-load takeoff weight
31.2KGS(including 14S 1*22000mAh battery 7KGS)
Full load Take-off weight
51.2KGS
Nozzle
Ceramic sprinkler head imported from Germany/China
Number os nozzles
4pcs
Flight Speed
3-8 Meter /Sec
Spray width
3-6 Meter /Sec
Max spraying flow
1.5-3 kg/min. (Max. 4kg/min.)
spaying efficiency
1.5-3 Acres/Min.
Water Pump Pressure
0.48mPa
Delivery package size
Aluminum Box 1100*600*850mm 45kg
Transport volume weight
110.2kg
The fuselage material
Carbon fiber composite
Max flight time (no load)
20min
Max flight time (full load)
8min
The tank volume
20L
Working temperature work
-15°C~45°C
Signal effective range
5km
Flight Control systems
Boying
Dynamic System
Hobbywing X9, tube: 40mm
Spraying System
High Pressure Spray
The battery specification
14S 22000mah*1PCS
work power
51.8V(14S)
Charging Time
0.5-1hour
Recharge Cycles
300-500 times
Daily efficiency(6hours)
300-500acres
Storage ambient temperature
For less than 3 months: – 20 ° C ~ 45 ° C
For more than 3 months: – 22 ° C ~ 28 ° C
Hover time
No-load flight Time: 20.3minutes (48V)
Full-Load flight time: 8 minutes (47V)
Standby time of remote control
8hrs
Above is the the best drone frame for set up cpmpany, please note all drone frame aren't include another electronics, all price are for drone frame only