The Gremsy T3 for Industrial Applications: Power Line Inspection in the U.S.
Transmission lines are often located in mountainous or remote areas, making on-foot or helicopter inspections difficult, time-consuming, and dangerous. Inspections rely on manual labor that doesn't always capture accurate data for a proper assessment. Manual inspections are not only time-consuming, they're expensive: inspecting 150 miles of power lines and 2,000+ transmission poles takes nearly two weeks when performed on foot of 15 employees. It can take one day by helicopter, but the cost can be prohibitive and the data quality insufficient.
That's why Ozarks Electric Cooperative, a non-profit rural electric utility cooperative headquartered in Fayetteville, Arkansas, United States, collaborated with Honeywell to use the latest drone technology in the inspection process of their utility poles and territory. By using Honeywell's UAV system, inspecting and providing actionable data took only five days. In addition to being significantly less expensive, it's a major benefit in safety: crews can work from a safer location to identify any cracks, vegetation encroachment, frayed electrical wires, or other problems.
Honeywell's industrial drone was equipped with the Gremsy T3 gimbal, a camera stabilizer built for doing commercial inspections. It is lightweight and robust (weight of 2.31 lbs for 3.7 lbs payload), capable of producing 360 continuous pan rotations, and able to set home position. The AUX port on Gremsy T3 provides 12V output to power camera and accessories, and its three optional signals pass through gimbal transmit real-time camera and sensor images which the users can then process as needed.

Gremsy T3 industrial drone is compatible with Pixhawk FC to support its autonomous flight inspection system. It can be controlled via Lightbridge 2 when using A3/N3 FC, and be used with multiple RC such as SBUS, PPM, or SPECTRUM.
Throughout the inspection mission, Gremsy T3 paired perfectly with the drone to perform seamlessly in the air. The gimbal demonstrated the practical and highly efficient operation of the latest drone technology beyond the visual range. That is the power of technology: important for those who operate electric grids, and for anyone who has some form of infrastructure to monitor.
Power line string drone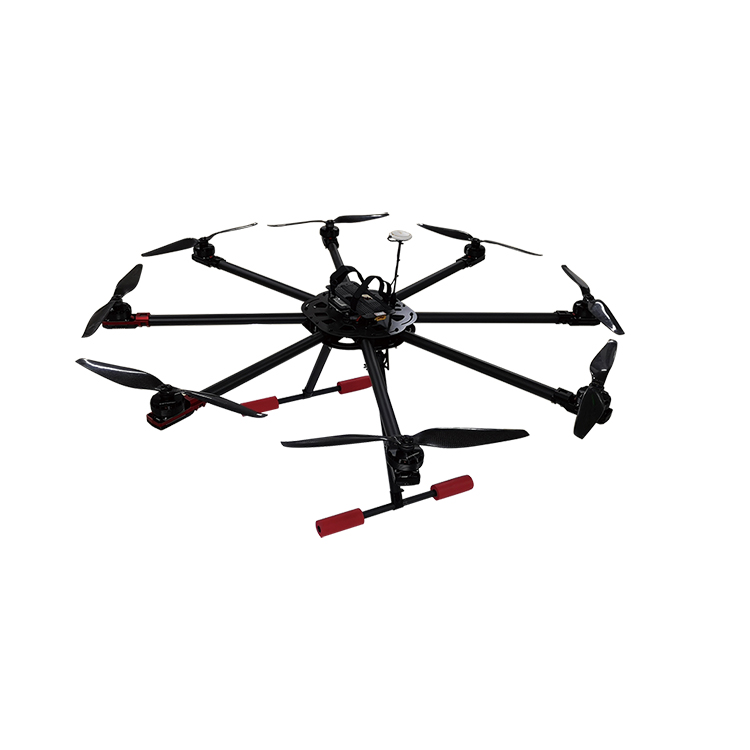 In the construction process of many power lines, it is often restricted by terrain and environmental characteristics. For example, the wiring process must cross some rivers, lakes, industrial and commercial areas, residential areas, roads, railways, or hills, canyons, forestry. Seedlings and so on. These factors have caused the construction cost to increase geometrically, the construction schedule has to be delayed or even interrupted, and the construction quality cannot be guaranteed. Power cable drones, power line drones, can effectively protect crops and seedlings from deforestation, residential buildings do not need to be relocated, construction workers no longer travel long distances, overcome obstacles, save a lot of economics Compensation, and greatly speed up the construction progress, reducing wire surface damage. Up to now, the wing-flying power line drones and power-lined drone technology have reached a stage of full maturity. They have achieved thousands of aerial line operations and have rich experience in aerial wiring. Moreover, with many domestic large-scale power companies still maintain long-term cooperation, Chengdu Flydragon Technology Co., Ltd. is highly praised by customers!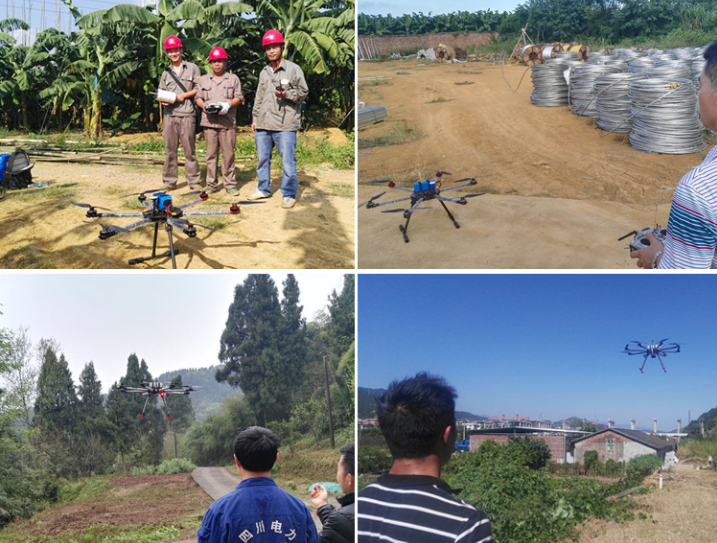 Power line industrial drone eight axis

Aircraft frame parameters: wheelbase 1000mm; height: 350mm

Center plate large diameter: 260mm

Flight mode: manual remote control, attitude mode, GPS mode

Standard takeoff weight: 5KG

Maximum takeoff weight: 13KG

Maximum load weight: 8KG

Battery type: 2-6S

Flight time: 20min (@9KG and battery capacity 16000mah)

No-load hover time: 30min (battery capacity is 16000mah)

Maximum flight speed: 14m/S

Relative flight height: 2000m

Wind resistance: 6 poles

Working temperature: -40 ° C ~ +60 ° C

Storage temperature: -50 ° C ~ +70 ° C

Working humidity: 5%~95% non-condensing

System characteristics: priority wind resistance; long battery life and flight distance; the one-frame rack is more stable and convenient to carry; excellent power redundancy;
Drone Features:
1. Simple operation: simple complicated operation can be realized with simple operation;
2, easy to carry: any time, under any conditions, a person can carry freely;
3, eight-axis drone can directly drag 2.0mm DuPont wire rope 1000 meters more efficient