Wingcopter and ANA Airlines cooperate to develop drone transportation network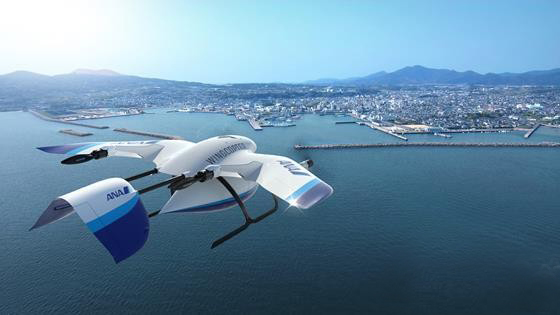 ANA Airlines and Wingcopter of Germany announced the cooperation to develop a drone transportation network, which is mainly used to transport medical supplies and consumer goods. The goal is to establish a drone transportation network that can meet the needs of all parts of Japan.
The two companies are using the electric vertical take-off and landing (eVTOL) aircraft developed by Wingcopter to conduct drone transportation trials. ANA is responsible for providing years of experience and convenience in the air transport industry, while Wingcopter is responsible for providing training, maintenance and supporting services. The first phase of the drone transportation test ended in March this year, involving the transportation of medical supplies between Fukue Island and Kushima, Goto City, Nagasaki Prefecture.
ANA Airlines has set a goal of fully commercializing drone transportation services by 2022, and will cooperate with Japan Airlines and Bell Corporation to explore more opportunities in the eVTOL field.
FlyDragon FLY-420 eVTOL for drone transportation
FLY-420 eVTOL UAV can carry 7 KGS fly 1.5 hours
FlyDragon FLY-420 VTOL (electric vertical takeoff and landing) is a type of aircraft that uses electric power to hover, take off, and land vertically. This technology came about thanks to major advances in electric propulsion (motors, batteries, electronic controllers) and the growing need for new vehicles. FLY-420 industry leading mid-to-long range UAV, optimized for tight launch and landing zones. This extremely versatile platform can be retrofitted for many applications, including but not limited to: Agriculture, surveying, search and rescue, pipeline monitoring, emergency response, infrastructure inspection, and disaster relief. From small businesses seeking value to government and enterprise level organizations that require efficiency and ease of use, Flydragon FLY-420 is the best in class UAV solution.
Specification:
Wingspan: 4210MM Captain: 2100mm
Aircraft material: full composite material
Maximum take-off weight: 32 kg
Standard take-off weight: 30 kg
Life time: 4 hours (load 1 kg)
2 hours (load 5 kg)
1.5 hours (load 7 kg)
Wind resistance: level 6
Waterproof: IP34
Service ceiling: 6000 meters
Load: 1-7 kg
Flying speed: 23-25 m/s
Equipment cabin space: 400MM*340MM*270MM
Salient features:
1. The whole machine adopts full composite materials, excellent flight start layout, reserved electric and gasoline engine interfaces, which is convenient to use different power schemes.
2. Large-sized task bin, suitable for carrying a variety of large-scale tasks including lidar, full-frame tilt camera, etc., and a task load of up to 7 kg, realizing multi-purpose.
3. Unique structure design, overall quick release structure design, convenient for transportation and installation. Good pitch, roll and direction attitude, super high flight path accuracy.