drone delivery Volansi completes its first autonomous mission
On July 18, Volansi, the industry leader in autonomous vertical take-off and landing (VTOL) point-to-point drone delivery services, completed the first autonomous unmanned aerial system (UAS) maritime cargo delivery to the Key West coast of Florida Nearby ships.
The delivery of cargo by sea is completed in three separate flights. The first two were done with the VOLY 10 series, which can lift 10 pounds of cargo over 42 miles. These flights took off from an expeditionary transport aircraft of the Military Maritime Command and flew 15 nautical miles to the U.S. Coast Guard (USCG) Cutter William Trump. The third flight was completed by the VOLY 20 series, which has a range of 350 miles, an average cruising speed of 75 miles per hour, and can carry up to 20 pounds of cargo.
With its UAS VTOL fleet, Volansi aims to eliminate restrictions imposed by remote areas and harsh environments. These factors often make critical tasks (such as transporting critical supplies or gathering information) difficult or even impossible. Due to the independence of the runway, the small operating footprint, and the ability to carry both cargo and sensors on certain models, Volansi's fleet was able to overcome these obstacles.
FlyDragon
FDD50 fixed-wing VTOL delivery drone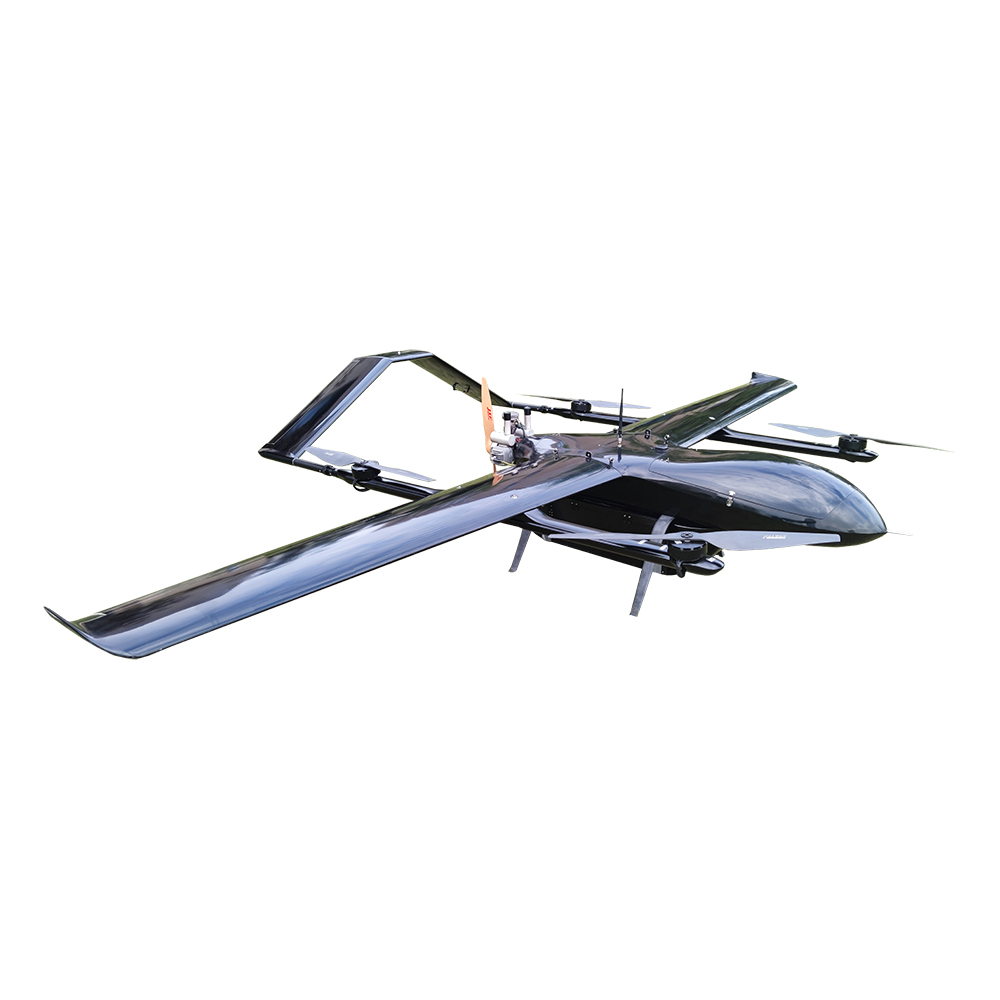 Delivery VTOL UAV, Remote airdrop system for emergency supplies(replenishment of medicines, food, water, plasma, etc.)
FlyDragon FDD50P UAV platform is equipped with industrial-grade vertical take-off and landing fixed-wing flight control. Maximum payload 15kg, life time is 2h@15kg payload, 4h@10kg payload, it's have a dropping box for delivery, drop box size: Length 462MM, width 296MM, height 169MM. it's used to delivery medicines, food, water, plasma, etc
The drone platform has the following features and advantages:
a) Practical and efficient: it has the characteristics of fixed-wing UAV's long flight time, fast speed, long distance and large load;
b) Vertical take-off and landing: with the take-off and landing mode of the rotorless drone, greatly reducing the requirements for landing and landing and airspace;
c) low cost of use: no complicated and bulky launching and recycling equipment, no additional recycling sensors required;
d) Simple operation: integrated special flight control and navigation system, full autonomous flight, operators only need to send flight plans, no professional training and operational experience;
e) Compact system: no complicated auxiliary equipment, simple transportation, deployment, maintenance and withdrawal.
Specification
Body length: 2.5m
Wingspan: 3.8m
Maximum takeoff weight: 50kg
Maximum payload: 15kg
Life time: 2h@15kg payload, 4h@10kg payload
Flying radius: 200-400km (depending on the amount of oil)
Maximum control distance: Remote control (manual control): 1km
Ground station control (depending on the distance of the digital transmission): 30km standard
Maximum speed: 130km/h
Cruising speed: 100-120km/h
Maximum oil load: 12L
Lift limit: 4000m
Maximum wind resistance: 12m/s (6 wind)
Use environment: -10 °C +45 °C; anti-light rain
Climb/lower power battery: 4*14000mAh-6S lithium battery
Take-off and landing mode: vertical takeoff and landing
Shipping size: 1.6*0.7*0.6m (length * width * height)
Drop box size: Length 462MM, width 296MM, height 169MM
Delivery method: parachute