New U.S. law pushes use of drones to fight fighting
Last Tuesday, Trump signed a bipartisan bill into law that pushes federal agencies to start using drones to fight wildfires.
Not only is this new law good for the use of drones in fire fighting, but it may also help the use of unmanned aircraft in other industries, such as deliveries by drone, search and rescue missions, and the use of drones agriculture, inspection and construction.
Using drones to fight wildfires
Since the bill has been signed into law, the Department of the Interior (DoI) will have six months to start the program. The new law will require various federal agencies to work together and develop consistent protocols and plans to use drones to fight wildfires.

DroneDJ's take on the use of drones to fight wildfires

Multiple drones can help to quickly monitor large areas of land and map the locations of wildfires, helping to keep the fires under control and to keep people safe.

In addition, this new law will put even more pressure on the FAA and other agencies to develop the regulation needed to allow for flying unmanned aircraft beyond-line-of-sight, at night, etc.

This, in turn, will help other drone applications as well. such as medication, medical samples and organ deliveries by drone, packet deliveries by drone, search-and-rescue missions by drone, and the use of drones for agricultural, inspection and construction purposes.
Buy your next drone through directly from manufacturers, such as DJI, Parrot, Yuneec or retailers like Amazon, B&H, BestBuy or Flydragon.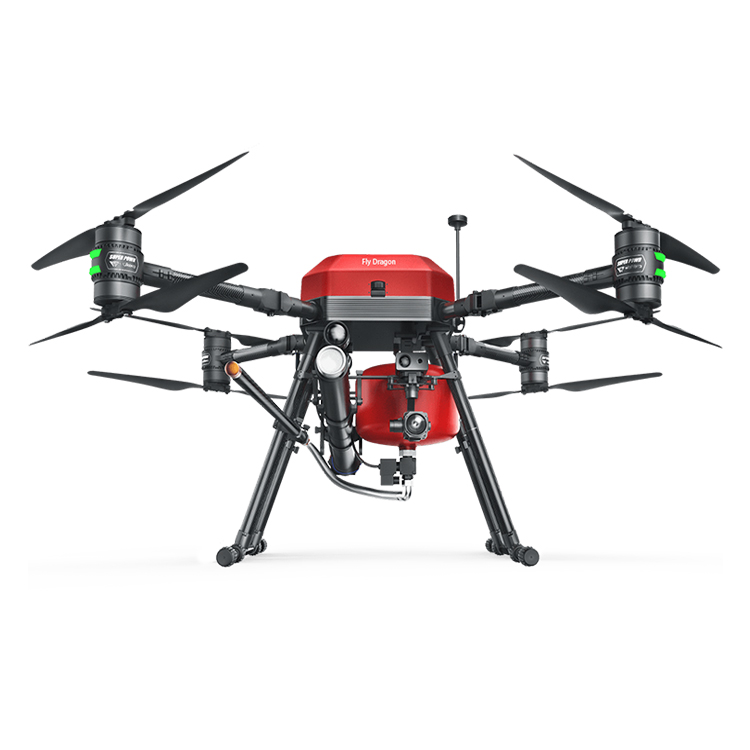 Fire fighting drone
The high floors of the city are rising and the floors are getting higher and higher, which brings great challenges to fire rescue. The fire floor equipment on the floor is too high to quickly reach the control of the fire, and can only be allowed to ravage the fire, causing major fire accidents. In response to this problem, we have developed a dual fire-fighting drone that has a large load capacity, strong wind resistance, high throwing precision, and can fire fire extinguishers remotely in a complex fire weather environment. At the same time, it can also spray fire-extinguishing powder at close range. The double fire fighting drone is a special fire fighting drone for high-rise buildings.
It features a folding fuselage design, super-load and anti-shock design, fast access to high-rise fire scenes, high-powered cameras to observe fire, and firearms to launch firefighting drones.