FlyDragon FD10CX 30X drone camera with 5km Laser range finder with target GPS positioning and guidance functions. It adopts a two-axis gyro stabilization platform, installs conductive slip rings to achieve 360° continuous rotation, built-in 30X high-definition visible light camera, it can recognition of vehicles 3 m*6 m away from 15KM and people 0.5m*1.8 meters away from 6KM, are mainly used for airborne ground imaging detection, identification, tracking, ranging and positioning, etc., to meet the needs of aerial mapping, monitoring and measurement.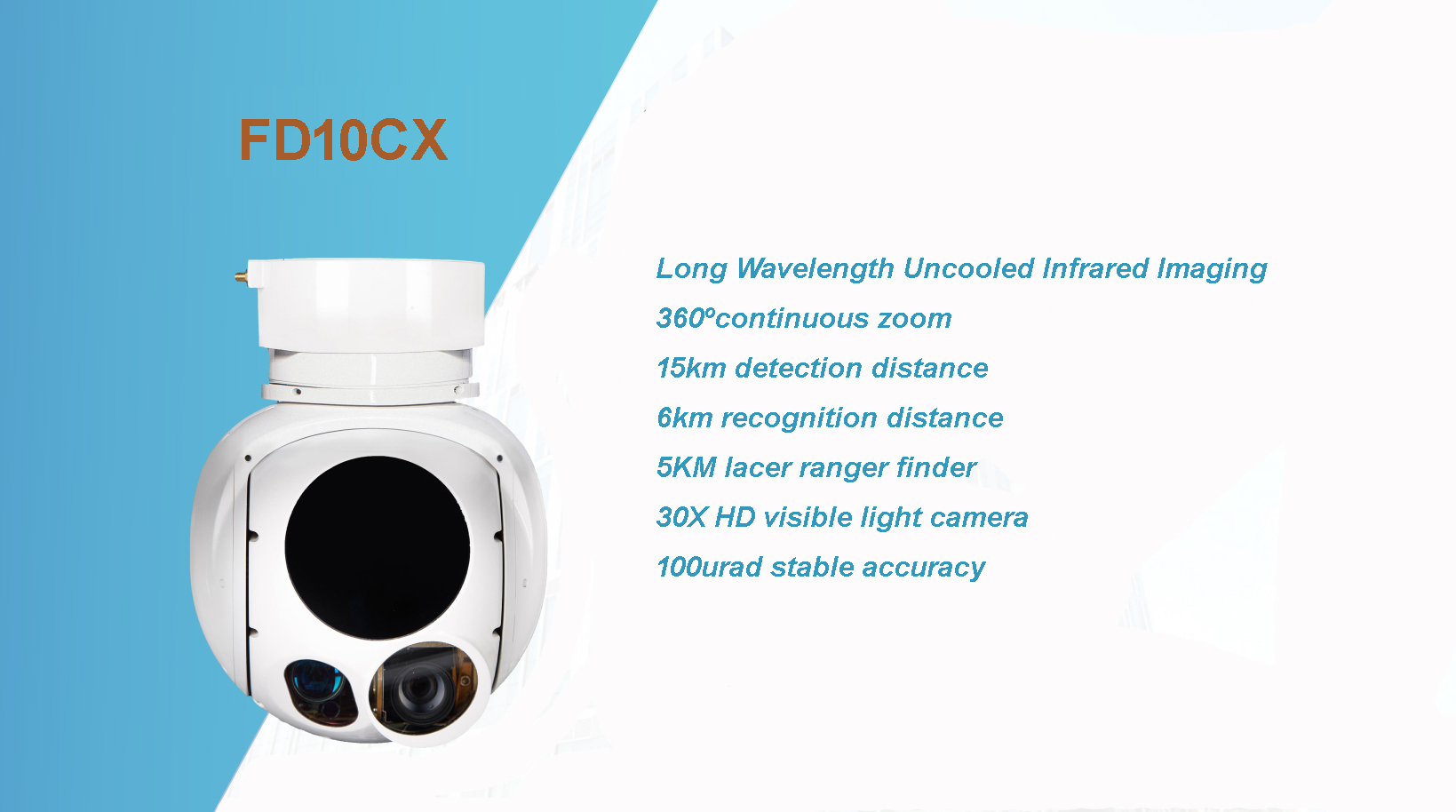 Specifications:
Visible light camera
Working band: 0.4μm~0.9μm;
Detector pixel number: 1920×1080;
Focal length: 4.3mm~129mm, optical 30x continuous zoom;
Continuous zoom horizontal field of view: 63.7º~2.3º;
Video output: HD-SDI, 1080P, 30Hz;
Visible light camera detection distance
Person (0.5m×1.8m) Detection distance: 6KM, Recognition distance: 2KM
Vehicle: (3m×6m) Detection distance: 15KM, Recognition distance: 8KM
Long Wavelength Uncooled Infrared Imaging
Working band: 8μm~14μm;
Detector pixel number: 640×512;
Pixel size: 12um;
NETD: 40mk;
Focal length: 22~100mm/F0.82-1.0, continuous zoom;
Field of view: 19º×15.2º~4.4º×3.5º;
Video output: HD-SDI, 1080P, 30Hz;
Long-wave uncooled infrared camera working distance
Person (0.5m×1.8m) Detection distance: 2KM, Recognition distance: 1KM
Vehicle: (3m×6m) Detection distance: 9KM, Recognition distance: 3KM
Laser Ranging
Working wavelength: 1535nm;
Ranging accuracy: ±5m;
Ranging frequency: 1Hz;
Laser ranging distance: 50 ~ 5000m.
Servo performance index
Swing range
Azimuth axis: n×360° continuous rotation
Tilt axis: -110°~+10° (horizontal direction is 0°, upward is positive)
Angle measurement accuracy: ≤2mrad;
Stability accuracy: ≤100µrad (1σ) (2°/1Hz, 1°/2Hz swing);
Maximum angular velocity: ≥60°/s;
Maximum angular acceleration: ≥90°/s2.
Track performance metrics
With fixed target tracking ability;
Ability to track moving targets such as animals, people, vehicles, and ships;
It has the ability to recapture the short-term loss of the target and achieve stable target tracking.
Power
Nominal DC voltage: 24V;
Normal power supply voltage range: 18V ~ 32V;
Average power consumption: ≤50W;
Peak power consumption: ≤200W
Size: ≤Φ278mm×322mm;
Weight: ≤10.5kg.
Working temperature: -40℃~60℃.