ANRA Technologies demonstrates drone delivery solutions
According to an article published on the uasvision website on August 13, 2021, ANRA Technology Corporation (ANRA) has successfully carried out a series of unmanned vehicles for the Southern State Highway and Transportation Association 2021 Annual Meeting (SASHTO 2021) at the Florida Toll Road Company SunTrax Closed Proving Ground The air cargo demonstration flight demonstrated the company's airspace management capabilities and drone delivery solution software platform.
ANRA tested its vertical take-off and landing (VTOL) delivery drone at the new SunTrax closed test site, which can carry a 3 lb (1.36 kg) payload for more than 90 minutes. In the demonstration, the drone also connected to ANRA's cargo and airspace management software, demonstrating a complete ecosystem consisting of drones, delivery/ordering apps, and airspace management platforms.
ANRA's cargo software provides a UTM network for the safe operation of drones, which can be used to implement drone cargo by managing orders, inventory, and supplying products. ANRA's cargo software combines airspace management technology to provide a safe flight route for drones, while providing customers with cargo tracking and status updates through a mobile application (app). The solution connects all stakeholders in the entire UAV freight process by providing important information and data exchange for compliant and efficient cargo operations.
ANRA is a company that can integrate private drones into a cargo network, which will also develop the ability to fly beyond the line of sight (BVLOS). All stakeholders in the supply chain have the appropriate level of access rights and credentials to view, control and manage their respective tasks in the network, and can fully grasp the inventory, package health status and order progress.
Fly Dragon
drone delivery solutions
1.Big Shark 320VTOL
VTOL KIT 320 Fixed wing frame Electric Powered 2 Hours Endurance UAV Aerial Video Surveillance 3D Survey Mapping Drone building
320 VTOL is a vertical take-off and landing (VTOL) FlyDragon Big shark vtol uav is also a small vertical take-off and landing (VTOL) drone, Big shark is He is an upgraded version of baby Shark, it's made of composite materials, The space is bigger than baby shark, so big shark have more space to hold electrics and other devices. it's good for large area mapping and surveying use it wherever possible, since it typically significantly increases takeoff weight, range or payload compared to pure VTOL.
| | |
| --- | --- |
| MTOW | 20.3kg |
| Weight w/o battery and payload | 9.69kg |
| Wingspan | 3200 mm |
| Length | 1,200 mm |
| Height | 500 mm |
| Frame weight | 3.2kg |
| Max payload(battery included) | 10.61kg |
| Battery weight | 7.53kg |
| Endurance(20.3kg take-off weight) | 2.5 hours |
| Cruise speed | 78-90km/h |
| Max speed | 100km/h |
| Stall speed | 57.6km/h |
NOTE: THE PRICE IS JUST KIT, WITHOUT ANY ELECTRONIC, AND THE PACKING IS IN WOODEN CASE NOT IN ALUMINUM BOX!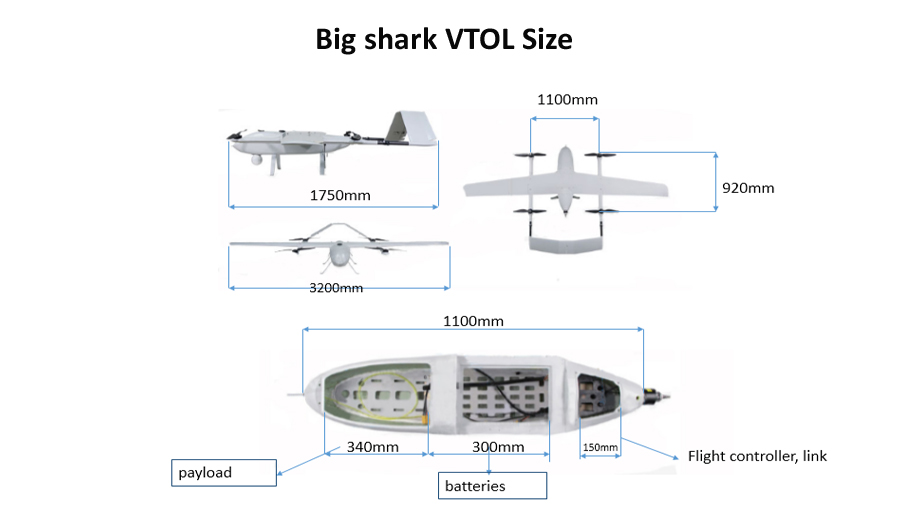 2. FDD50 delivery drone solution
Delivery VTOL UAV, Remote airdrop system for emergency supplies(replenishment of medicines, food, water, plasma, etc.)
FlyDragon FDD50P UAV platform is equipped with industrial-grade vertical take-off and landing fixed-wing flight control. Maximum payload 15kg, life time is 2h@15kg payload, 4h@10kg payload, it's have a dropping box for delivery, drop box size: Length 462MM, width 296MM, height 169MM. it's used to delivery medicines, food, water, plasma, etc
The drone platform has the following features and advantages:
a) Practical and efficient: it has the characteristics of fixed-wing UAV's long flight time, fast speed, long distance and large load;
b) Vertical take-off and landing: with the take-off and landing mode of the rotorless drone, greatly reducing the requirements for landing and landing and airspace;
c) low cost of use: no complicated and bulky launching and recycling equipment, no additional recycling sensors required;
d) Simple operation: integrated special flight control and navigation system, full autonomous flight, operators only need to send flight plans, no professional training and operational experience;
e) Compact system: no complicated auxiliary equipment, simple transportation, deployment, maintenance and withdrawal.
Specification
Body length: 2.5m
Wingspan: 3.8m
Maximum takeoff weight: 50kg
Maximum payload: 15kg
Life time: 2h@15kg payload, 4h@10kg payload
Flying radius: 200-400km (depending on the amount of oil)
Maximum control distance: Remote control (manual control): 1km
Ground station control (depending on the distance of the digital transmission): 30km standard
Maximum speed: 130km/h
Cruising speed: 100-120km/h
Maximum oil load: 12L
Lift limit: 4000m
Maximum wind resistance: 12m/s (6 wind)
Use environment: -10 °C +45 °C; anti-light rain
Climb/lower power battery: 4*14000mAh-6S lithium battery
Take-off and landing mode: vertical takeoff and landing
Shipping size: 1.6*0.7*0.6m (length * width * height)
Drop box size: Length 462MM, width 296MM, height 169MM
Delivery method: parachute