Royal Canadian Navy launched ISTAR surveillance drone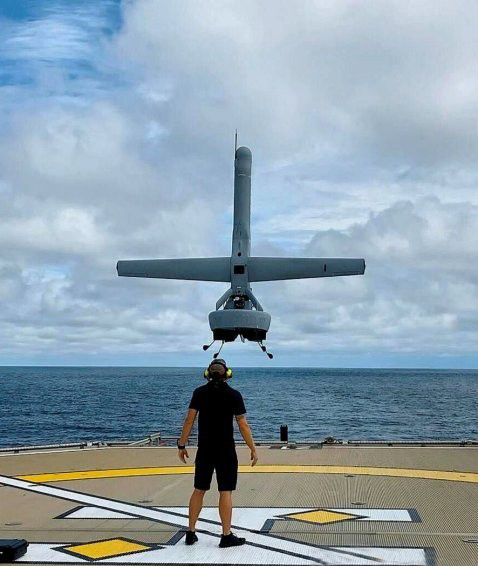 The Public Service and Procurement Department of Canada (PSPC) issued the Royal Canadian Navy (RCN) Request for Information (RFI) for the Airborne Intelligence, Surveillance, Tracking and Reconnaissance (ISTAR) drone Program on January 29, The funding for this plan is approximately US$40-80 million.
The project request form requires that the UAV-borne platform can be operated from a Halifax-class frigate to provide near real-time, over-the-horizon ISTAR information, thereby enhancing its situational awareness capabilities to the ship's existing weapons At the same time, it must be able to operate drones and other payloads within 50 nautical miles (about 93 kilometers) from the control station location and within 5,000 feet (about 1.5 kilometers) above sea level. This will provide commanders with an operational advantage without compromising the safety of frigates, maritime helicopters and their crews to support operations including multi-level warfare.
FlyDragon

FLY-380 VTOL For Surveillance
simpleplanes vtol 15KGS payload 2-4 hours endurance MTOW 50KGS VTOL frame KIT
FlyDragon FLY-380 vtol UAV platform is an electric long-haul composite wing vertical take-off and landing drone independently developed by our company. The overall layout of the composite wing with fixed wing and four-rotor is used to solve the vertical take-off and landing of the fixed-wing UAV in a simple and reliable way. The difficulty of the fixed-wing UAV has the characteristics of long flight time, high speed, long distance and the vertical take-off and landing of the rotorless drone. The vertical take-off and landing mode greatly enhances the environmental adaptability of the drone platform. The man-machine platform can operate smoothly in complex terrain and densely populated areas such as mountains, hills and jungles, greatly expanding the scope of application of drones, and is an ideal choice for industrial-grade drones.
FlyDragon FLY-380 UAV platform is equipped with industrial-grade vertical take-off and landing fixed-wing flight control and navigation system, as well as professional aerial aerial survey and inspection ground station software. It can ensure that the drone can fly autonomously throughout the process, without operator intervention to complete the autonomous take-off and flight status. In the flight phase of conversion, autonomous cruise, and autonomous landing, it also supports automatic route planning for 1000 waypoints and emergency standby plan for 100 waypoints.
The drone platform has the following features and advantages:
a) Practical and efficient: it has the characteristics of fixed-wing UAV's long flight time, fast speed, long distance and large load;
b) Vertical take-off and landing: with the take-off and landing mode of the rotorless drone, greatly reducing the requirements for landing and landing and airspace;
c) low cost of use: no complicated and bulky launching and recycling equipment, no additional recycling sensors required;
d) Simple operation: integrated special flight control and navigation system, full autonomous flight, operators only need to send flight plans, no professional training and operational experience;
e) Compact system: no complicated auxiliary equipment, simple transportation, deployment, maintenance and withdrawal.
Specification
Body length: 2.5m
Wingspan: 3.8m
Maximum takeoff weight: 50kg
Maximum payload: 15kg
Life time: 2h@15kg payload, 4h@10kg payload
Flying radius: 200-400km (depending on the amount of oil)
Maximum control distance: Remote control (manual control): 1km
Ground station control (depending on the distance of the digital transmission): 30km standard
Maximum speed: 130km/h
Cruising speed: 100-120km/h
Maximum oil load: 12L
Lift limit: 4000m
Maximum wind resistance: 12m/s (6 wind)
Use environment: -10 °C +45 °C; anti-light rain
Climb/lower power battery: 4*14000mAh-6S lithium battery
Take-off and landing mode: vertical takeoff and landing
Shipping size: 1.6*0.7*0.6m (length * width * height)