China launches drone meteorological observation test
In 2021, the unmanned aerial vehicle three-dimensional coordinated observation and scientific research experiment of sea, land and air will be officially launched. The Pterosaur-10 UAV carrying a variety of meteorological loads forms a three-dimensional observation network with sea buoys, balloon sounding systems, and ground vertical remote sensing observation equipment to verify multiple meteorological loads and UAV platforms, and explore the establishment of The meteorological emergency observation system of the aircraft. The test will last about 1 month.
This test is after the China Meteorological Administration launched the "Haiyan Project" last year and successfully used the Pterosaur-10 to perform stereoscopic observations of the peripheral cloud system of Typhoon "Senrak". Observational scientific research experiment. It will lay the foundation for mobile observation of typhoons, floods, and forest fires, and provide important support for the development and utilization of oceans, disaster prevention and mitigation, and the strategy of building a maritime power.
The Pterosaur-10 UAV is independently developed by the Aviation Industry Group and has been optimized and upgraded on the basis of the Pterosaur-10 platform that performed typhoon detection last year. Tang Kebing, the on-site commander of the Pterosaur-10 UAV of the Aviation Industry, said: "This UAV carries multiple weather detection payloads for the first time, creating a precedent for multi-mode emergency weather collaborative observation on the same UAV platform."
Li Liangxu, director of the Meteorological Observation Center of the China Meteorological Administration, said that the China Meteorological Administration will continue to improve the aircraft platform, enrich the detection load and observation methods, and lay an important foundation for the final establishment of the UAV full-chain observation business.
FD180P long endurance heavy VTOL fixed-wing drone formeteorological observation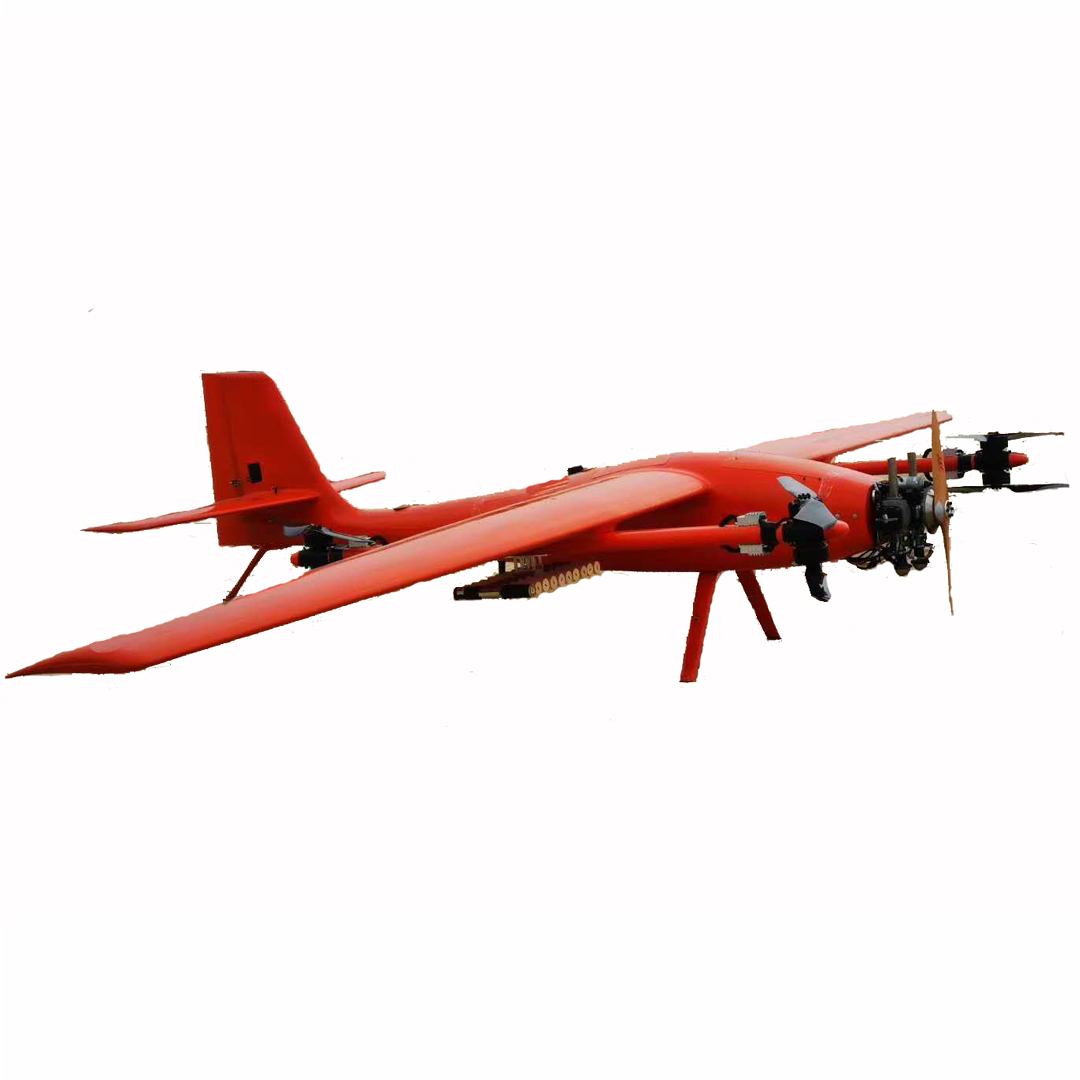 FD180P long endurance heavy VTOL fixed-wing UAV is a large-scale oil-powered long-haul composite wing vertical take-off and landing drone independently developed by our company. The overall layout of the composite wing with fixed wing and four-rotor is used to solve the fixed-wing UAV vertical in a simple and reliable way.

The FD180P long endurance heavy VTOL fixed-wing UAV platform is equipped with industrial-grade vertical take-off and landing fixed-wing flight control and strapdown inertial navigation system, as well as professional aerial aerial survey and inspection ground station software. It can ensure that the drone can fly autonomously and complete the autonomous takeoff without operator intervention. In the flight phase of flight state transition, autonomous cruise, and autonomous landing, it also supports automatic route planning for more than 1000 waypoints and emergency standby plan for 100 waypoints.
The drone platform has the following features and advantages:
a) Practical and efficient: it has the characteristics of fixed-wing UAV's long flight time, fast speed, long distance and large load;
b) Vertical take-off and landing: with the take-off and landing mode of the rotorless drone, greatly reducing the requirements for landing and landing and airspace;
c) low cost of use: no complicated and bulky launching and recycling equipment, no additional recycling sensors required;
d) Simple operation: integrated special flight control and navigation system, full autonomous flight, operators only need to send flight plans, no professional training and operational experience;
Performance

parameter

Body length

3.35m

Wingspan

6.5m

Maximum takeoff weight

180kg

Maximum payload

40kg

Endurance

8h~10h

Flight radius

300-500km

(depending on the amount of oil loaded)

Maximum control distance

Remote control (manual control): 1km

Ground station control (depending on the distance of the digital transmission): 30km standard

Maximum speed

130km/h

Cruising speed

100-120km/h

Maximum oil load

40L

Lift limit

5000m

Maximum wind resistance

12m/s(6 level winds)

Use environment

-10℃+45℃; anti-light rain

Vertical takeoff and landing

32*8000mAh-6S Li battery

Takeoff and landing mode

Vertical takeoff and landing