Drone Surveying And Mapping Solutions Under $20,000
Drone surveying and mapping technology is replacing traditional surveying and mapping methods, and more and more surveying and mapping service companies and surveying professionals are seeing high returns from using drones for surveying and mapping. At present, there are two main methods for UAV surveying and mapping: one is aerial photographic UAV surveying and mapping. The other is that the drone is equipped with lidar for surveying and mapping, and photogrammetry uses photos for measurement, while LiDAR is to emit and light speed and calculate the time of laser return to obtain a point cloud map of the terrain for measurement.
Whether the data is via lidar or photogrammetry, the data collected in both ways ultimately creates 2D and 3D maps and models with data processing software. These results are primarily used for digital surface models for landscape and urban planning, digital terrain models for land-use analysis and geological applications, and point cloud surveys for scanning of building interiors and exteriors. Today, I recommend these two surveying and mapping methods to you with a surveying and mapping plan with a budget of less than 20,000 US dollars.
1. Flight platform-FDG815 RTF Price $6,495.00
At present, the most popular flight platform on the market is the DJI M300RTK. There is no doubt that the M300 is very advanced, but the most deadly is that the flight time of the M300 is only about 40 minutes. Today we recommend a new long-endurance drone- FDG815
small quadcopter aerial platform for mapping, surveillance, inspection and food delivery. Its compact folding airframe enables easy operation and flexible maneuvering. – Forged from a combination of carbon fiber, PCB and CNC, the flight time boosts up to 90 minutes with no payload, and it still reaches 65minutes with 800g payload.
2. Orthographic camera-A7RII 42M camera Price $3,960.00
A7R II 42M mapping camera is the most costeffective camera for drone mapping, the weight is 219g only, so it can mount on most of drone platform, it's Pixels is up to 42MP and have 35mm full frame Exmor CMOS sensor, it's max. support SD card is 128G, shutter life 300K times.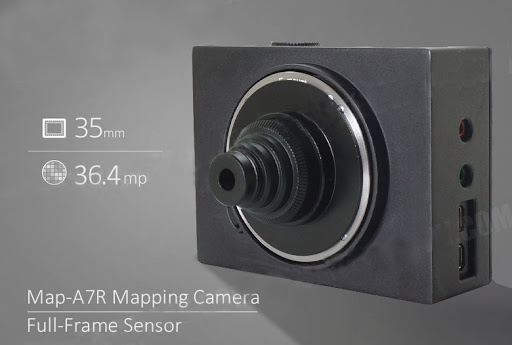 3. Lidar FDG-100C+ lidar system price $13,949.00
FDG-100C+ is a kind of light compact LiDAR point cloud data acquisition system, integrated Livox new generation laser scanner, GNSS and IMU positioning and attitude determination system, and storage control unit, is able to real-time, dynamically, massively collect high- precision point cloud data and rich image information. It is widely used in the acquisition of 3D spatial information in surveying, electricity, forestry, agriculture, land planning.
According to the "Global Drone Mapping Market Analysis Report 2022," the global aerial mapping market could reach $4.6 billion by 2026. Looking ahead, the report states that the aerial imaging market share will continue to expand as businesses and government entities become more aware of the market's value in areas such as urban planning, energy exploration, security, and environmental management.