Drone inspection for solar photovoltaic power station
1. Solar inspection interviw
Solar power generation systems are mainly divided into centralized and distributed. Centralized power stations generally cover a wide area and are mostly built in remote areas. The natural environment is relatively harsh. The harsh natural environment and large-area photovoltaic inspection work are very difficult and dangerous. .
2. Drone solar inspection
Drone are equipped with visible light cameras, thermal infrared sensors or EL detection equipment to collect visible light, thermal infrared images or EL data of solar panels to realize the intelligent inspection of Drones and improve the efficiency and safety of photovoltaic inspections. Visible light and thermal infrared images are stored in real-time and can be quickly exported to the PC. Drone intelligent diagnostic software is used to intelligently process the thermal infrared images and visible light images collected by the drone to achieve solar power detection, dust and dirt blocking, and solar energy Automatic diagnosis and location of hot spots caused by board cracks and breakages. Greatly improve the inspection efficiency and fault diagnosis accuracy of photovoltaic power plants.
3. Introduction of Drone inspection system
The Drone inspection system includes four parts: UAV system, data acquisition system, ground intelligent control system, and data analysis and processing system. As shown in Figure 3-1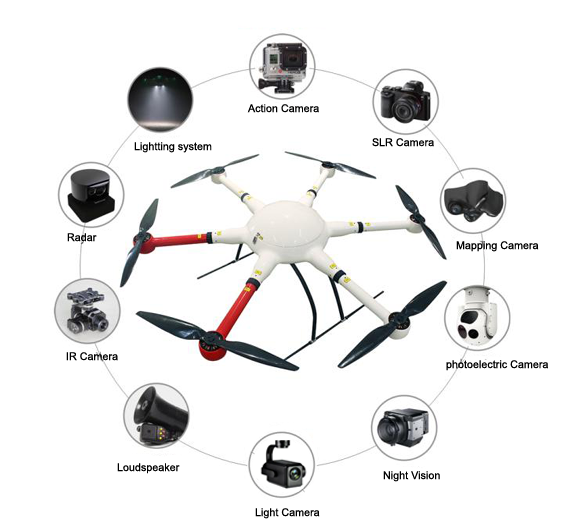 1. Unmanned aerial vehicle system The unmanned aerial vehicle system is equipped with an industrial-grade multi-rotor drone FD4100 with an ultra-long endurance and a protection level of up to IP56, and the latest PIX flight controller, using fully optimized attitude analysis and multi-sensor fusion algorithms , Accurate and reliable; integrated high-definition image transmission, can view the camera picture in real time, the transmission distance is as far as 3-10 kilometers, the image transmission quality is 1080P; the system parameter table is as follows:
Specifications:
– Wheelbase:1000mm
– Weight: 1750g(frame only)
– Max payload: 6kg
– Flight time: 70min (2 pieces of 25000 mAh li battery, without any payload)
2. Data acquisition system
The data acquisition system uses the dual-light Drone D640, which has a brand-new image sensor and powerful processor, and can shoot 4K/30p video and 10 million pixel photos. The system parameter table is as follows:
Specifications:
dual-light 30X zoom gimbal
Sensor: CMOS:1/2.8″; total pixel: 230w pixel
Lens: 30 times optical zoom lens
F: 4.7~141mm
Minimum photograph distance: 1m~5m(close~remote)
Field angle(horizontal): 60~2.5°
Resolution rate: 30fps(1920*1080)
Range of pointing zoom: 30 times optical, 4 times digit
Thermal imaging
Detector category: uncooled infrared microbolometer
Resolution rate: 640*480
Sensitivity: ≤60mk@300k
Frame frequency: 50Hz
Weight: 750g
Power consumption: 8.4W Size:105*105*65mm
Working Voltage:12V-25V
3. Ground intelligent control system. The ground intelligent control system can realize autonomous route planning and flight, and can save multi-task routes, making complicated inspection work easier. As shown in Figure 3-5:
4. Data analysis and processing system Data analysis and processing is the key to the entire system. The data collected by drones is diverse and fragmented, and users cannot directly find the problem if they get these large amounts of scattered data. The software can analyze and process a large amount of scattered data to generate a complete data report, including length, height, angle size information, component hot spot temperature information, etc., so that users can understand the current status of the measurement area more clearly and intuitively. As shown in Figure 3-6: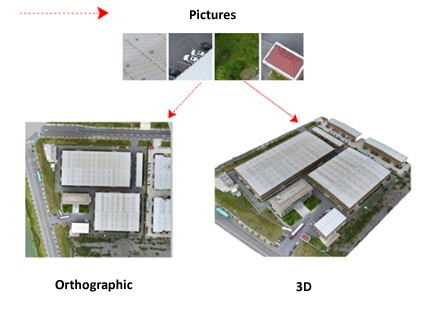 Fourth, the advantages of Drone solar inspection program
(1) The inspection speed is fast and the efficiency is high, especially for large centralized power stations;
(2) It is not restricted by the terrain and environment, and is particularly important for agricultural light, fishing and light complementary and rooftop power stations;
(3) Easy operation, high safety, can be started in two minutes, fully autonomous flight;
(4) The cost is low, and the benefit can increase the power output;
(5) Diversification of loadable equipment to realize multi-function and multi-purpose detection;
(6) The body is light and easy to carry.