UAE used drone for the accident scene
Abu Dhabi Civil Defense is exploring the possibility of using drones to illuminate the dark accident scene. Recently, the team conducted an experiment to see how this innovative solution works.
Lieutenant Colonel Omar Salem Al Shehhi explained that the drone flew at an altitude of 40 meters and the experiment lasted about 3 minutes.
They found that the UAV's lighting area can reach 4500 to 8000 square meters and does not require batteries. "The drone is also very safe and can be easily moved from one place to another," said Lieutenant Colonel Al-Shehhi.
Brig Mohamed Ibrahim Al Ameri, deputy director of the Abu Dhabi Civil Defense Department, said that good lighting at the accident site can help rescue teams perform their duties.
Authorities said the drone is equipped with a camera so it can detect the exact source of the fire, allowing firefighters to quickly extinguish it. In order to obtain a high-definition view, the camera can be adjusted to a greater distance.
The civil defense department said that the brightness ratio of this kind of lighting can reach 1000 lumens, and the drone can be controlled within a distance of 500 meters.
Brig Al Ameri stated that the drone experiment is part of the force's efforts to continuously improve emergency response using the latest technology. "This belongs to the category of encouraging the application of advanced modern systems to achieve the highest level of safety.
FD4100 drone for rescue
FD4100 is a long flight time six axis carbon fiber drone Frame , FD4100 is made of carbon fiber material which features light weight and high strength, the canopy of FD4100 is made of glass fiber so that the GPS signal won't be blocked. The closed fuselage structure can protect FD4100 from the rain and dust, and also protect other load equipments like flight control and battery. The arm of FD4100 is pluggable, both the cover and arms can be locked with the quick locking hooks. Due to its detachable arm the FD4100 drone Frame is also easy to carry.
FD4100 can be applied in many fields like aerial photography, emergency rescue, reconnaissance mission, power line inspection, remote sensing survey and mapping etc.
Specifications:
– Wheelbase:1000mm
– Weight: 1750g(frame only)
– Max payload: 6kg
– Flight time: 70min (2 pieces of 25000 mAh li battery, without any payload)
drone Frame Features:
– TORAY 3K Carbon fiber material
– Light-weight, durable and stable
– Rainrproof
– Long flight time
– Detachable arm, easily portable
Options:
– Motor: T-MOTOR 6 series , DJI2000
– Propeller: 22 inch
FD4100 can mount different devices according to different industry applications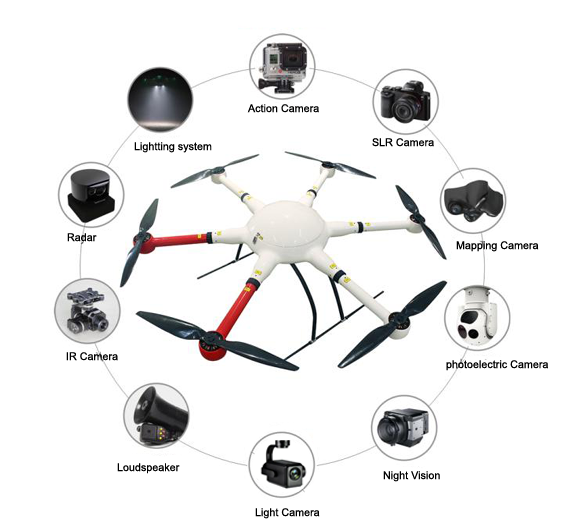 FD4100 for rescue