Farmers pollinated an apple orchard using drone sprayer
With bee populations continuing to decline, farmers, conservationists, and technologists alike are busy searching for a solution to help carry out pollination. A New York-based company recently lent a high-tech hand to assist a local apple orchard pollinate its 300 acres of tasty crops. The Beak & Skiff Apple Orchard in LaFayette called in startup Dropcopter and its pollen-spreading UAVs (unmanned aerial vehicles) to perform the world's first apple orchard pollination by quadcopter sprayer.
The company have a patent-pending device which accurately distributes a measured amount of pollen directly over the tree canopy. The drone flies an autonomous prewritten mission optimizing its speed to deliver the most effective application. We are the first real-world testing of automated aerial pollination in the nation.
Pollination by drone isn't the only alternative to insect pollination, but it may just be the most efficient current solution. Alternatives include using large tractor-mounted liquid sprayers or leaf blowers driven on quad bikes. Both of these are problematic due to the lack of reach and, in the case of liquid sprayers, the time-sensitive nature of the pollen once it gets mixed with liquid.
Dropcopter
Dropcopter's quadcopter sprayer, meanwhile, can cover 40 acres per hour, and can double the pollination window by also flying at night. This is one advantage they even have over bees since bees don't fly at nighttime, when flowers remain open. At present, the company is seeking funding to help further improve its drone's flight path efficiency.

"One-third of all food products rely on insect pollination," Fine said. "Over the past 25 years, the world has lost one-third of its insect biomass, which is a scary figure since 80 percent of all species on Earth are insects. At the same time, rising populations and changing climates mean we're going to have less arable land and fresh water to feed the 9 billion people that will be on this planet in the next 50 years. We are going to have to farm far more efficiently with far fewer resources to meet the 60 percent increase in crop production necessary to feed those 9 billion people."

Using quadcopter sprayer to pollinate crops doesn't mean we shouldn't try to get to the bottom of the current crisis affecting bees. But just like other forward-looking projects such as robot bees (yes, really!), drones like Dropcopter's could serve as a useful supplement for when bees are unavailable or weather prevents them from flying. Since a 1,000 acre farm can spend $400,000 on honeybees alone each year, they could even turn out to be a cost saver.

4 rotors plant protection UAV 10KGS agriculture drone sprayer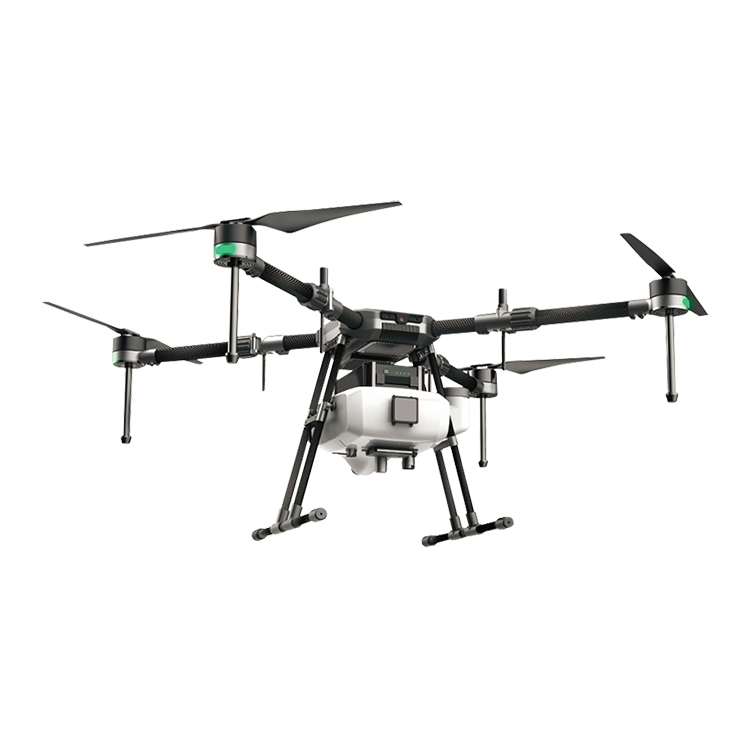 Intelligent Agriculture is the trend of all over the world. And the intelligent drone act as a important role in this world plan.
Agriculture spraying drone can replace the traditional pesticide sprayer and it's speed is 40times of the traditional sprayer. It will save 90% water and 30%-40% pesticide. Small droplet diameter make the pesticide more well-distribute and improve the effect. At the same time, it will make the people faraway from the pesticide and reduce the pesticide remain of the crop.