Homes can order food delivery via drone in North Carolina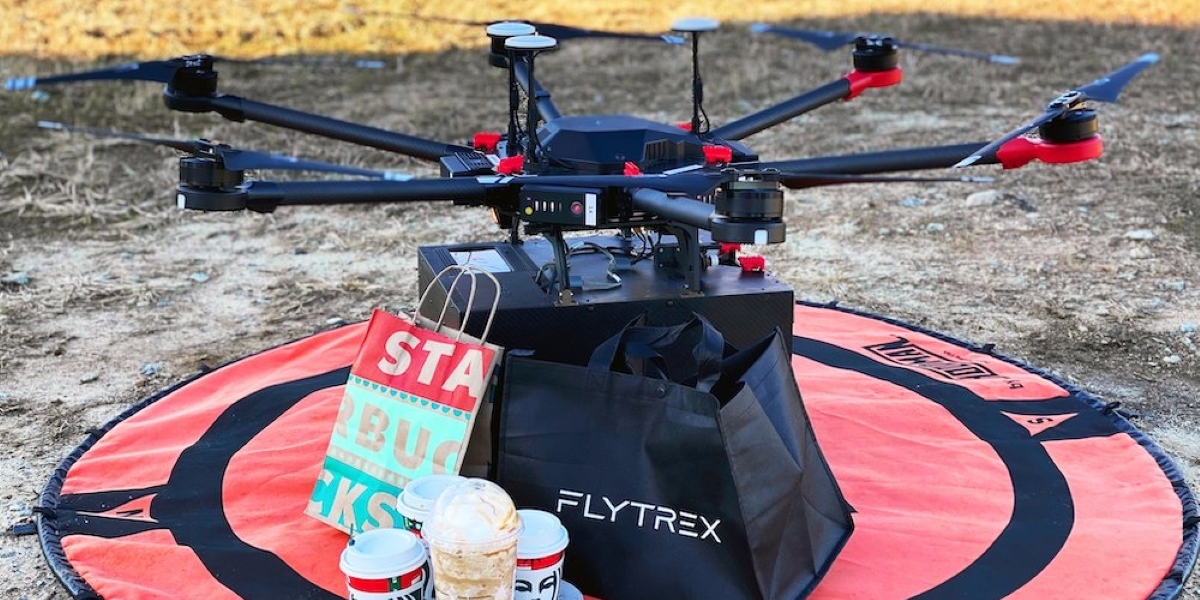 Drone delivery could be coming to a chimney near you this Christmas. On-demand drone delivery service Flytrex has received approval from the Federal Aviation Administration (FAA) to expand its operational radius to one nautical mile across all of its stations in North Carolina.
Israel-based Flytrex, which says it has made more home deliveries via drone than any other company in the US, can now offer food, drinks, and essential goods to about 10,000 more North Carolina households with the newly granted approval.
Flytrex points out it will fulfill five-minute drone deliveries in cooperation with longtime partner Causey Aviation Unmanned, maintaining the highest safety standards. Highlighting that drone delivery is reaching new heights faster than anyone could have expected, Flytrex cofounder and CEO, Yariv Bash, says:
It's worth noting that the new FAA approval comes on the heels of several milestones for Flytrex. Just last month, Flytrex raised a $40 million Series C funding round to ramp up expansion throughout the US and advance partnerships with leading retailers and quick-service restaurants.
In October 2021, the company launched its third drone delivery station in North Carolina at the Holly Springs Towne Center, expanding its service from Fayetteville and Raeford.
The company further claims the volume of its food delivery orders across North Carolina has increased more than tenfold since February 2021.
Flytrex's delivery drones can carry a 6.6-pound payload (the equivalent of six to eight hamburgers) for a distance of 3.5 miles and back at a speed of up to 32 mph.
FDG815 small quadcopter drone for food delievry
FlyDragon FDG815 small quadcopter drone is a small size aerial platform for mapping, surveillance and inspection. Featuring 90 minutes of flight time, IP66 rating folding frame, and multiple failsafe, Its compact folding airframe enables easy operation and flexible maneuvering. – Forged from a combination of carbon fiber, PCB and CNC, allowing flight mission under a wide temperature range of -10℃-55℃. – With a built-in 14S 14000mAh high voltage li-ion battery, the flight time boosts up to 90 minutes with no payload, and it still reaches 45minutes with 2.5kg payload. it's best for mapping, phototgraphy, surveying and food delivery
– Built-in antenna shields from dust and moist.
– Self-locking propellers .
– Under circumstances when Drone is in low voltage status or loss of signal, Return to Launch failsafe will be automatically triggered to save the drone.
– Plan the flight path that can be saved for future mission on either Herelink 5.5″ inch touch screen or on MissionPlanner/PC after linking herelink with PC through WiFi / Bluetooth/USB, drone flying becomes programmable and as simple as anyone can master. Alternatively, Herelink also serves as a streaming media server that delivers video and data (WAN) among team members on their devices like an ipad, mobile phone or PC, allowing a simultaneous team participation in the mission.
Specification Version: Quadcopter Battery-powered Version
Color: Black and White Material: Carbon Fiber, CNC, PCB
Control Range: 20km
Diagonal Wheelbase: 815mm
Unfolded Dimensions: 670mm*650mm*200mm (excluding propellers/landing gears)
Folded Dimensions: 440mm*210mm*200mm(excluding propellers/landing gears)
Empty Weight: 5.4kg (including battery)
Battery Weight: 2.8kg
Max Take-off Weight: 8kg
Flight Time: 90min (no payload) 68min (800g payload) 45min (2500g payload)
Max Speed: 30m/s Max Lifting Speed: 4m/s
Max Descent Speed: 3m/s
Max Angle of Pitch: 25°
Wind Resistance: 14m/s
Service Ceiling: 6000m
Propeller: 22*8 inch
Working Voltage: 50.4V
Working Temperature: -10℃-55℃
Carrying Case: 68cm*45cm*35cm
RTF version
Your Purchase Includes
RTF Package 1x ARF Combo
1x Pixhawk Cube Orange Standard Set with Here 3 GNSS
1x Herelink 2.4GHz Long Range HD Video Transmission System
1x 14S 14000mAh Li-ion Battery
2x (pair) 22 inch Carbon Fiber Propeller
1x Battery Charger
1x Carrying Case.