U.K. uses drone to deliver emergency medicines to the Isle of Wight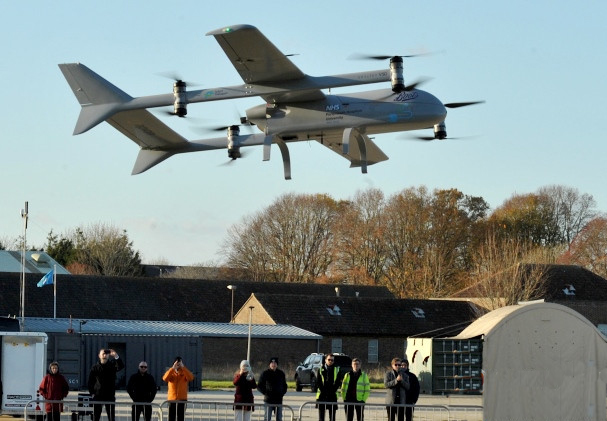 [According to adsgroup website report on December 10, 2021] Cancer patients on the Isle of Wight in the UK will benefit from the cooperation between the British Army, the Medical Service System (NHS), Apian and Skylift UAV.
Apian is a medical company that combines medical services with drones, and Skylift UAV is a drone operating company. The two companies are about to successfully end a three-month drone delivery drug trial. The two parties used an electric vertical take-off and landing (eVTOL) drone with a wingspan of 5 meters and a weight of 85 kg, carrying a 20 kg drug load, flying 47 kilometers, and transporting it from Queen Alexandria Hospital in Portsmouth to the Isle of Wight To the Santa Maria Hospital.

This experiment verified the efficiency of drone air transportation, shortening the drug transportation time to only 30 minutes. The next focus of the project is the University of Southampton and King's College London to jointly conduct research on the effects of drone flight, vibration, temperature fluctuations and other factors on living medicines in order to provide a basis for the NHS to approve the transportation of living medicines.

FDG35 eVTOL for drone delivery
VTOL V tail carry 7KGS Lidar endurance 140 minutes for surveillance
VTOL V tail with vertical take-off and landing fixed wing, wingspan 3.5 meters,it iss electric version . This model combines the characteristics of long-endurance, high-speed and long-distance of fixed-wing UAVs and the vertical take-off and landing of rotor-wing drones. It does not require runway but only small space for take-off and landing, and can be operated smoothly on ship deck, narrow airspace, mountain, complex terrain and densely populated areas such as hills, jungles. The whole process of autonomous flight can be completed without operator intervention for cruise, flight state transition and vertical take-off and landing. The equipment compartment is a replaceable hatch cover, and different mounting hole positions can be designed for different load requirements of the user. The fuselage is designed as quick release structure, with reliable electrical connection, plug and play; unfolding and withdrawal time is less than 10 minutes. The engine is rear-mounted and the load is placed forward to provide a larger field of view for the photoelectric load without obstruction.
Feature:
Easy to assemble and operate Vertical take-off and landing, without limitation of space Resistance to harsh weather conditions Diesel-electric version and electric version optional All carbon fiber composite material, industry standard architecture Compatible with PC station, suitable for open source of autopilot system.
1. Body material: carbon fiber, glass fiber, Kevlar, pvc interlayer, etc.
2. Body length: 1.88m
3. Wingspan: 3.5m
4. Landing gear height: 19.5cm
5. Landing gear installation position: below the rotor rod
6. Task compartment size: 350mm*318mm*200mm
7. Battery compartment size: can hold 2*32000mah at the same time
8. Position of mission compartment: directly below the center of gravity of the aircraft
9. Structure weight: about 9kg
10. Maximum take-off weight: less than 30kg
11. Maximum payload: 10kg
12. Endurance time: 140min/5kg, 70min/10kg
13. Maximum control distance: manual control by remote control/1km, ground station/standard 30km
14. Standard cruising speed: 65km/h (about 18m/s)
15. Maximum cruising speed: 108km/h (30m/s)
16. Stall speed: 23m/s
17. Minimum circling radius: 150m
18. Maximum level flight limit: 5800m above sea level
19. Wind resistance of fixed-wing mode: no less than 6 wind
20. Maximum wind resistance in rotor take-off and landing mode: no less than class 4 wind (7.9m/s)
21. Operating environment: -20℃~45℃; can fly in light rain
22. Power battery: 2*32000mah
23. Rotor emergency operation time: not less than 6.5min
24. Take-off and landing method: vertical take-off and landing
25. Vertical power blade size: 26inches (recommended)
26. Fixed wing tail thruster blade: 24 inches (recommended)
Recommended Set-up:
4 x T-motor MN805S KV170
4 x T-motor 12S 80A ESC
2 x 26 inch Propeller CW&CCW
1 x T-motor AT ESC
1 x T-motor AT7224
1 x 24″ Propeller CW
4 x GDW servo
NOTE: THE PRICE IS JUST KIT, WITHOUT ANY ELECTRONIC, AND THE PACKING IS IN WOODEN CASE NOT IN ALUMINUM BOX!