Italian drone manufacturer Alpi Aviation under investigation by police
According to the Italian police on Friday, the Italian manufacturer Alp Aircraft Company, which supplies high-tech drones for Italian special forces, was suspected of illegally selling to China and was investigated by the police. The police have notified the prosecution of 6 managers, of which 3 are Chinese nationals.
According to Reuters, the case has aroused the attention of the Italian government. According to the Golden Power Regulations (Golden Power), which examines and interferes with foreign mergers and acquisitions of local companies, Alp Aircraft Company, located in northern Italy, sells 75% of its shares and should be notified to the government.
The Italian government can use the "golden power" regulations to avoid the sale of assets such as defense, energy, and telecommunications that are considered strategic to foreign companies. Alpi Aviation, headquartered in the northern Italian city of Pordenone, was bought by a Hong Kong company in 2018 for 75% of its shares at a price of 90 times the market value, which attracted the attention of Italian investigators.
The Italian tax police pointed out in a statement that they investigated the Hong Kong company that bought Alp and found that there was a complicated and opaque "cross-shareholding network" behind the company, involving 15 Chinese companies to cover its true owners, and finally tracked down. The real buyers are "two important Chinese state-owned enterprises".
The Italian police financial crime team believes that this acquisition may have violated Italy's laws prohibiting or restricting the sale of strategic assets to foreign investors. Such assets include national defense, national security and infrastructure. The Italian police also stated that Alp Corporation is moving its drone manufacturing work to Wuxi, an important city in China's science and technology industry. The Hong Kong company that has invested in Alp is purely trying to acquire expertise and manufacturing technology and transfer it to China.
Chinese drone manufacturer FlyDragon
Fly Dragon Drone Tech is one of the world's leading companies for UAV (Unmanned Aerial Vehicle) and Flight Control System design, development and manufacturing.

Since founded in 2013, Fly Dragon Drone Tech has never stopped to explore the uncharted territories. With pure and consistent invention, we have made a significant breakthrough in both commercial and agricultural UAV sectors, obtaining numerous of technology patents through years of effort. Fly Dragon Drone Tech Company based in China, powered by hundreds of innovative developers and global sales network, Agriculture drone sprayer Agricultural Solutions.

FlyDragon FDG25 fixed -wing vtol

Since 2015, Fly Dragon Drone Tech has begun to develop Agricultural UAV system. For the past three years, through this system, we have established comprehensive agricultural UAV plant protection standards. Currently, the third generation plant protection UAV has passed the feasibility verification and trial operation on vast cotton fields in Xinjiang, China. In 2015, Fly Dragon Drone Tech rolled out all-new intelligent agricultural UAV solutions and UAV plant protection services. Fly Dragon Aviation Tech co., ltd hopes to improve traditional agriculture through the integration of smart and efficient UAV systems, improve the quality of agricultural products and reducing both environmental foot print and production cost.


Now,Fly Dragon Drone Tech has cooperated with worldwide government departments and many renowned enterprises. Our commercial & industrial products and services are suitable for agricultural plant protection, aerial imaging, low-altitude air space logistics, police force assistance, medical rescue assistance, forest fire prevention, geological prospecting, surveying, arctic expedition and much more.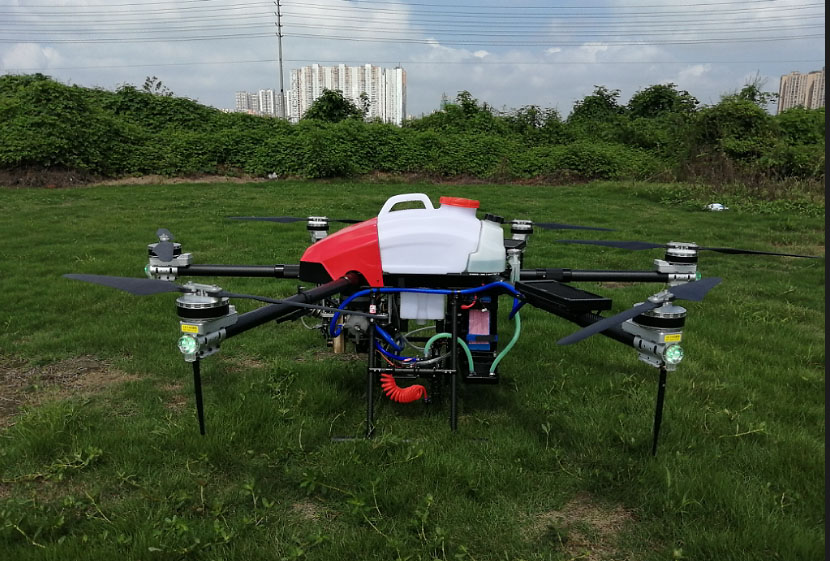 FlyDragon FDFC-6R-16L hybrid agriculture drone