Malaysia trials cargo drones
Pen Aviation of Malaysia and DHL Express have signed a memorandum of understanding (MOU) to commercialize the delivery of time-critical cargo by drones. The plan also involves drone operator Raya Airways, which will utilize Pen Aviation's drone-based solutions.
DHL will participate in the Proof of Commercialization (POC), which will demonstrate the commercial feasibility of time-critical cargo drone delivery for port logistics tasks, with a focus on the maritime industry. POC will undertake the first to last mile mission jointly executed by DHL, Pen Aviation and Raya Airways, and will specifically showcase the cost and time optimization of the drone fleet to simplify port logistics and distribution activities for commercial port cargo.
Julian Neo, Managing Director of DHL Express Malaysia & Brunei commented: "Cargo drones will become the next generation of logistics transportation tools. The POC was released after the recently announced 12th Malaysia Plan. The Malaysian government emphasized the importance of transportation and logistics. The importance of seamless connection and reliability. The use of drone technology will allow us to reach rural communities, especially in East Malaysia, where key items such as vaccines, medicines and medical equipment are needed, while enabling us to achieve "connecting people And improve life" goal.
FDD50 fixed-wing VTOL delivery drone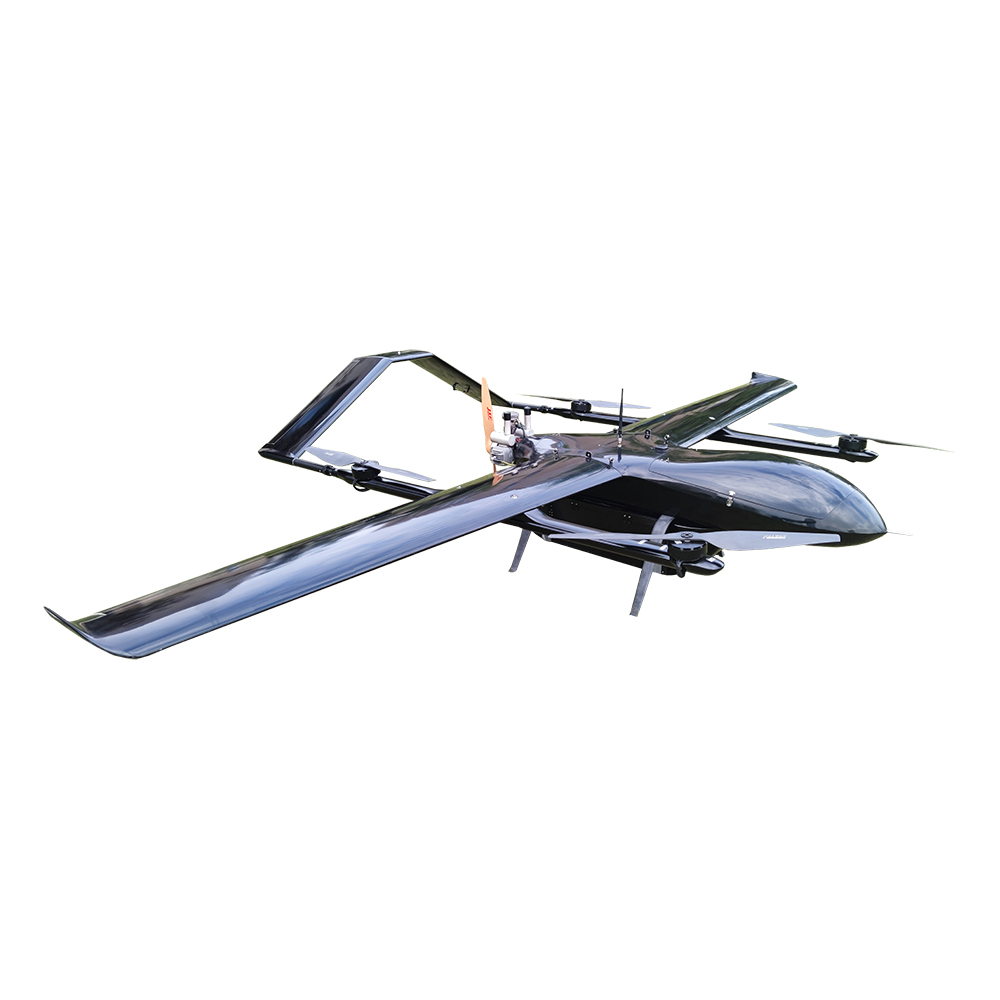 FlyDragon FDD50P delivery UAV platform is equipped with industrial-grade vertical take-off and landing fixed-wing flight control. Maximum payload 15kg, life time is 2h@15kg payload, 4h@10kg payload, it's have a dropping box for delivery, drop box size: Length 462MM, width 296MM, height 169MM. it's used to delivery medicines, food, water, plasma, etc
The drone platform has the following features and advantages:
a) Practical and efficient: it has the characteristics of fixed-wing UAV's long flight time, fast speed, long distance and large load;
b) Vertical take-off and landing: with the take-off and landing mode of the rotorless drone, greatly reducing the requirements for landing and landing and airspace;
c) low cost of use: no complicated and bulky launching and recycling equipment, no additional recycling sensors required;
d) Simple operation: integrated special flight control and navigation system, full autonomous flight, operators only need to send flight plans, no professional training and operational experience;
e) Compact system: no complicated auxiliary equipment, simple transportation, deployment, maintenance and withdrawal.
Specification
Body length: 2.5m
Wingspan: 3.8m
Maximum takeoff weight: 50kg
Maximum payload: 15kg
Life time: 2h@15kg payload, 4h@10kg payload
Flying radius: 200-400km (depending on the amount of oil)
Maximum control distance: Remote control (manual control): 1km
Ground station control (depending on the distance of the digital transmission): 30km standard
Maximum speed: 130km/h
Cruising speed: 100-120km/h
Maximum oil load: 12L
Lift limit: 4000m
Maximum wind resistance: 12m/s (6 wind)
Use environment: -10 °C +45 °C; anti-light rain
Climb/lower power battery: 4*14000mAh-6S lithium battery
Take-off and landing mode: vertical takeoff and landing
Shipping size: 1.6*0.7*0.6m (length * width * height)
Drop box size: Length 462MM, width 296MM, height 169MM
Delivery method: parachute