Microdrones' new lidar mapping drone and user service model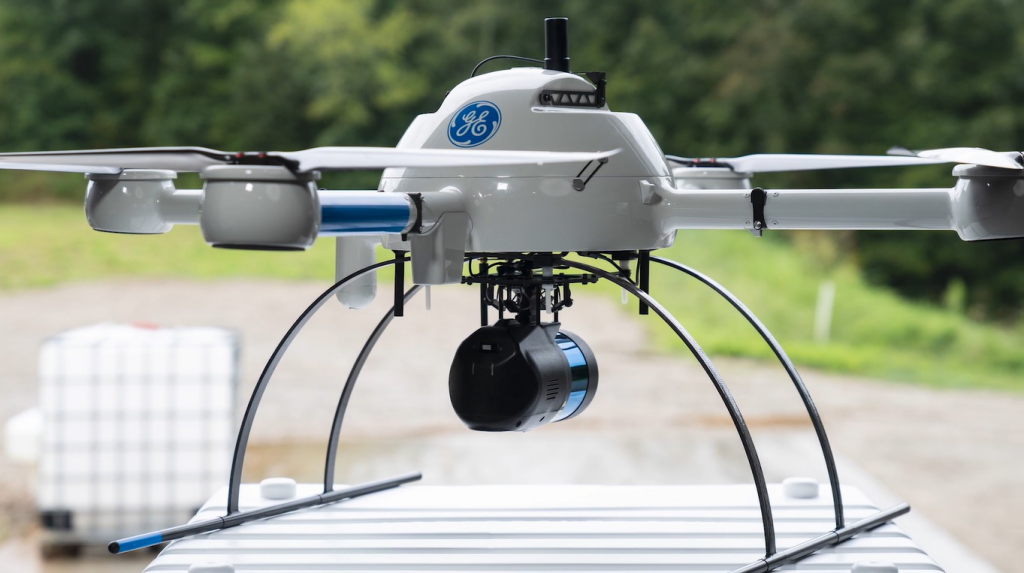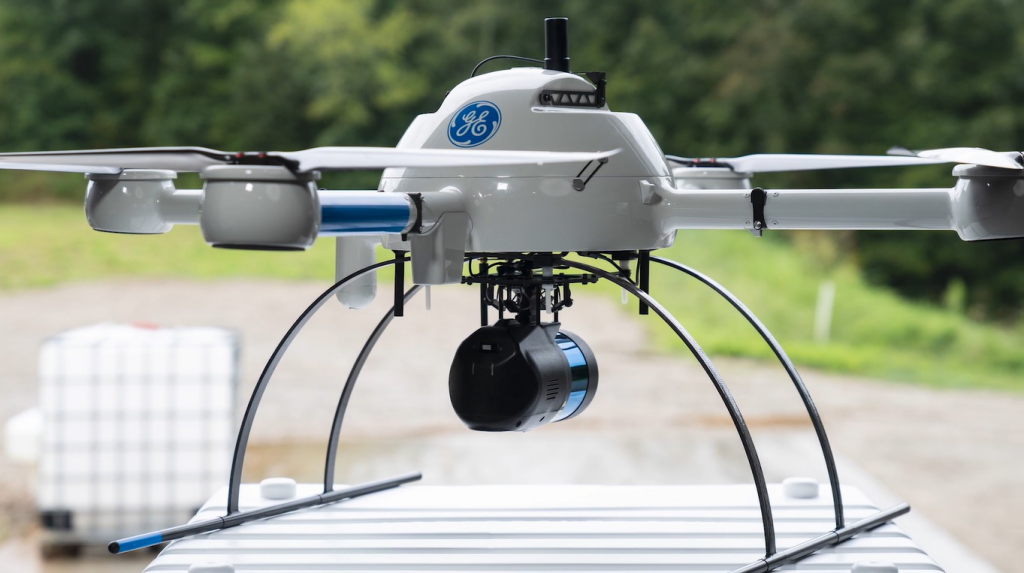 This summer Microdrones announced a partnership with General Electric to launch a new mapping lidar drone— mdLiDAR1000LR
The mdLiDAR1000lR solution combines drone, lidar and fully integrated lidar processing and photogrammetry software. The system can collect 3D point clouds and images for users, such as corridor mapping, mining volume calculation, contour mapping, precision agriculture, etc.
Product Specifications
The mdLiDAR1000LR uses the Velodyne Ultra Puck VLP-32, an eye-safe lightweight time-of-flight lidar scanner. The system has a 90-degree field of view and features a newly upgraded 26MP camera. Combining this with the increased range and high point density means a lot of areas can be covered. Georeferencing is handled by Applanix's APX-15 UAV IMU. The system uses three software products: mdCockpit for tablets, mdInfinity (a set of data processing modules, described below), and the flight performance application.
The system has a take-off weight of 6400 grams, and the lidar point cloud created using the system has an accuracy of 4cm RMSE, while the photogrammetry accuracy is 2-3 pixels horizontally and 3-5 pixels vertically. The longer range of the system means an increase in detail can be captured, and the system, flying at an AGL of 100m with 20% roll, can cover more than 1.2 square kilometers in a 30-minute flight and capture 150 points per square meter. Dot Density, which makes it a recommended tool for scanning large mines and measuring inventory levels.
Microdrones service model
Microdrones allows users to buy or rent an integrated system of their choice. For data processing, users can use a "pay-as-you-go" token-based system, or subscribe to an unlimited or perpetual type of system. Microdrones has launched a new data processing plan for mid-sized users who conduct 8-10 lidar flights per month for a total of 200 minutes of data collection time. This plan complements their pay-per-project for light users and unlimited plans for heavy users.
FDG-100C+ drone LIDAR scanning system Application for Mapping and Survey
FDG-100C+ drone Lidar system is a kind of light compact LiDAR point cloud data acquisition system, integrated Livox new generation laser scanner, GNSS and IMU positioning and attitude determination system, and storage control unit, is able to real-time, dynamically, massively collect high-precision point cloud data and rich image information. It is widely used in the acquisition of 3D spatial information in surveying, electricity, forestry, agriculture, land planning.
Long Detection Range
The Livox Avia adjusts its detection range according to the intensity of ambient light, while maintaining noise at a low level. The detection range increases to 450m under low-light conditions (such as on a cloudy day, indoors or at night), ensuring distant objects are captured in detail.
Dual-Scanning Mode
The use of multi-line laser and high-speed scanning enable the Livox Avia to achieve a point cloud data rate of up to 240,000 points/s. The high performance device is equipped with both repetitive and non-repetitive scanning modes, to meet the needs of different scenarios.
Specification
gAirHawk GS-100C+
Item Name
System Parameter

GS-100C+

Parameter

Weight
1022 g
Measuring accuracy
Less than 10 cm (110 m AGL)
Power range
12V~16V
Working temperature
-20℃~+55℃
Consumption
Average 20W
Support Platform
GS-800 Multi Rotor, VTOL Fixed Wing
Storage
64 GB storage, maximum support 128GB TF card

Lidar Unit

Laser Model
Livox Avia
Measuring Range
190m@10% Reflectivity
Laser class
905nm Class1 (IEC 60825-1:2014)
Laser line number
Equivalent to 64-beam
Mix. range
0.3 M
Range Precision
2 cm
data
Triple echo, 720,000 Points/Sec
FOV
70° the circular view
POS Unit
POS type
AGS 302
Update frequency
200HZ
Heading accuracy
0.040°
Pitch accuracy
0.015°
Rolling accuracy
0.015°
Position accuracy
0.02 – 0.05m
GNSS signal type
GPSL1/L2/L5 GLONASSL1/L2 BDS B1/B2/B3 GAL E1/E5a/5b
Pre-processing software
POS software
Output information: position, speed, attitude
Point cloud software
Output point cloud data format: LAS format, custom TXT format
Built-in Camera
FOV
83 Degree
Effective Pixel
26 Mega Pixel
Trigger event
Distance or Time trigger