Russian Helicopters and Russian Post will launch drone delivery services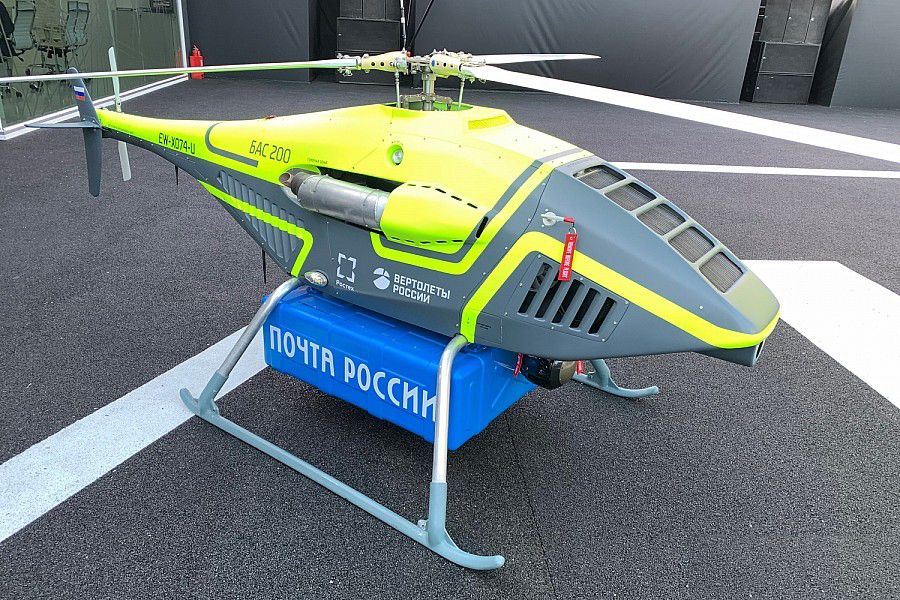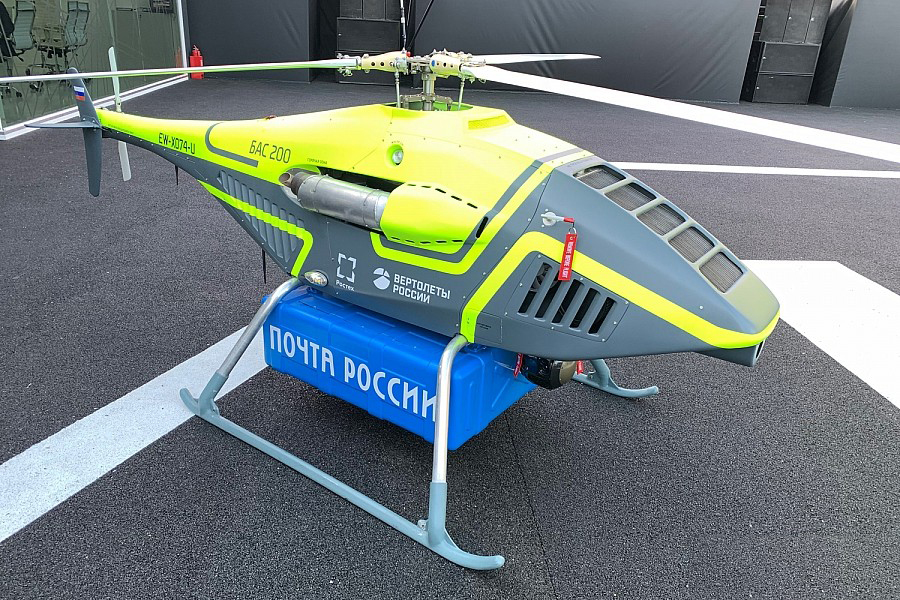 According to an article published on the ruaviation website on July 26, 2021, at the 2021 Moscow Air Show (MAKS-2021), the Russian Helicopter Company and the Russian Post signed a drone delivery service agreement in the Chukotka Autonomous Region. The UAV will make its first flight on the Anadyr-Ugor Nekopi route in Chukotka by the end of 2021.
After the flight test is completed, the two parties will operate the latest BAS-200 unmanned helicopter and VRT300 unmanned helicopter of Russian Helicopter Company on 20 routes, and it is expected to transport 245 tons of mail each year.

Russian Post plans to launch 48 unmanned freight routes in the four regions of Chukotka Autonomous Region, Kamchatka Kra, Yamalo-Neshits Autonomous Region and Kandy-Mansi Autonomous Region.

The BAS-200 unmanned helicopter has a maximum take-off weight of 200 kg and a flying speed of 160 km/h. It can be used for terrain monitoring, cargo, search and rescue and agricultural operations. The aircraft can carry a payload of up to 50 kg and fly for 4 hours at an altitude of 3900 meters. The ground control complex can communicate with drones within a range of 100 kilometers. The Mil&Kamov National Helicopter Center (Mil&Kamov) is responsible for its project development and flight testing.

The VRT300 unmanned helicopter is designed by the Russian helicopter company VR-Technology. It has a maximum take-off weight of 380 kg, a payload of 70 kg, a maximum flight speed of 130 km/h, and a range of 325 km. The actual flying height of the aircraft can reach 5800 meters, and the battery life can be as long as 5 hours. It can be used for terrain monitoring, cargo, forest protection, search and rescue and agriculture.

FlyDragon FDD50 fixed-wing VTOL delivery drone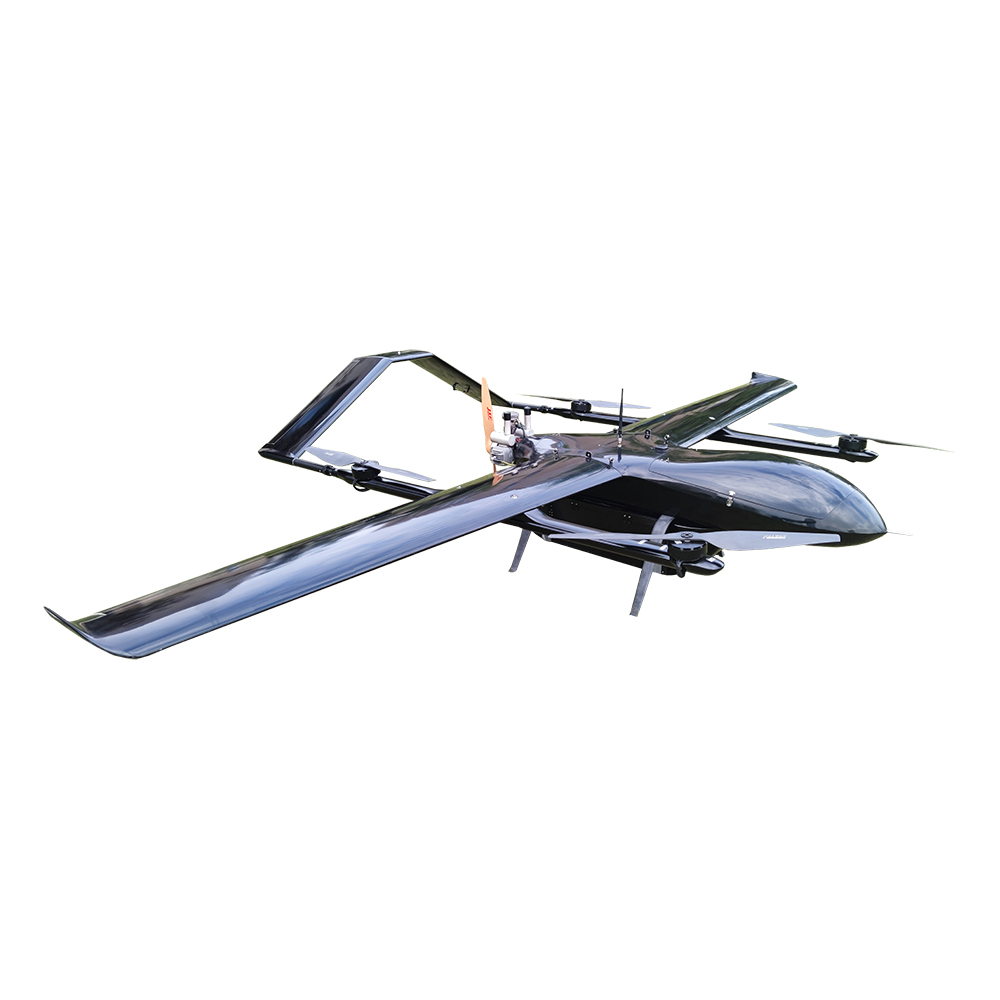 FlyDragon FDD50P UAV platform is equipped with industrial-grade vertical take-off and landing fixed-wing flight control. Maximum payload 15kg, life time is 2h@15kg payload, 4h@10kg payload, it's have a dropping box for delivery, drop box size: Length 462MM, width 296MM, height 169MM. it's used to delivery medicines, food, water, plasma, etc
The drone platform has the following features and advantages:
a) Practical and efficient: it has the characteristics of fixed-wing UAV's long flight time, fast speed, long distance and large load;
b) Vertical take-off and landing: with the take-off and landing mode of the rotorless drone, greatly reducing the requirements for landing and landing and airspace;
c) low cost of use: no complicated and bulky launching and recycling equipment, no additional recycling sensors required;
d) Simple operation: integrated special flight control and navigation system, full autonomous flight, operators only need to send flight plans, no professional training and operational experience;
e) Compact system: no complicated auxiliary equipment, simple transportation, deployment, maintenance and withdrawal.
Specification
Body length: 2.5m
Wingspan: 3.8m
Maximum takeoff weight: 50kg
Maximum payload: 15kg
Life time: 2h@15kg payload, 4h@10kg payload
Flying radius: 200-400km (depending on the amount of oil)
Maximum control distance: Remote control (manual control): 1km
Ground station control (depending on the distance of the digital transmission): 30km standard
Maximum speed: 130km/h
Cruising speed: 100-120km/h
Maximum oil load: 12L
Lift limit: 4000m
Maximum wind resistance: 12m/s (6 wind)
Use environment: -10 °C +45 °C; anti-light rain
Climb/lower power battery: 4*14000mAh-6S lithium battery
Take-off and landing mode: vertical takeoff and landing
Shipping size: 1.6*0.7*0.6m (length * width * height)
Drop box size: Length 462MM, width 296MM, height 169MM
Delivery method: parachute