SF large delivery drone flight test Success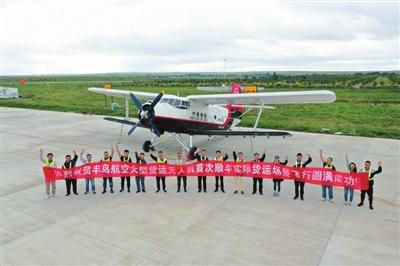 At 8 o'clock on August 21, a large drone took off in Ningxia and landed at the destination airport in Inner Mongolia nearly an hour later, marking the first successful cargo flight of SF Express's large delivery drone. This is the first time that a large UAV has been used in logistics scenarios in China.
The large unmanned aerial vehicle that was put into trial operation that day was the FH-98 unmanned aerial vehicle developed by SF Express and Aerospace Times Electronics. The model has a maximum take-off weight of 5.25 tons. It is currently one of the largest unmanned aerial vehicles in China and has a large load capacity suitable for cargo. Large cargo compartment. FH-98 also has the advantages of short take-off and landing distance and fast cruising speed. It can easily radiate regional hubs and surrounding cities, greatly improving the efficiency of feeder logistics. According to Yao Miaomiao, the propaganda director of SF Express (Ningxia) Co., Ltd., the applicability of the FH-98 UAV system to branch logistics scenarios has been fully verified through this transfer test flight, and the FH-98 unmanned aircraft has also been preliminarily verified. The compliance of the aircraft system to some airworthiness standards has laid a good foundation for the subsequent full-scale commercial operation.
"In the future, the application of large-scale drones in logistics scenarios is expected to open up new domestic aviation logistics channels for trunk and branch lines, and effectively solve the problems of inconvenience and low transportation efficiency in remote areas." SF Express (Ningxia) Co., Ltd. Public Liu Dong, head of the affairs department, said. Facing the ever-increasing demand for the transportation of fresh agricultural and sideline products, medical supplies and other high value-added goods, as well as the government's emergency transportation needs, SF Express will further accelerate the improvement of the regional aviation layout, and strive to build a "large manned transport aircraft + large branch drone + terminal The three-segment air transportation network of "delivery drones" provides efficient, convenient and wide-coverage transportation services.
It is understood that in February of this year, the Civil Aviation Administration formally replied to accept the application of SF Airlines' subsidiary Fengniao Airlines for the trial operation of a series of feeder logistics drones. After that, the FH-98, the main model of SF's large-scale UAV, immediately launched a series of taxi and flight tests in Ningxia, making full preparations for flight in business scenarios. At present, Fengniao Airlines has successfully approved 9 routes for scientific research and business testing. "The choice of the first flight location for this scene is very particular." Yao Miaomiao said that the terrain of Ningxia is diverse, including mountains, plains, canyons, wetlands, deserts, plateaus and other landforms; Ningxia Plain is different from the adjacent ones. The Loess Plateau is flat and open; Ningxia has a temperate continental arid and semi-arid climate with low population density and fewer flights, but there are a large number of navigable airports. These conditions are very suitable for the early operation of new aircraft.
It is reported that Ningxia's high-value and time-sensitive specialty economic products such as beef and mutton, fresh dates, and fresh wolfberries have become highly sought-after seasonal products in the region and even across the country, requiring the rapid and stable escort of large drones. For this reason, with the encouragement of innovative technologies by our district government and the strong support of the aviation industry, Fengniao Aviation's large-scale drones have been able to enter Ningxia smoothly since March of this year, which has also created a foundation for the development of drone trials in Ningxia. Favorable conditions
The biggest VTOL delivery drone Gasoline Hybrid FD180P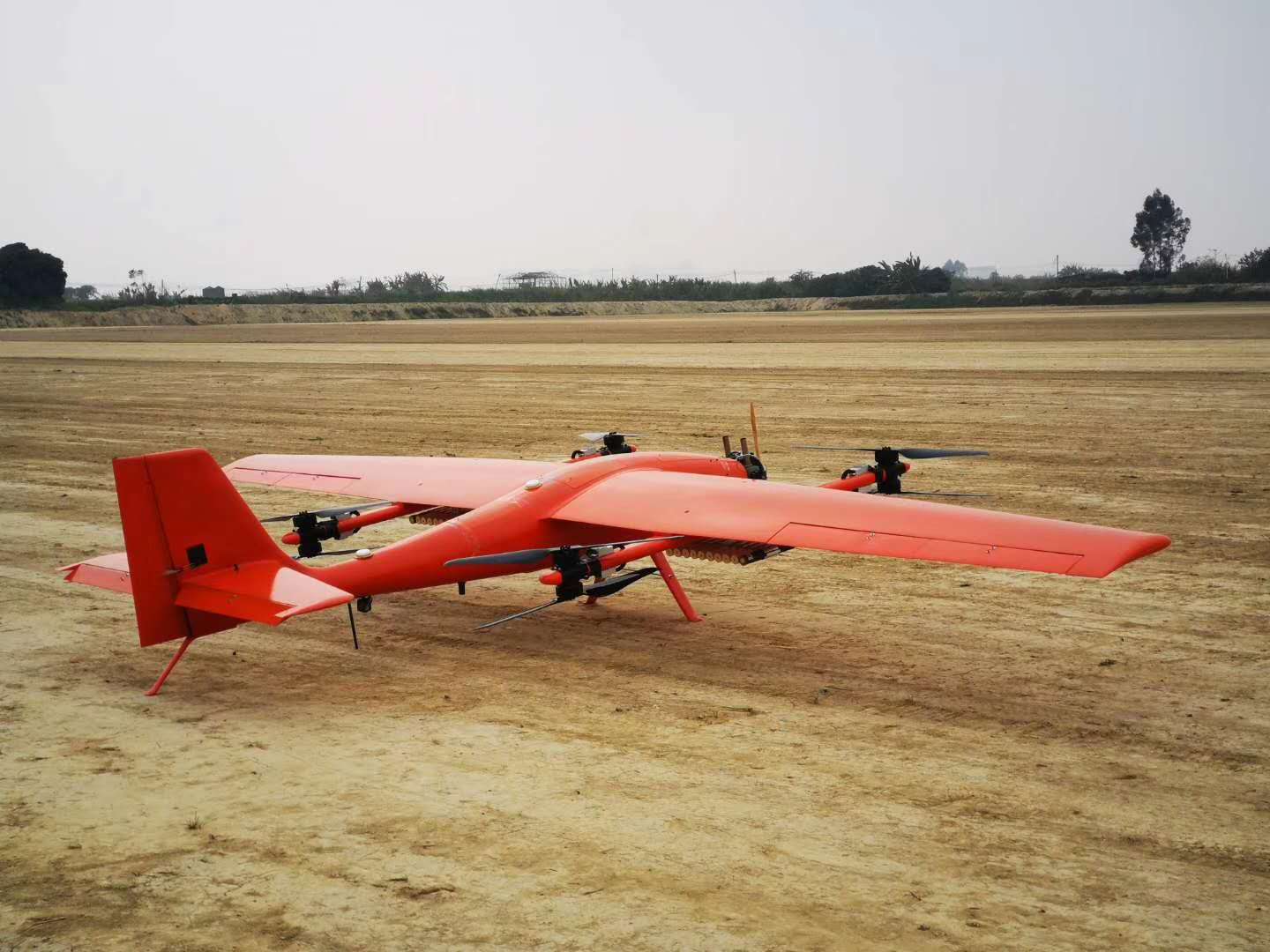 FD180P The UAV platform is a large-scale oil-powered long-haul composite wing vertical take-off and landing drone independently developed by our company. The overall layout of the composite wing with fixed wing and four-rotor is used to solve the fixed-wing UAV vertical in a simple and reliable way. The problem of take-off and landing, combined with the characteristics of fixed-wing UAV's longitude, high speed, long distance and the vertical take-off and landing of the rotorless drone, the vertical take-off and landing mode greatly enhances the environmental adaptability of the UAV platform. The UAV platform can smoothly operate in complex terrain and densely populated areas such as mountains, hills and jungles, greatly expanding the scope of application of drones, and is an ideal choice for industrial-grade drones.
The FD180P UAV platform is equipped with industrial-grade vertical take-off and landing fixed-wing flight control and strapdown inertial navigation system, as well as professional aerial aerial survey and inspection ground station software. It can ensure that the drone can fly autonomously and complete the autonomous takeoff without operator intervention. In the flight phase of flight state transition, autonomous cruise, and autonomous landing, it also supports automatic route planning for more than 1000 waypoints and emergency standby plan for 100 waypoints.
The drone platform has the following features and advantages:
a) Practical and efficient: it has the characteristics of fixed-wing UAV's long flight time, fast speed, long distance and large load;
b) Vertical take-off and landing: with the take-off and landing mode of the rotorless drone, greatly reducing the requirements for landing and landing and airspace;
c) low cost of use: no complicated and bulky launching and recycling equipment, no additional recycling sensors required;
d) Simple operation: integrated special flight control and navigation system, full autonomous flight, operators only need to send flight plans, no professional training and operational experience;
Performance

parameter

Body length

3.35m

Wingspan

6.5m

Maximum takeoff weight

180kg

Maximum payload

40kg

Endurance

8h~10h

Flight radius

300-500km

(depending on the amount of oil loaded)

Maximum control distance

Remote control (manual control): 1km

Ground station control (depending on the distance of the digital transmission): 30km standard

Maximum speed

130km/h

Cruising speed

100-120km/h

Maximum oil load

40L

Lift limit

5000m

Maximum wind resistance

12m/s(6 level winds)

Use environment

-10℃+45℃; anti-light rain

Vertical takeoff and landing

32*8000mAh-6S Li battery

Takeoff and landing mode

Vertical takeoff and landing
More detail and price for this big VTOL please
contact us