Taiwan revegetates landslide areas by using drone aerial spraying seeds
drone aerial spraying
TAIPEI (Taiwan News) – Taiwan's Forestry Bureau has revegetated three landslide areas, using a highly mobile unmanned aerial vehicle (UAV), along with seeding materials and a variety of sensors, the forestry bureau said on Friday (May 24).
The bureau said it commissioned a UAV team in October 2018 for tasks using a rotary-wing drone aerial spraying seeding materials via a remote-controlled dispenser on landslide areas. The tasks were carried out as part of an effort to establish procedures for aerial seed sowing operations.
The drone was able to conduct seed sowing and reforestation operations at altitudes below 3,000 meters, carrying a payload of 8-10 kilograms of seeding materials, the bureau said. With each flight being able to drop about 700,000 seeds and each trial site receiving at least 30 flights, about 21 million seeds were dropped on each site, the bureau added.
Since April 2019, the trials have been conducted on landslide areas upstream of the Atayal tribal village of Lumoan in Yilan County's Datong Township, upstream of Deji Reservoir in Taichung City's Heping District, and beside a country road in Nantou County's Ren'ai Township.
The bureau marks off three months after spraying the seeds as a period to conduct outcome assessments by analyzing the effect the operations have on restoration of vegetation in the landslide areas. The results of the trials will be compiled into an operation manual, the bureau added.
Best Drones For Spreading Seed, Fertilizer & More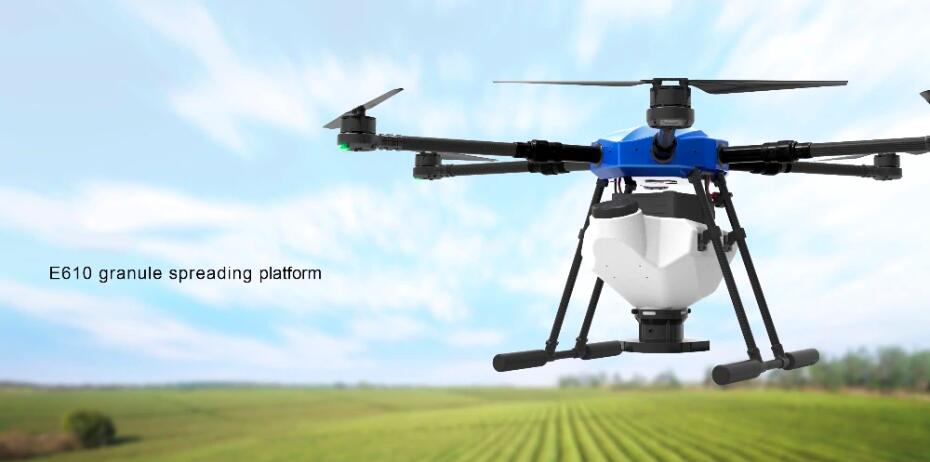 What are the main uses for a spreader drone?
Seed Spreading
Seed spreading, or spreading fertilizer with a drone allows a user to reach places that traditionally would be hard to access, or to simply spread seeds much faster. Our seed spreader drones can spread up to 40x faster than manual spreading, and allow users to spread seeds quickly and efficiently on hills, wetlands, and other places that heavy machinery would have a hard time reaching.
Spreading Moss Killer
Spreading moss killer with a drone is an efficient way to spread moss killer on roofs and hard to reach places. Several companies are already using our drones to spread moss killer on roofs, saving substantial time compared to having to climb up ladders to reach roofs and other places were moss tends to grow. Not to mention the substantially reduced risk of a safety incident such as someone falling from a roof while climbing up.
Spreading Seeds In Wetlands
Spreading seeds in wetlands with a drone is a quick way to do a task that can traditionally be very difficult. The nature of wetlands makes them hard to access with traditional heavy machinery, without disrupting the ecosystem. Using a seed spreader drone allows the operator to plant seeds much more efficiently and with much less disruption than other equipment.
Spreading Ice Melter
Spreading ice melter with a drone is a quick and effective way to cover a large amount of ground with ice melter in a relatively short period of time. A seed spreader drone can spread ice melter up to 40x faster than manually spreading ice melter by hand. Just remember when buying one to ensure that it has a winter operation package installed since our drones without these modifications are generally not meant to be used in winter conditions.
Spreading Lime
Spreading lime with a drone is a quick way to spread lime over large distances, or in hard to reach places much faster than doing it manually.
Spreading Fish Feed
Spreading fish feed with a drone is a very effective way to cover large surface area evenly with fish food. With a spreader drone, you can spread the fish food quickly and evenly over a large area of water. Using a drone means you can complete the whole operation from the lakeside without having to send any boats or people into the water to complete the feeding.
Spreading Aggregate
Spreading aggregate with a drone is a quick way to spread gravel, and other materials over large distances, or in hard to reach places much faster than doing is manually.

This drone support 0.2-6mm solid partical