The Best drone sprayer for sale on the market China 2019
UAVs are welcomed by more and more farmers with high efficiency and low flight cost.UAVs save more cost than traditional sprayer, allowing operators to stay away from pesticides and avoid poisoning, regardless of geographical constraints.
There are many types of uav ag drones for sale on the market, such as surveillance drones, NDVI drones, sprinkler drones, sheep drones, etc, we will talking about uav ag drones, here are list 5 best drone sprayer in China
1.

DJI Agras MG-1
DJI's Agras MG-1 is specifically designed as a drone sprayer, covering an area 4,000 – 6,000 square meters in just 10 minutes. The agricultural drone is able to regulate its output of fertilizer, pesticides, or herbicides based on its current speed, precisely regulating its spray for maximum efficiency.
Flight parameter
Machine weight (without battery) 8.8 kg
Standard takeoff weight 22.5 kg
Maximum effective takeoff weight (near sea level) 24.5 kg
Maximum thrust-to-weight ratio 1.81 @ Takeoff weight 22.5 kg
Power battery DJI designated model battery (MG-12000)
Maximum power consumption 6400 W
Hover power consumption 3250 W (@ takeoff weight 22.5 kg)
Hover time
24 min (@ takeoff weight 12.5 kg)
10 min (@ takeoff weight 22.5 kg)
Maximum working speed 8 m/s
Maximum flight speed 22 m/s
Recommended working environment temperature 0 °C to 40 °C
2.XAG-P20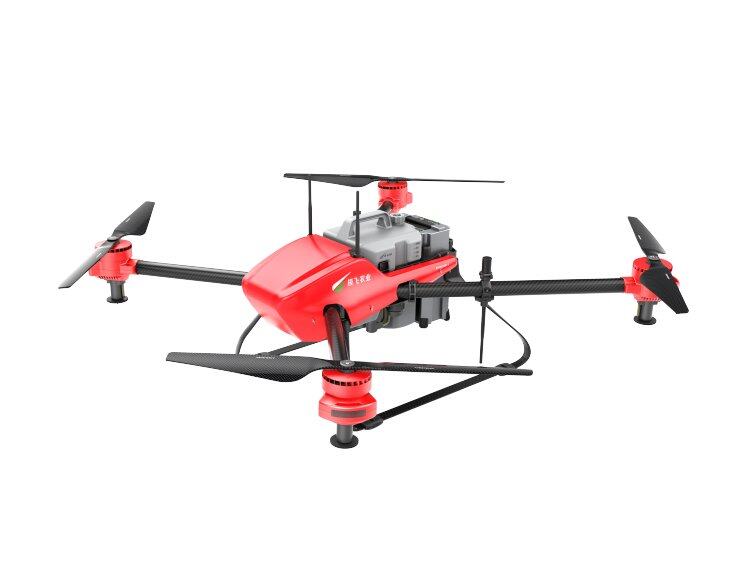 The P20 Plant Protection UAV System is a new UAV plant protection solution released by Philippine. The system features a new generation of SUPERX2 RTK flight control system with more accurate GNSS RTK positioning module and spray system, as well as a highly optimized fuselage structure and new power to make drone plant protection more precise, smarter and more efficient.
Spray atomization standard: 70 - 200 microns (adjustable)
Dosage per square centimeter: 40 - 250 capsules
Nozzle diameter: 60 mm
Spray flow: 150 - 500 ml / min (adjustable)
Spray width: 1.5 - 5 meters (depending on the height of the work)
Drug loading capacity: 5 liters - 8 liters
Working height: 1 - 3 meters
Working speed: 1 - 6 m / sec
Spraying efficiency: a single takeoff and landing 20 acres
Spraying time: 25 minutes for a single takeoff and landing
Addition to the above two drones, the Fly Dragon UAV Company released a 6-axis 16L drone-FDXD6, this is Chinese first 16L drone sprayer
FDXD6
Specification:
AIRCRAFT FRAME
Dimensions 1720mm x1720mm x610mm (arm unfolded, without
propellers)
925mmm x925mmm x610mm(arm folded)
SPRAY SYSTEM
LIQUID TANK
Volume 16 L
Standard Operating Payload 16 kg
NOZZLE
Model Germany ceramic nozzle(Max 1L/min adjustable)
Quantity 6
FLIGHT PARAMETERS
Total Weight 15.5 kg (without battery)
Standard Takeoff Weight 37.5 kg
Max Takeoff Weight 37.5 kg (at sea level)
Max Thrust-Weight Ratio 1.41 (with 37.5 kg takeoff weight)
Power Battery Battery (12S 22000mAh 20C )
Max Power Consumption 15774 W
Hovering Time* 21 min(@22000 mAh & 21kg takeoff weight)
10 min(@22000 mAh & 37.5 kg takeoff weight)
*Hovering time acquired at sea level, with wind speeds lower than 3m/s.
Max Operating Speed 8 m/s
Max Flying Speed 10 m/s
Max Service Ceiling Above Sea Level 2000 m
Recommended Operating Temperature 0 ℃ to 40 ℃
REMOTE CONTROLLER
Model XT32
Operating Frequency 2.400 GHz to 2.483 GHz
Max Transmission Range 3 km (unobstructed, free of interference)
EIRP ≤20 dBm
Built-in Battery 3000 mAh,3.7V
Operating Temperature Range -10 ℃ to 40 ℃
Storage Temperature Range Less than 3 months: -20 to 45℃
More than 3 months: 22 to 28℃
Charge Temperature Range 5 ℃ to 40 ℃
RADAR MODULE
Detection Range 1- 5 m
Working Range 1.5 - 3.5 m
Precision < 10 cm
PROPULSION SYSTEM
MOTOR
Stator Size 81×20 mm
KV 100 rpm/V
Max Thrust 15.3 kg/Axis (48V, Sea Level)
Weight 180g