Yamaha RMAX at power faming show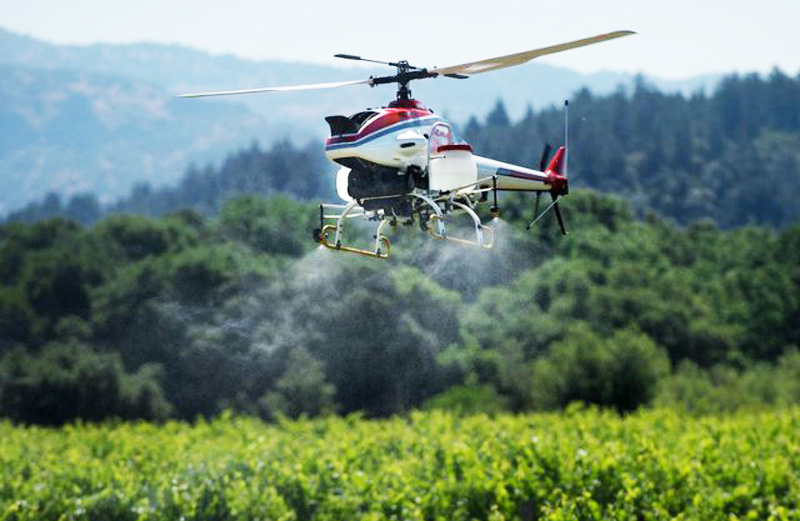 Since their introduction in 1997, Yamaha RMAX helicopters have been used for agricultural spraying in a variety of crops including rice, wheat, soybeans, and vegetables logging more than 2 million hours. With over 2,600 helicopters operating worldwide, each 207-pound unmanned helicopter can deliver and dispense tanks of fertilizer and pesticides across large tracts of land.
Used in Japan for years to primarily seed and to spray rice, RMAX was given clearance in May 2015 by the Federal Aviation Administration to spray crops in the U.S. Specifically, the FAA issued a Grant of Exemption for the RMAX under Section 333 of the FAA Modernization and Reform Act (FMRA).
In December 2015, Yamaha received Part 137 Agricultural Aircraft Operations Certification from the FAA. The certification allowed Yamaha to begin agricultural spraying in the U.S., subject to approval by state and local authorities in areas where the RMAX will be used.
Designed for agriculture, this remotely piloted helicopter is now providing direct application services in California. Based out of Napa, California, Yamaha's services team is primarily focused on fungicide applications for wine grapes.
Scratching the Surface of Potential Applications
While the company's initial entry into commercial services in the U.S. has been in vineyards, Brad Anderson says it is just scratching the surface for the potential of its units within ag.
"We're looking at various applications in other specialty and high-value crops," says Anderson, who is Yamaha's unmanned systems dvision manager. "The potential of utilizing our equipment for spot spraying could also provide multiple benefits within the ag industry."
The Yamaha RMAX will be on display at the Nebraska Power Farming Show, which is being held December 4 to 6, 2018, in Lincoln, Nebraska.
Intelligent Agriculture is the trend of all over the world. And the intelligent drone act as a important role in this world plan.
Agriculture spraying drone can replace the traditional pesticide sprayer and it's speed is 40times of the traditional sprayer. It will save 90% water and 30%-40% pesticide. Small droplet diameter make the pesticide more well-distribute and improve the effect. At the same time, it will make the people faraway from the pesticide and reduce the pesticide remain of the crop.