Precision Agriculture By Water and Air
WaterBit's Carbon soil moisture sensor makes Greg Van Dyke's dry-seeding approach to rice production measurable and facilitates improvements in techniques.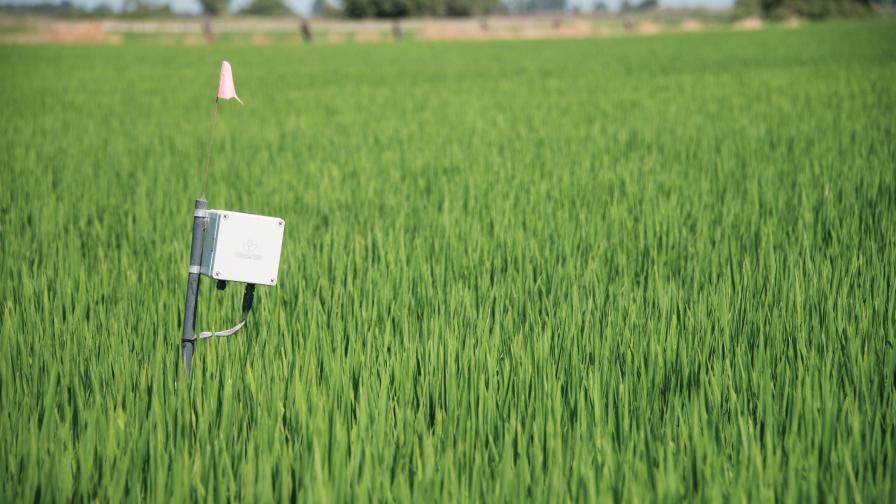 The specialty crop markets pose unique challenges for manufacturers that are attempting to bring value to service providers and farmers. Every crop — and in some cases, varieties within crop categories — requires different approaches that make a "one-size-fits-most" strategy virtually impossible.
Still, product development for specialty crops has continued to be robust. In this article we look at two technology concepts: WaterBit's field moisture monitoring and control system, and Rantizo's vision for targeted, drone-based crop protection application.
Waterbit: Maximizing Water Efficiency in Rice
Because agriculture is so variable intensive, turning sensor-gathered data into an actionable, high-value data collection system has been one of the "low-hanging fruits." The ability to accurately measure and report factors such as weather data, pest infestation, soil moisture, and more should logically put some powerful decision-making tools into the hands of agronomists and farmers.
Through the recent boom in technology investment, sensors have emerged as a big area of exploration, in particular, for water and irrigation management in high-value crops. Given the pressure on agriculture to improve water-use efficiency and stewardship, interest is high. But there are not many one-size-fits-all systems out there — deployments in water-intensive crops require an operation-by-operation approach.
One of the companies that has accepted the challenge of bringing a more automated water-efficiency system to agriculture is WaterBit, headquartered in San Jose, CA. The system's backbone is the WaterBit Carbon node, a hand-sized, solar-powered data collection tool that connects the various probes, sensors, and valve controllers in a particular deployment. The Carbon unit feeds data into a central communication unit, which moves data into the cloud for access via phone, tablet, or PC. Farmers and agronomists can turn this data and instant access into real-time irrigation decisions.
Among those putting the WaterBit technology through its paces is Pleasant Grove, CA, rice producer Greg Van Dyke. Greg, along with his father Gary, his uncle Bob, and Bob's son, Rob, are the fourth and fifth generation of his family to own the farm, and rice has been the only crop they produce. They're fully integrated — Greg owns Kanpecki, a rice brand, and is co-owner of VA Farms and the Rice Growers Association of California, which creates distribution and marketing channels for the rice it produces.
With all the pressure farmers are under in California to maximize water use, the Van Dykes are keenly interested in finding ways to challenge the conventional, water-intensive production methods most commonly used. "Unlike most parts of the world, rice in California is water seeded," Greg Van Dyke says. "We have a three- to four-passage tillage cycle to prepare our seed bed, and after fertilizer application and last seed bed preparation, we flood the fields and use airplanes to fly on presoaked, germinated seed, which sinks to the bottom into the last furrow preparation." It gets silted over to the right seed depth, and the rice emerges out through the water.
Drill seeding, a less water-intensive practice in rice, has not proven practical in the region. "We have real issues with drill seeding because of a number of factors, including soil type and soil inconsistency, among other things," Greg says. "And with a water seeding approach, the aquatic environment destroys about 95% of invasive weeds right off the bat." In-season, the flood is kept on the rice until a month prior to harvest, keeping the pressure on water use.
Now, the Van Dykes are using some of what they have learned from producing organic rice through a "dry-seeding" approach. The soil is prepared the same, but dry seed is flown onto the furrows, and the seed is flat-rolled over the top to compress the seed to a prescribed depth, then treated with preemergent herbicide. A series of flushes is brought over the top of the seed to bring the soil to full saturation.
"We found that we not only reduce water usage by 15% to 20% per acre, but we stimulate seedling vigor, get less seedling death, and less lodging," Van Dyke says.
It sounds simple on paper, but there are numerous complexities and variables that, while they've proven to work, have not had a lot of actual data behind them. A year ago a WaterBit system was installed on 80 acres of rice production to try to gather and monitor the myriad aspects of managing rice through a dry-seeding approach.
Greg Van Dyke notes that the dry-seeding regimen they developed is "cued off of soil moisture and temperature to determine when to culturally bring your flushes across, so a technology like WaterBit is critical in terms of learning the data and correlations between weather patterns and dry cycles in your soil, soil temperature, evapotranspiration, and more. Considering all the things we've learned historically from experience, a data monger like me has been craving the opportunity to capture this as big data to help us to start explaining these relationships and start to applying the data to management tools."
The actual technology deployment was relatively straightforward on the 80-acre test site, Leif Chastaine, WaterBit Co-Founder and COO, says. Three of the WaterBit Carbon soil sensors were installed — one at the irrigation inflow, one at the outflow, and one in the center to monitor the flow of water through the field. A communications center was installed to collect and transfer data to the cloud, which uses LoRa protocol to send data at 15-minute intervals. Van Dyke accessed the data wirelessly via an online portal. The entire installation took less than a day, and data was collected almost immediately.
With a full season in, Van Dyke is pleased with what he's learned and what he will be able to apply to best-planting practices next season on the test site. He's also adding some features to the system, including atmospheric data gathering that will allow him to measure the carbon footprint of the field production cycle.
Van Dyke is certainly predisposed to data immersion and is always hungry for more, but the value so far has been clear. "We were one of the first rice farmers in California to use prescriptive fertilizer application based on continuous yield monitoring from our harvesters," Van Dyke says. "And I have used it every year to come up with prescriptions for basically every input we have. The technology in reality is very simple, but it's insanely powerful — we are gathering and applying data in a way that we've never been able to before."
Rantizo: Targeted, Drone-Applied Pest Application
With so much data emerging from field sensors and imagery that reveal in-season field problems, the inevitable question is how can we do something about it? Behind this backdrop the concept of drone-applied crop protection as an answer to this question has been a focus for a number of ag technology startups.
Rantizo, based in Iowa City, IA, is one of the latest to throw its hat in the ring. On the strength of some positive recognition at events, including the 2018 InterDrone Expo and the recent Forbes AgTech Investment Summit in Indianapolis, coupled with some investment funding, the company is excited about its prospects as it fully launches next year.
The concept: a targeted drone spraying platform that utilizes electrostatic technology to safely and precisely deliver cartridge-dispensed ag chemicals when and where they are needed.
"We think there's a big opportunity in figuring out what can be done to improve application," Michael Ott, Founder and CEO, says. "We are looking for ways to make application of chemicals more precise, to get them applied exactly where they are needed." Ott and COO Matt Beckwith started the company earlier this year. There are currently five employees.
Rantizo will not be designed as a diagnostic tool — it will rely on data and imagery from outside sources to determine the cause of a particular problem. The system is all about execution — getting the right product applied to the exact area that needs it via a drone and cartridge application system.
"We have a prototype unit that we can fly and spray autonomously," Ott says. The prototype was successfully demonstrated for a farming operation in Memphis, and deployment of the technology next year is full steam ahead.
Retail will be the focus of conversations about bringing Rantizo to market, as Ott notes, "to gain access to the largest number of acres as soon as possible." The company will offer the actual drones and cartridges of chemicals to start and will look at eventually offering spray services.
In early work on opportunities, high-value crop production is the best fit now. "We are looking at opportunities in lettuce, papaya, blueberries, sweet corn, and the greenhouse market," Ott says. "As we tell our story, we're having lots of one-off discussions with niche markets that see a fit for the technology, and we will be pursuing these in the months ahead."
Row crop markets will come next, in particular with late-season applications that tackle in-season issues like disease and insect infestations when conditions preclude using a ground rig.