Autonomous drones could soon be scouting your cornfields
Just behind the old barn on a Hesston, Kansas, farmstead sits a little white shed of the future.
It houses the latest in agriculture technology—drones.
Soon, the Midwestern landscape could be dotted with hundreds of these sheds, or drone base stations, ushering farmers into a time only previously envisioned in a Star Wars movie.
The concept? Farmers can call out the drones to scout their crops without having to set foot in the field.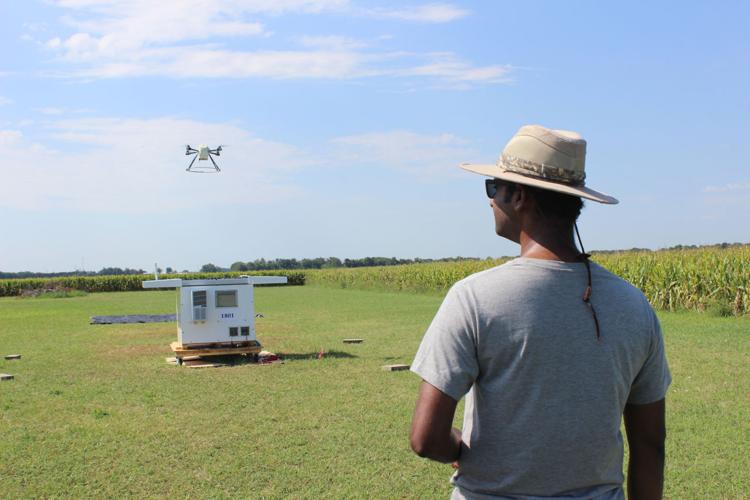 In recent weeks, Somandepalli and his crew, in cooperation with Mid-Kansas Cooperative, Moundridge, has been testing the autonomous drone technology, a system that not only flies by itself but also maintains itself and recharges in the shed, or base station, between flights.
Federal Aviation Administration rules still limit its use, and Somandepalli and his engineers still must be in the field when the drone is in the air, maintaining its line of sight.
But he sees that changing in the near future. Autonomous farming is the next frontier of American agriculture, Somandepalli said, and this autonomous crop scout is among the tools that could help feed a world population approaching 9 billion people.
"Farmers don't have time to walk every acre of every field each day," Somandepalli said. "Nor do they have time to man their own drone. It doesn't make sense for a farmer to come out here and stand here and watch the drone fly around. It's pointless."
There are many drones on the market today, Somandepalli said.
"But when you start looking at them with any detail, almost all of them still require learning how to fly a drone and take it out to the field, learn how to charge the batteries, fly it, and once that flying is done, you have to charge it again," he said.
Somandepalli, who has a doctorate in aerospace and mechanical engineering from Stanford University, helped launch Boston-based American Robotics in January 2017. Company founders realized farmers needed a new tool to increase efficiency and production, but didn't want them to necessarily learn to pilot the craft while spending hours a day in the field flying it.
In December, Somandepalli and the co-founders launched their flagship product call Scout—a self-charging, self-managing drone system capable of autonomously carrying out daily scouting missions.
The quadcopter is equipped with both visual and multispectral cameras. It resides in the white, weatherproof base station when not in use. The base station is where it charges, processes the information and sends the crop's health report to the farmer's computer or cell phone.
The system works seamlessly. It can be scheduled to make certain flight paths during the day or, be flown on command. When it is time for it scheduled crop inspection, the roof of the base station opens, allowing the drone to raise up and begin its flight.
"It's connected to the internet, so it knows the weather forecast," Somandepalli said, adding it won't fly if it is too windy or raining.
If an issue does occur during flight, safe zones are set up throughout the area. The drone will always try to land at the base station but has the second options if that isn't possible.
"Instead of crashing into the middle of a cornfield, it knows to land in the nearest safe zone," he said, adding a farmer can then track the drone's location.
At present, the drone can fly about five miles from the base for about 30 minutes at a time before it needs recharged. Next year, Somandepalli said he hopes to increase it to 45 minutes.
In an entire day, the drone can fly about 1,000 acres, he said.
"Because we can fly it daily, you can catch problems before they become widespread in the field," Somandepalli said. "You can, perhaps, detect a problem today in the northwest corner of the field and have that information to do something about it. So, on day two, you can go out there and do something."
MKC pilot project
In cooperation with its new summer symposium, MKC hosted the Scout pilot project at three Kansas locations: Clay Center, Wamego and Hesston, said Troy Walker, agronomy field sales manager with MKC.
Walker said the purpose of the trial was to demonstrate how the drone could be used practically and autonomously. MKC invited guests to learn more during an August field day at WinField United's Answer Plot near Wamego.
"It's cool," he said. "It flies like any drone, but the idea that it can do it on its own is awesome."
He added it is critical technology for modern agriculture. That's why MKC wanted to host the pilot product in an effort to continue to help growers increase their efficiency, productivity and profitability.
"It takes so much time to go out in the field, fly it and download the imagery," Walker said. "This autonomous step is absolutely critical to get drone technology so it is really useful to the industry."
Somandepalli said he sees different business models on how to market Scout. A large farmer might choose to purchase a system. Farmers could also buy annual subscriptions to the service, helping to leverage the cost. Doing so would relieve the farmer from having to get a pilot's license and go through the extensive paperwork and training.
Walker said MKC could someday have the technology to cover the acres of numerous producer members. Account managers could analyze the data and make recommendations.
That might be honing in on pest infestations and weed pressure or taking a closer look at a planter skip, potential fertility issues or where irrigation nozzles aren't working.