FDC704L 30X IR lacer range Camera is an optical pod with high performance and three-axis image stabilization of FlyDragon Aviation Technology Co., LTD For industrial customers. FDC704L integrated SONY 2.16 megapixel high quality Starlight optical module and Iray's new 12 m thermal imaging module, 30mm lens; lacer range is 5-1800m, resolution ±0.1m, whole camera is very light, the weight is 850g only, it's good to mount one fiexd wing drone and multirotor drone for drone inspection, drone rescue, drone surveillance and drone forest monitor etc.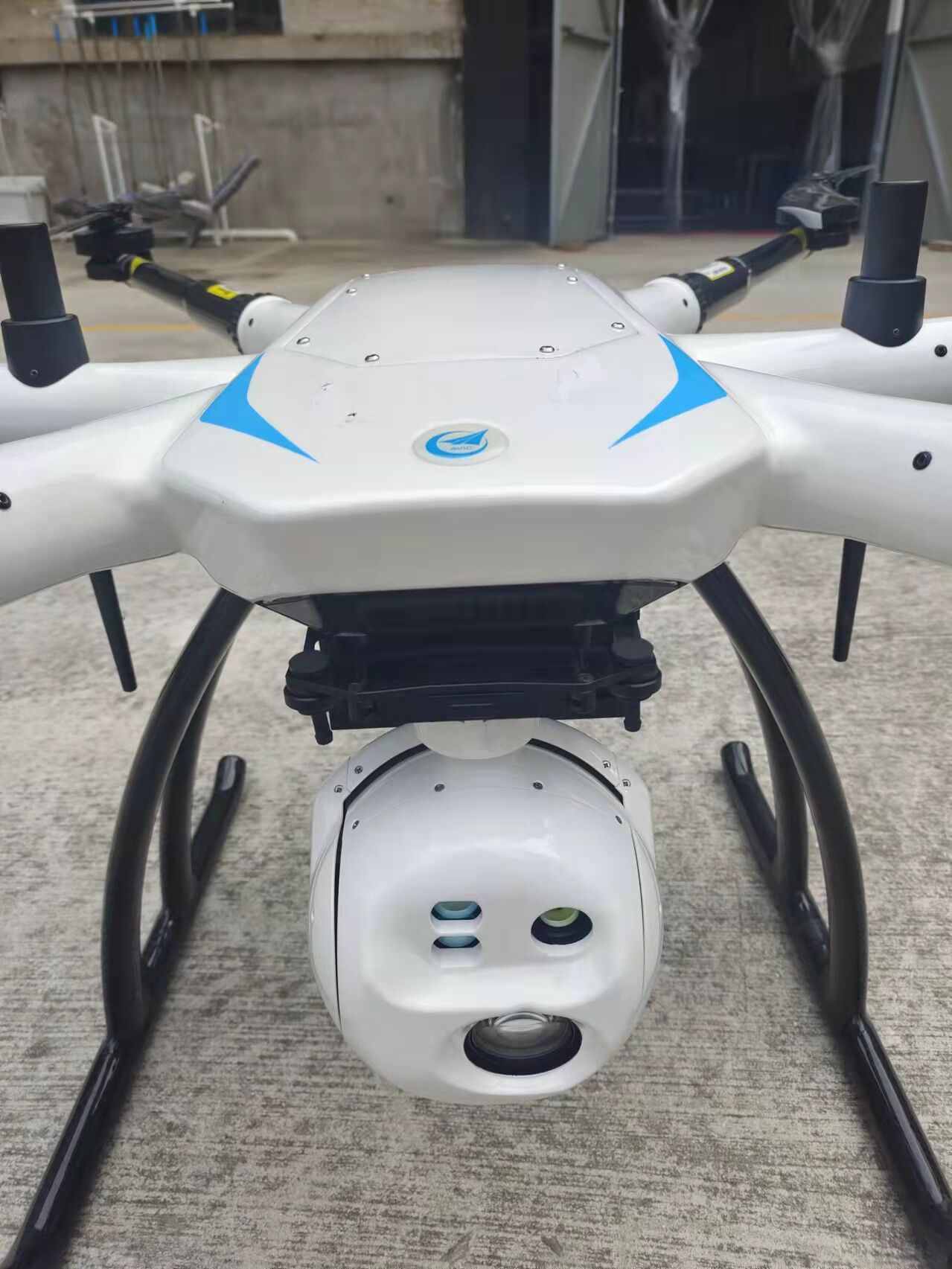 Function
30x 2 million optical zoom visible light cameras

Non-cooled infrared camera with optional global temperature measurement function

5-1800m laser ranging
Three-axis stabilization cloud head, ±0.008degrees control stability accuracy, industry-leading.

Ground station support point zoom, one-click back, mouse or touch screen operation pod, easy to operate

Modular design, scalability, open SDK

With target intelligence tracking

Real-time data transfer at the gateway
The population parameters
Operating voltage: 12V-25V
Power: 8.4W
Weight: 850g
The type of memory card: Built-in 128G Micro SD card (video images can be downloaded in real time via ground-based software)
Size (length, width, height): 162mm×140mm×194mm
The type of interface: the net port
How the video is transmitted RTSP video stream
Environment parameters
Operating temperature -20°~60°
Store the temperature -40°~80°
PTZ parameters
Angle jitter: ±0.008°
How it is installed: The fixed-wing non-fast-removal interface is optional with the multi-rotor fast-removal interface
The rotation range can be controlled: Pitch + 70 ° To - 90 °; Heading: 360 ° continuity
The scope of the structural design Pitch: 75 degrees to -100 degrees direction: 360 degrees continuous
Smart target tracking: backing
Camera parameters
visible light
Sensor: CMOS:1/2.8″; Total pixels 2.16 million
Lens: 30x optical zoom lens F: 4.7 to 141mm
Minimum shooting distance: 1m to 1.5m (near-focus-far-focus) field-of-view angle (horizontal): 60 to 2.3 degrees
The numbers are multiplied: 4X
The image storage format: JPEG
Video storage format: MP4
The working mode: Video; Taking pictures
Through the fog: Electronic fogging
Exposure mode: Auto exposure
The encoding resolution Main stream: 25fps (1920×1080, 1280×720)
Secondary streams: 25fps (1920×1080, 1280×720, 704×576, 352
×288)
2D noise reduction: Support (auto-on)
3D noise reduction: Support (auto-on)
Electronic shutter: 1/3 to 1/30000 seconds
Exposure: Automatic mode
Info Video Overlay (OSD): backing
Point to zoom: backing
Point to the zoom range:1 to 30 times optical
Zoom to a single image with one click: backing
Thermal imaging
Detector performance
The type of probe: Uncooled infrared focal plane detector for radon oxide
Cell spacing: 12 microns
Respond to the band: 8 to 14 microns
Sensitivity: ≤50mk@25℃,F#1.0
Focal length: 19mm fixed focus head
The encoding resolution Main stream: 25fps (704×576)
Auxiliary stream: 25fps(704x576, 640x512) Main stream: 25fps (704 × 576, 384×288).
Secondary streams: 25fps (704 × 576, 384×288).
Range-measuring parameters
Measurement: 5-1800m
Resolution: ±0.1m
Working current: 80mA-150mA
Operating temperature: -20º-55º
Emit the beam: 905nm pulsed laser
Beam scattered angle: 2.5 milli-arc
Laser pulse frequency: 1HZ
Power: Less than 1 milliwatt human eye safety
The ranging method: Pulse mode