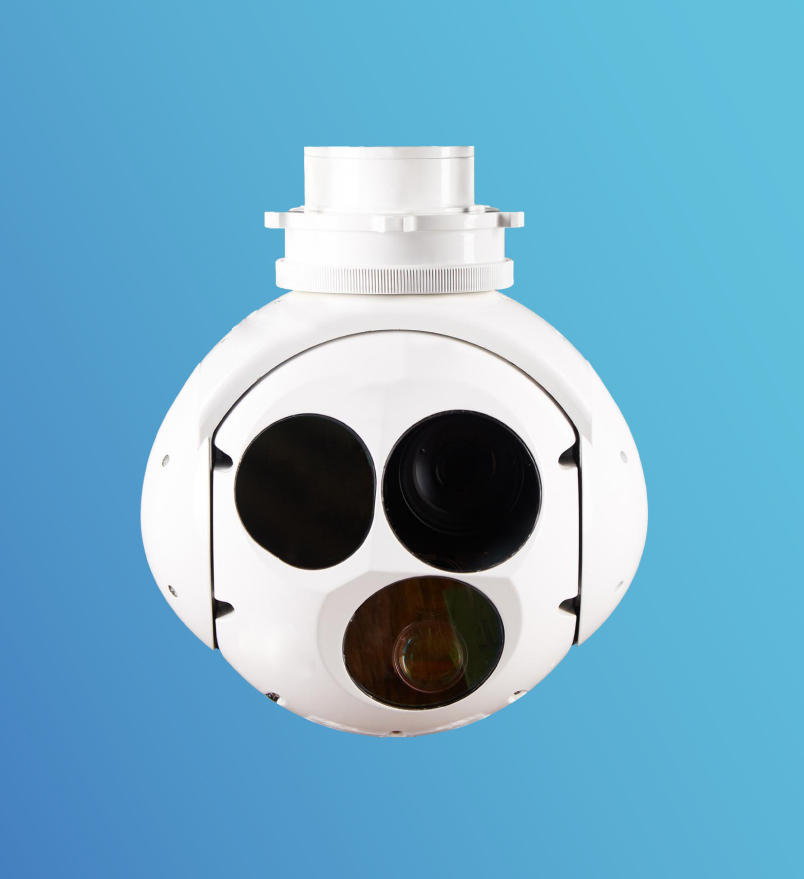 FlyDragon FD03 is a 30X 5KM laser ranging thermal imaging drone camera with target GPS positioning and guidance functions. It adopts a two-axis gyro stabilization platform, installs conductive slip rings to achieve 360° continuous rotation, built-in 30X high-definition visible light camera, long-wave uncooled Infrared imaging components, laser rangefinders, are mainly used for airborne ground imaging detection, identification, tracking, ranging and positioning, etc., to meet the needs of aerial mapping, monitoring and measurement.
Function
a) It has high-precision boresight stabilization function;
b) With visible light, infrared dual-light imaging function;
c) have the ability to detect and identify ground targets;
d) with automatic capture function;
e) It has working modes such as searching, tracking, locking, and guiding;
f) With character overlay display function;
g) It has the function of target positioning;
h) It has the functions of laser irradiation and ranging;
i) It has the function of self-checking and fault diagnosis.
RGB camera
Working wavelength: 0.4μm~0.9jim
Focal length: 4.3mm~129mm, optical 30x continuous zoom
Resolution: 1920(H)×1080(V)
Horizontal field of view: 63.7°~2.3°
Distance: Recognition distance: ≥4km (target size 2.3mx2.3m)
Thermal
Working wavelength: 8~14um
Focal length: 35mm/F1.0
Detector: 12um; 640(H)×512(V)
Horizontal field of view: 12.4°×9.9°
Distance: Recognition distance: ≥1km (target size 2.3m×2.3m)
Laser Illuminator
Working wavelength: 1064nm
Laser energy: ≥25mJ
Ranging range: 120m~5km
Ranging accuracy: ≤3m
Irradiation coding method and mode: precise frequency code; the duration of one irradiation is not less than 20s
Object Tracking
Pixel deviation update rate: 50Hz;
Tracking speed: 30 pixels/frame;
Minimum tracking target size: 4×3 pixels;
Minimum target contrast: 5%;
Tracking position: any position in the field of view;
The target tracking does not slip or lose when the imaging rolls and zooms in and out.
Mechanical behavior
Rotation range: Azimuth: 360° continuous; Pitch: +10°~-110°
Angle measurement accuracy (1c): ≤ 2mrad
Stable accuracy (1o): ≤100urad
Optical axis consistency: ≤0.15mrad
Interface
Communication interface: 2 RS 422 (optional TTL)
Video interface: 1 channel HD-SDI (optional network port, HDMI)
System
Weight and size: ≤2.5Kg; ≤medium 172mmx200mm
Power supply: DC24V, the voltage range is 20V~28V
Power consumption: average power consumption≤50W, peak power consumption≤100W
Working temperature: -20℃~60℃