BAE and Malloy Aeronautics jointly develop electric heavy-duty VTOL drone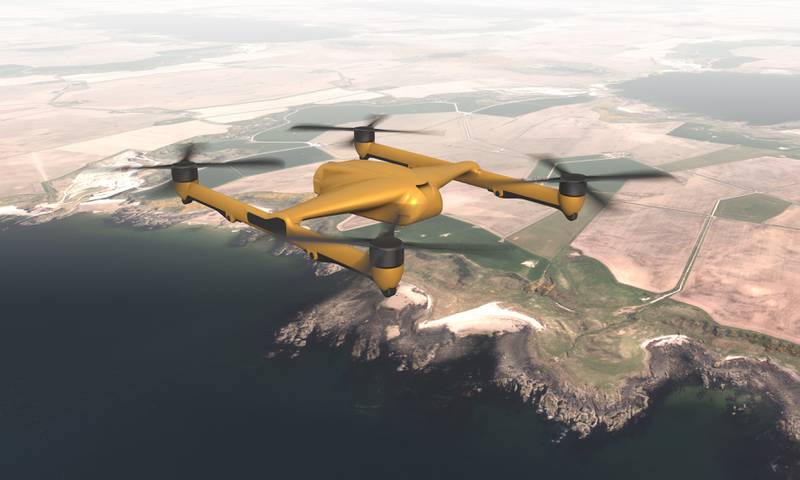 BAE Systems and Malloy Aeronautics announced plans to jointly develop an all-electric heavy-duty vertical take-off and landing UAV system to provide military, security and civilian customers with cost-effective and sustainable rapid response capabilities. At present, the two parties are exploring cooperation opportunities to conduct feasibility studies on the capabilities, design, manufacturing and marketing of this UAV system.
This all-electric UAV system has a maximum design speed of 140 kilometers per hour, a range of 30 kilometers, and can carry a 300 kg payload. It is mainly used for ship-to-ship and ship-to-shore transportation to support military, security operations and logistical support. . The UAV system is a zero-carbon emission system that can assist in the execution of military operations that need to carry heavy objects, protect military personnel from dangerous situations, prevent them from being harmed, and reduce the impact on the environment.
FlyDragon

FD-1660

electric heavy duty VTOL drone
FlyDragon FD1660 is a electric long flight time and heavy duty VTOL drone, six axis carbon fiber drone , FlyDragon FD1660 is made of carbon fiber material which features light weight and high strength, the canopy of FD1660 is made of glass fiber so that the GPS signal won't be blocked. The closed fuselage structure can protect FD1660 from the rain and dust, and also protect other load equipments like flight control and battery.
FD1660 can be applied in many fields like aerial photography, emergency rescue, reconnaissance mission, power line inspection, remote sensing survey and mapping etc.
We suuply drone frame, PNP or RTF
Specifications:
Aircraft Type: Hexacopter
Wheelbase: 1660mm
Airframe Material: Carbon Fiber And Composite Materials
Package Size: 400*730*930mm
Drone frame Weight : 2.7kg
Max. Take-Off Weight:26kg
Max. Payload: 12kg
Flight time: 120minutes(without payload)
80minutes(3KG payload)
40minutes(10KG payload)
Max. Climb Speed: 4m/s
Cruise Speed: 10m/s
Max. Flying Speed: 15m/s
Max. Altitude AMSL: 4000m
Hovering Accuracy:Vertical ±1m, Horizontal±1.5m
Max. Wind Resistance: Level 6
Operation Temperature: -20~60℃
IP Rating:IP56
drone Frame Features:
– TORAY 3K Carbon fiber material
– Light-weight, durable and stable
– Rainrproof
– Long flight time
– Detachable arm, easily portable