DJI launched drone 3D mapping software

American media reported that DJI launched drone 3D mapping software, a new software tool that can convert UAV data into digital 3D models and maps. DJI Terra enables businesses and organizations to use DJI drone technology to capture, visualize, and analyze aerial images to meet the needs of various applications in public safety, construction, infrastructure, agriculture, and the film industry.
"As a leader in the commercial drone industry, DJI continues to develop easy-to-use and easy-to-use hardware and software solutions to help companies use drone technology to change operations and gain a competitive advantage in their industry." Sunny, President of DJI Enterprises Liao said. "As an integrated mapping and modeling solution, DJI Terra can simply and effectively extract value from drone data, draw conclusions and propose website modeling from multiple use cases such as infrastructure inspection and mapping and construction in the agricultural field opinion."
DJI Terra helps commercial drone pilots quickly plan autonomous flights based on the area or object they want to capture and the type of map or 3D model they want to create, and provides a variety of easy-to-use options.
It has three types of mission planning:
Aerial photography
Areas-Quickly and easily capture specific areas by drawing custom polygonal flight areas on the map. DJI Terra automatically generates efficient flight path options based on the selected area.
Waypoint takeoff
Waypoints-Use waypoints and adjustable parameters (such as aircraft altitude, speed, heading, gimbal pitch and angle) to create dynamic custom flight paths through areas or surrounding objects. For more complex tasks that require high attention to detail, the 3D flight visualization function can design and simulate tasks on existing 3D models.
Tilt photography
Tilt-Capture a rich data set by automatically flying the same path multiple times. Each flight automatically adjusts the angle of the camera to capture new details, providing an extra clear 3D model of objects or assets from multiple angles.
With the real-time mapping function, DJI Terra allows drone pilots to quickly generate 2D ortho-orthogonal mosaic maps when the drone is flying, which is very suitable for time-sensitive tasks, in which situational awareness is crucial and requires decision-making within a few minutes. DJI Terra's rapid processing capabilities also create any by creating detailed 2D orthogonal mosaics and 3D model reconstruction for industrial applications, such as reconstructing vehicle collisions, tracking the progress of construction projects, or conducting large-scale critical infrastructure inspections of bridges and roads. Clear and realistic representation of the environment.
3D mapping drone and camera recommend
KIT frame material: carbon fiber Composites
Wingspan: 2.5m
Frame Weight: 2.68kg
Fuselage:Composites
Total Weight: 5.5kg(without battery)
Max Take-off Weight: 12kg
Max Payload: 6.5kg(including battery)
Max Flight Time: 2.5 hours
Max Speed: 100km/h

A7 mapping Camera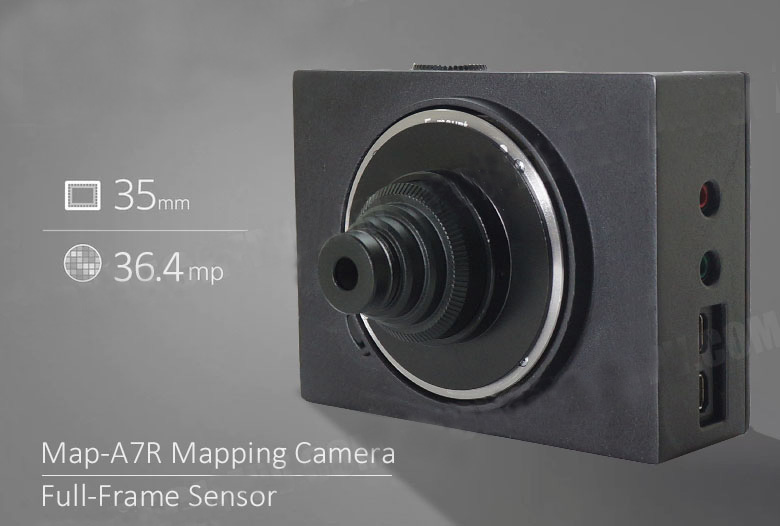 Size:10cm*7cm*4cm
Sensor: 35mm full frame Exmor CMOS sensor(35.9x24mm)
Pixels(effective): 36.4MP
Lens compatibility: E-mount lenses
Hot Shoe signal: supported
Shutter Trigger:High level/low level/PWM
Shutter Speed:30-1/8000sec
Continuous shooting: 4FPS
Storage Card Type: SD/SDHC/SDXC Card/MS
Storage: SD Card(maximum support 640G)
Parameter Setting: Button/USB
Data Reading: SD card/USB
Interface: HDMI USB2.0
Power:8.4V
Weight: 208g
Image sensor aspect ratio: 3:2