Drones deliver medicines in flooded areas in South Korea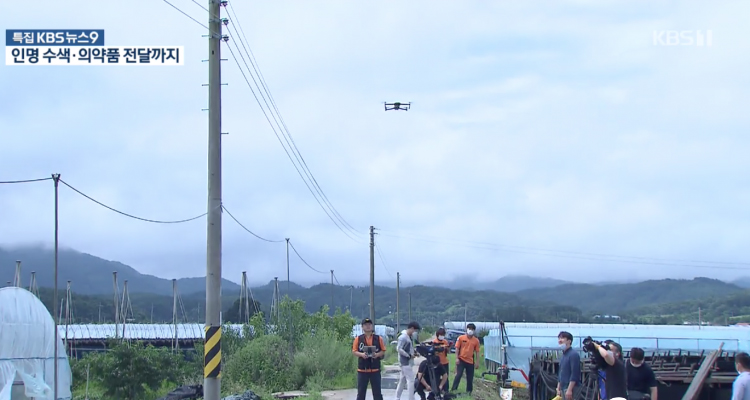 In 2020, in a flooded village in South Korea, a father urgently needed medicine for his 7-year-old child. The boy has asthma and his medicine has been used up. The flood prevented anyone from delivering prescriptions on the ground, so without these key medications, children could face physical breakdown, finally the drone deliver medicine saved him.
Long live the white knight in the sky. A drone delivered the asthma inhaler to the grateful father. He told KBS News, "I can't even imagine. I thought they would come with a helicopter or something to send my son out. However, it was the illusion of a medical staff that realized that the drone can pass He added urgently needed drugs to the aircraft. He explained: "I have a drone, so I want us to try it. So I put a bronchodilator on it and sent it out, "The package was airlifted 1.5 kilometers across the fast-rising Gem River.
In the news clip of KBS, you can see the boy's father anxiously waiting for the delivery of the package. The news program also pointed out that during the floods, drones were used to assist in other situations, including the delivery of cardiac drugs.
After natural disasters, drones are increasingly used for such rescue missions. This kind of aircraft can not only deliver critical drugs, but can also be used to scan for damage to infrastructure. In recent years, after major hurricanes in Texas and Florida, drones were immediately put into situational awareness work, providing a bird's-eye view of the damage. This is very useful for planning emergency supply routes and assessing overall losses.
FlyDragon FD1660 For Emergency Rescue
Specification:
Aircraft Type: Hexacopter
Wheelbase: 1660mm
Airframe Material: Carbon Fiber And Composite Materials
Package Size: 400*730*930mm
Drone frame Weight : 2.7kg
Max. Take-Off Weight:26kg
Max. Payload: 12kg
Flight time: 120minutes(without payload)
80minutes(3KG payload)
40minutes(10KG payload)
Max. Climb Speed: 4m/s
Cruise Speed: 10m/s
Max. Flying Speed: 15m/s
Max. Altitude AMSL: 4000m
Hovering Accuracy:Vertical ±1m, Horizontal±1.5m
Max. Wind Resistance: Level 6
Operation Temperature: -20~60℃
IP Rating:IP56