FDG815 vs DJI M300 camera drone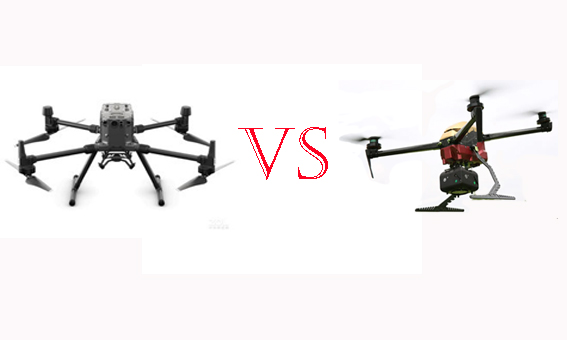 When it comes to surveying and mapping or camera drones, the first thing people think of is the famous DJI M300, "It's not as powerful as a drone, but more like a mech warrior, which exists in science fiction movies."
The battery life of most consumer drones is only about 30 minutes, and battery performance may be affected in cold weather. The M300 has a terrifying battery life of 55 minutes, and also supports hot swapping. You can replace one battery first and then another without shutting down the battery. After replacing the battery, you no longer need to spend time restarting the system and software.
The DJI M300 is equipped with the Zenmuse H20 20-megapixel zoom camera, 12-megapixel wide-angle camera, 30Hz high frame rate thermal imaging camera, and a laser rangefinder with a detection distance of 1,200 meters, with up to 23x hybrid optical zoom. With the M300 RTK, it can realize intelligent shooting functions such as dot positioning, intelligent tracking, precise re-shooting, and ultra-clear matrix photography.
But such a powerful camera drone is really not a product that dealers like, because first, DJI drones only match DJI's mounting equipment. Second DJI price system. DJI's distribution price system made it difficult for dealers to make much money, so another camera drone-FDG815 appeared on the market.
FDG815 small quadcopter drone is a small size aerial platform for mapping, surveillance, inspection and food delivery. Its compact folding airframe enables easy operation and flexible maneuvering. – Forged from a combination of carbon fiber, PCB and CNC, the flight time boosts up to 90 minutes with no payload, and it still reaches 45minutes with 2.5kg payload.
The FDG815 can be equipped with any camera on the market, and customers can choose the camera they want according to their needs and are no longer bound by DJI.
Parameter comparison
DJI M300
Flight time: more than 50 minutes.
Maximum payload: 2.7KG.
Payload Support: XT2/Z30/TP1810/GD610.
FPV camera: 1080p.
Supported payloads: 3 payloads simultaneously.
Standard takeoff weight: 6,950g.
Maximum take-off weight: about 9,000 grams.
Battery TB60 / 5,935mAh.
DJI Matrice 300 operating temperature: -20-50C.
Target acquisition: Spotlight Zoom.
6-direction induction, the maximum detection range is 40-50m, and the range is adjustable.
New transmission system: Maximum flight distance: 10 km, 3 channels on the plane, 2 per RC.
Smart AI Check (Waypoint Flight 2.0): Actions during flight will be automatically recorded.
Spot Check (Precise Check): Machine Learning feature.
Zenmuse H20/H20T (thermal).
Rangefinder for laser rangefinder.
Night Mode: Color pallet.
FDG815
Color: Black and White Material: Carbon Fiber, CNC, PCB
Control Range: 20km
Diagonal Wheelbase: 815mm
Unfolded Dimensions: 670mm*650mm*200mm (excluding propellers/landing gears)
Folded Dimensions: 440mm*210mm*200mm(excluding propellers/landing gears)
Empty Weight: 5.4kg (including battery)
Battery Weight: 2.8kg
Max Take-off Weight: 8kg
Flight Time: 90min (no payload) 68min (800g payload) 45min (2500g payload)
Max Speed: 30m/s Max Lifting Speed: 4m/s
Max Descent Speed: 3m/s
Max Angle of Pitch: 25°
Wind Resistance: 14m/s
Service Ceiling: 6000m
Propeller: 22*8 inches
Working Voltage: 50.4V
Working Temperature: -10℃-55℃
Carrying Case: 68cm*45cm*35cm
RTF version
Your Purchase Includes
RTF Package 1x ARF Combo
1x Pixhawk Cube Orange Standard Set with Here 3 GNSS
1x H16 remote controller with 10km drone link
1x 14S 14000mAh Li-ion Battery
2x (pair) 22 inch Carbon Fiber Propeller
1x Battery Charger
1x Carrying Case.
Price Comparison
The price of the DJI M300 is USD8787
The price of FDG815 is USD6380