New technology of drone helping to analyse issues and collect data
THE CSIRO has this month gone into partnership with Australia's largest rural services and advisory company Ruralco to fund drone productivity studies.
"Drone technology is facilitating data-driven decision-making in agriculture; it can help farmers better analyse issues which affect productivity and sustainability," says Ruralco chief executive Travis Dillon.
"This is about us staying ahead of the innovation curve; we don't know exactly where the next productivity leaps in agriculture will come, but technology and data will certainly be at their heart."
Perhaps they will unlock the secret to make drone technology a true return on investment proposition, but in the meantime drones are like golf training aids. We think we should have them but we're not quite sure if they have any significant benefit.
That's the message from farmers who have been contributing to the boom in drone sales that is expected to see global revenues soar to $15 billion in 2021.
The vast majority of those sales are in hobby or consumer drones which are capable of covering a kilometre or two with limited camera functionality.
They're not very expensive and from a budget conscious farmer's perspective, they have a use in keeping an eye on things such as fences and livestock.
But one Australian drone importer says those cheap hobby drones are next to useless in farm applications.
Under stress: Birchip Cropping Group has been trialling a fixed-wing drone — a SenseFly eBee. BCG research officer Sebastian Ie with the drone.
"The limiting factor for an off-the-shelf drone is range it can fly and time in the sky," says Bob Guegan from Just Drones.
"They simply don't have the range required by most farmers we have spoken to, and other than DJI drones, their cameras aren't good enough for any serious agricultural work."
He says DJI has become the "iPhone of drones" with models that work well for farmers, offering lengthy flight time and range, as well as a decent camera to capture video and still imagery.
Mark Playdon from Drone Addiction agrees.
"DJI is leading the pack globally with several types ranging from the tiny Spark to the large matrice," he says.
"For just general keeping an eye on things, DJI Mavic could be suitable, as well as the Phantom 4 series.
"These are all under 2kg and so can be used commercially without a licence."
Western Australian broadacre farmer and agronomist Leigh Nairn has been using a DJI Phantom 4 Pro to scout trial paddocks and monitor emergence.
He was monitoring his seeder setup, which was having issues lining up with the GPS, when an eagle attacked the drone — one of the hazards of flying them.
He got a fantastic image from the attack and the repair bill wasn't significant, and he continues to carry it around as an everyday tool.
"You can carry it around in a camera bag with the arms folded in, take it anywhere and throw it up wherever you want to get some good pics," he says.
He also has a larger DJI Matrice model which is fitted with near infrared cameras that detect stressed crop or weeds and help create normalised digital vegetation index (NDVI) maps using third party software.
"We are using that for bio imagery and NDVI maps and putting that into DroneDeploy or PrecisionHawk which are programs that process the data from the drone," he says.
While something like a DJI Phantom 4 will cost around $2000, these more professional drones are getting into five figures.
Australian company Falcon UAV custom makes a drone called the AgFalcon which has six rotors, a full near infrared set up with batteries, chargers, spare parts and the near infra-red camera along with all the software as a total package for $12,000.
Falcon UAV's Phil Lyons extols the benefits of drone NDVI mapping and says when they're done properly, they can lead to efficiencies such as savings in chemicals.
"Obtaining a drone-produced NDVI map as soon as enough leaf matter is showing can lead a grower to those areas of low near-infrared reflectance, indicting some stress problem," he says.
"In some cases, we have seen a bug infestation that the grower did not know existed due to the size of his paddock, which would have led to massive crop losses."
Leigh Nairn says he uses his near infrared package 10 per cent of his drone flying time.
"We researched drones a fair bit before investing and I wanted to see if it could do what I wanted, which was take imagery and put that into a nitrogen recommendation for a sprayer," he says.
"That technology is not quite there yet."
He's not the only one to say that. NDVI mapping is great when it's accurate and the only way to ensure that is to visit the suspect areas on foot — ground truthing.
Cheaper satellite imagery can provide an NDVI map as well although a drone can achieve much higher resolution. But with the necessity to ground truth, the investment in an expensive drone makes less sense.
Birchip Cropping Group researcher Sebastian Ie has been creating NDVI maps with a $40,000 fixed-wing drone.
"That map will show you greenness but it won't differentiate between weeds and crop, so you have to ground truth," he says.
"Is there a cheaper way? The alternative is free satellite NDVI data which would give you a general idea of what's going on.
"From our perspective a drone has a high enough resolution that you could pick up data from all of our trial plots, which is something you couldn't get from satellite data.
"The value of higher resolution mapping is not so clear for the farmer and is not something that has been proven yet."
Mr Nairn says he doesn't think it will be too long before farmers would see a return on investment in NDVI mapping as the technology improves.
"What I'd eventually like to see is drones locating weeds and then a ground robot drives out there to spray it," he says.
In the short term, he says even improving the ability to identify weeds to create prescription maps to enable spot spraying would be a huge step forward.
But one thing everyone agrees on is that drones are here to stay.
A FLOCK OF DRONES
AgFalcon
The AgFalcon hexacopter is capable of scanning up to 50 hectares and is suited to smaller areas surrounded by trees and hills. It flies 30 minutes with lightweight video camera.
$7800
cameras from $950
AgEagle RX48
Fixed-wing drone with multispectral camera mounted for near-infrared images to create NDVI maps. It can cover 120 hectares in a 30min preprogramed flight.
ag eagle drone price $12,800
includes NIR spectral camera
DJI Mavic
The DJI Mavic Pro is a compact drone that works purely as a flying camera. It has a 7km range, four vision sensors, and a 4K camera stabilised by a 3-axis mechanical gimbal.
$1699-$2199
DJI Phantom 4 Pro
Phantom 4 Pro has a 5.5in display tablet integrated into the controller. It has 28min flight time and a 5km range, and a live 720p HD view of everything the camera sees.
$2000-$3000
Rise Above AgStar Bird Scarer
Bird scarers such as this unit fly on a programmed flight path and have a speaker system that emits a noise to scare birds away from orchards and horticulture operations.
$1500
4 rotors plant protection UAV 10KGS agriculture drone sprayer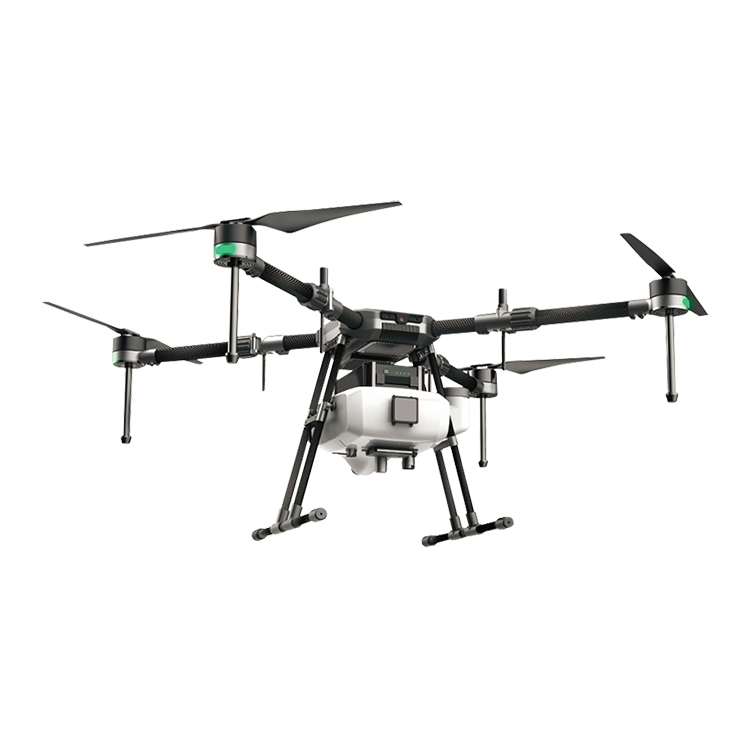 Agriculture spraying drone can replace the traditional pesticide sprayer and it's speed is 40times of the traditional sprayer. It will save 90% water and 30%-40% pesticide. Small droplet diameter make the pesticide more well-distribute and improve the effect. At the same time, it will make the people faraway from the pesticide and reduce the pesticide remain of the crop., price is FOB $5100