The Buyer's Guide OF Drones For Agriculture 2019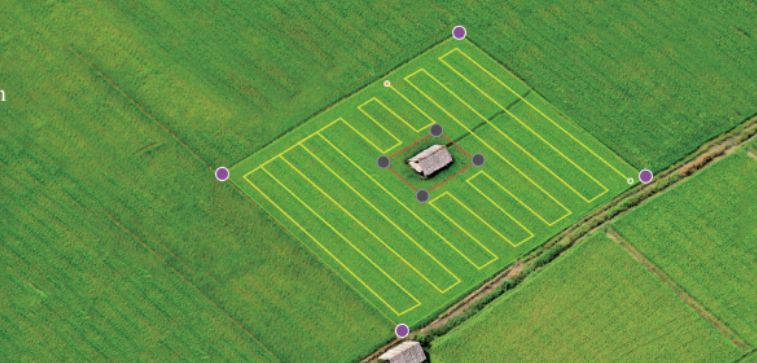 Who This Guide is For
This ag drone buyer's guide is for farmers and agriculture service professionals who want to use unmanned aerial vehicles to monitor the health of crops, spraying for crops and livestock.
If you are interested in flying your own fixed wing or multi-rotor agriculture drone, then this guide will tell you everything you need to know to select and buy the right UAV for your needs.
In this guide you'll learn about:
the most popular ag drones selling today (fixed wing and multi rotor)
how & why drones are used to scout fields & crops to check the health of plants
the benefits & limitations of using drones vs. other aerial survey methods
Listed below are the most popular precision drone price and specs in the world, both fixed-wing and multi-rotor.
The best Agriculture Drone/UAVA
The Best Fixed Wing Ag Drone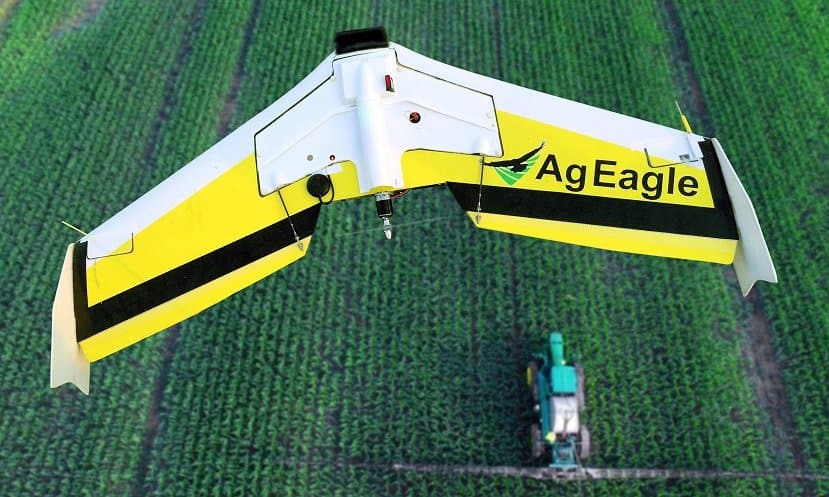 senseFly eBee SQ ($12,000+)
A Complete Ag Solution
This drone is easy to fly and comes with senseFLY's Sequoia 5-spectrum sensor (4 spectral bands + visible/RGB) and advanced, flight planning, flight management and image processing software designed specifically to work within a complete drone-to-tractor workflow.

Flight Planning Simplified
The eBee SQ includes their proprietary eMotion Ag flight planning and ground station software, making the process of creating a flight plan really simple.
500 Acres in a Single Charge
Because this UAV is so fast, the eBee SQ can capture multi-spectral and visual data on hundreds of acres of crops in a single flight.
Specifications
1.1 kg / 2.4 lbs

Sequoia multi-spectral sensor provides more accurate data than NIR options

55 minute flight time

Up to 500 acres per flight (400 ft elevation, 12 cm/pixel resolution)
PrecisionHawk Lancaster 5 ($25,000+)
Another very popular choice with ag surveyors, PrecisionHawk's Lancaster fixed wing UAV carries the widest range of aerial sensors and is the most "intelligent" fixed-wing drone designed for agriculture.

The latest release, Lancaster 5, adds a ruggedized chassis that is more durable on hard landings; a new tail structure; a longer wingspan to improve stability; more intelligent on-board flight control.
PrecisionHawk Lancaster 5 Specifications
5.3 lbs dry weight
2.2 lb payload
45 minute flight time
2km / 1.2 mile range
300 acres per flight (300 ft altitude)
Plug-and-Play sensor bay
5-channel multispectral camera available
One-button press to launch (cool feature)
Data resolution down to 1 cm/pixel
The Best Multi Rotor Ag Drones
A multi rotor drone is a better choice for close-in scouting, spotting and detailed surveying tasks than a fixed wing drone.

Flying a multi rotor drone, low and slow, gives you far more control over every image you shoot. As a result, accuracy and resolution are often better than fixed wing UAVs can deliver.
PrecisionHawk Crop Scouting Package ($1,989)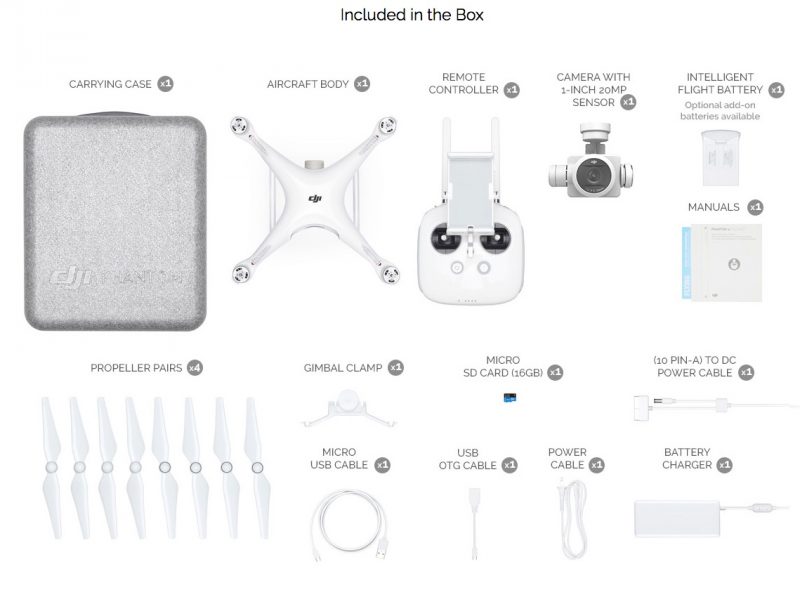 PrecisionHawk sells a starter-level quadcopter package that includes a Phantom 4 PRO with included visual sensor, DataMapper Lite image processing software (1 year subscription including a few VIS-data algorithms), InField flight monitoring software, and InFlight flight control and monitoring mobile app that allows you to control the aircraft using your smartphone.

The Phantom 4 PRO is an excellent camera drone that is more than capable of most visual surveying tasks; but, there are additional costs to turn this package a complete crop surveying solution. And, it has its limitations.
Sentera NDVI Upgrade for DJI Phantom 4 PRO (about $2,000)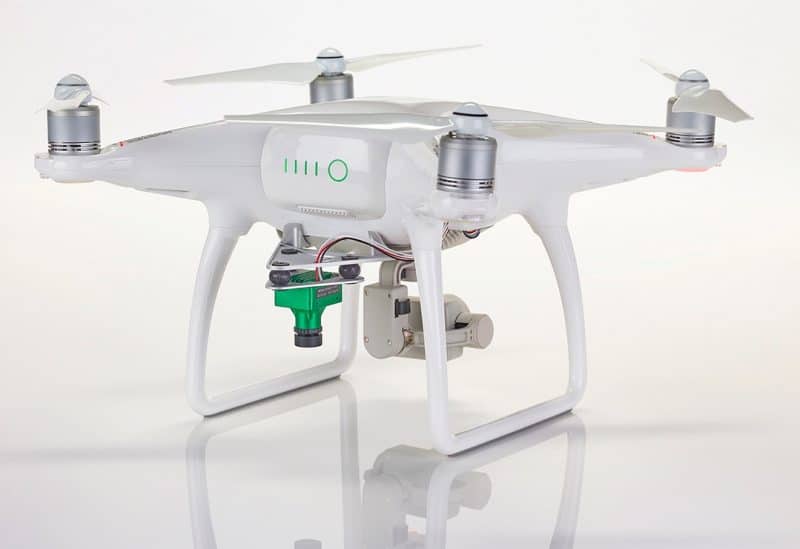 Sentera sells a TrueNDVI camera upgrade for DJI's wildly popular and easy to use Phantom 3 and Phantom 4 quad copters. They'll also sell you a new Phantom 4 PRO, fully equipped.

The kit integrates a 1.2MP NIR global shutter camera alongside your existing Phantom camera, so you get the best of both worlds — a fully-gimbaled color camera for scouting, plus NIR photos for NDVI indexing.

Two downsides, though: you'll have to ship your Phantom quad to Sentera to perform the upgrade; and, attaching a second camera voids DJI's warranty
Sentera Omni Ag ($16,995)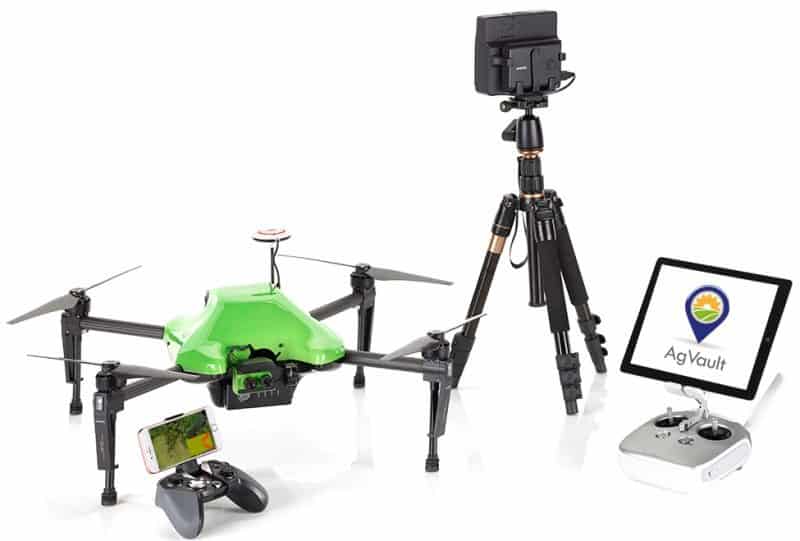 Using Sentera's Double 4K multispectral sensor, the Omni Ag is a completely integrated hardware + software package that captures high resolution RGB visual, NIR, NDVI and Live (streaming) NDVI data – all at the same time.
Uniquely, the Omni Ag drone can stream live NDVI crop data as it flies, which means you get instant feedback on crop health and can take action before it lands. I don't know of any other quads that can do this, right now.
Where Do Drones Fit in Precision Agriculture?
Drones are really just a new, high-precision way to obtain geo-tagged images from the air.

Compared with other aerial survey methods, drones generate more precise and more frequent data about the condition of crops. This data is used in many ways to improve the performance of a farm's operation.

For surveying fields of less than 50 hectares in size, drones are cheaper than manned aircraft surveillance, manned scouting and satellite imaging.

There are approximately 2.1 million farms in America. The average size is 434 acres. Small family farms, averaging 231 acres, make up 88 percent, meaning that 1.85 million farms can benefit immediately from ag drones.
Drones are used to Precision Agriculture including:
plant height
plant count
plant health
presence of nutrients
presence of disease
presence of weeds
relative biomass estimates
3D / volumetric data (piles, patches, holes and hills)
Spreading drone for agriculture 10 KG payload($5,300)
Specification:
Wheelbase: 1400MM
Folding size: 880*820*500 MM
Tank catacity: 10KGS
Frame weight : 7KGS(including spreading system)
Maximum takeoff weight: 26KGS
Motor: Hobbywing X6 or 6215 180KV
Propeller: 24*8.5 inch
ESC: 80A FOC
Supply voltage: 12S
Power system kit weight: 0.76KGS
Maximum pulling force: 10.3KGS
Recommended single axis load: 4-5 KG
Spreading size:0.2-6mm solid particle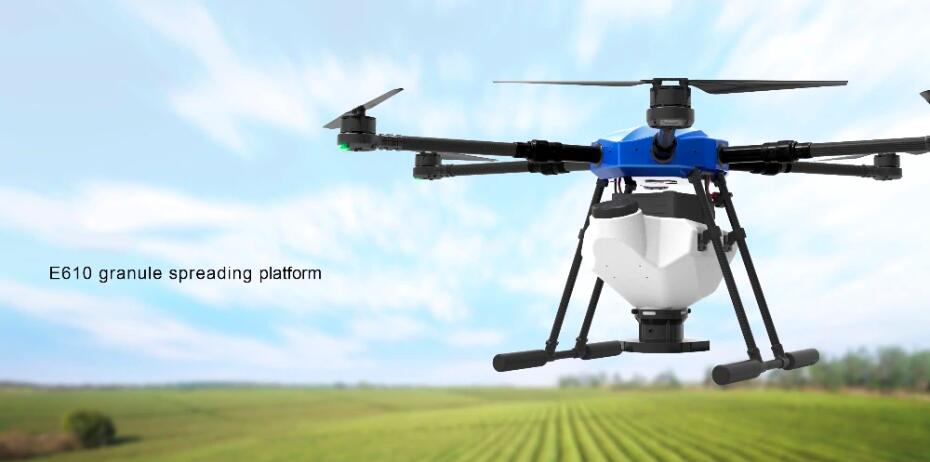 Drone technology has been widely used in precision agriculture, which is a technology for farmers to manage farms scientifically, reducing planting costs and increasing food production.
With the improvement of production technology,the
precision drone price will become cheaper.